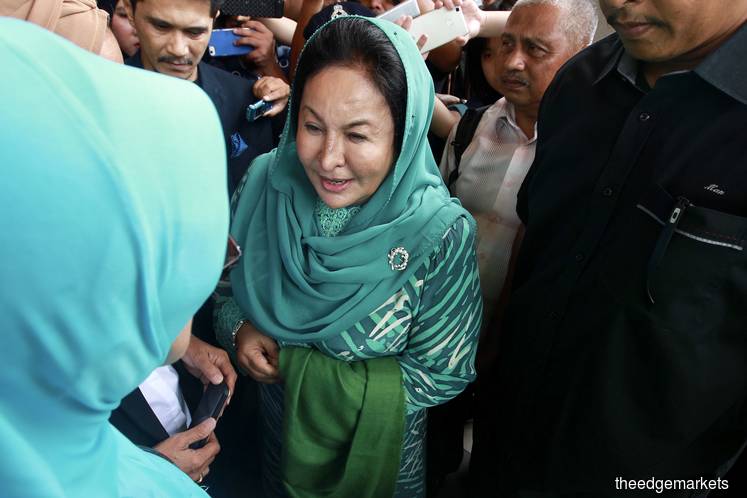 KUALA LUMPUR (April 23): The High Court here has today set May 2 this year to hear the application to transfer Datin Seri Rosmah Mansor's RM1.5 million solar hybrid system project corruption case to another court where her former aide Datuk Rizal Mansor's graft case is being heard, for a joint trial of the two related cases.
Rosmah is the wife of former prime minister Datuk Seri Najib Razak.
While the prosecution had on April 5 done an oral submission for the transfer of Rosmah's case from High Court Judge Collin Lawrence Sequerah's court to High Court Judge Mohamed Zaini Mazlan's court, Rosmah's lawyers had requested a formal application to be done.
Lawyers Datuk Jagjit Singh and Datuk Akberdin Abdul Kader also asked for some time as the defence had made a stay application on the previous transfer of the case from the Sessions Court to the High Court, as well as for them to file an application regarding the transfer between the two High Courts.
However, deputy public prosecutor Datuk Gopal Sri Ram said the stay on the decision to transfer the case from the Sessions Court to the High Court and the transfer of the case to another court for a joint trial are two separate matters.
"We cannot do a joint trial of this case and Rizal Mansor's case unless both cases are before the same judge. This is a mere attempt to delay the proceedings.
"I think it is in the public's interest for the trial to proceed," Sri Ram said.
On Nov 15 last year, Rosmah pleaded not guilty in the Sessions Court here to two counts of receiving bribes, totalling RM1.5 million, in the implementation of the project to supply and install solar energy at 369 rural schools in Sarawak two years ago.
On April 10 this year, Rosmah was slapped with another charge at the Sessions Court here for receiving a bribe involving RM5 million in connection with the implementation of the solar hybrid system project for rural schools in Sarawak.