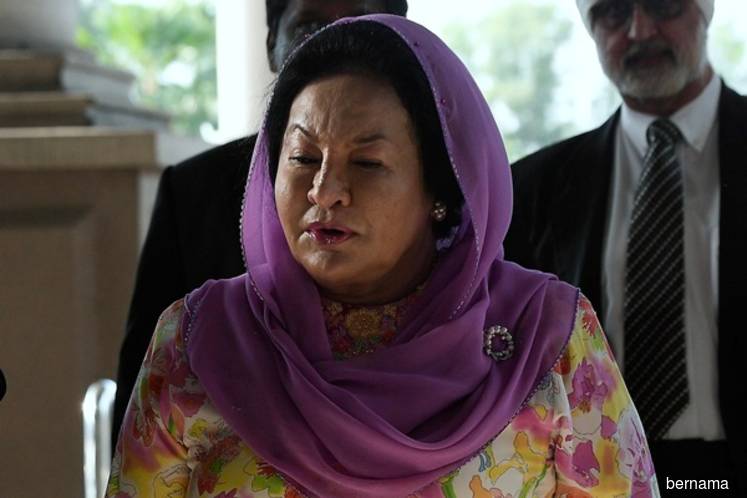 KUALA LUMPUR (March 20): Datin Seri Rosmah Mansor wants the Court of Appeal to suspend the hearing of her case where she is alleged to have received bribes in connection with implementation of the solar hybrid system project for Sarawak rural schools, pending her application to dismiss the High Court's decision in allowing the prosecution to transfer the case to the High Court.
Rosmah is the wife of former prime minister Datuk Seri Najib Razak.
Last Friday (March 15), the High Court Judge Collin Lawrence Sequerah allowed the prosecution's application to transfer Rosmah's case to the High Court pursuant to Section 417(1)(e) of the Criminal Procedure Code.
The case is fixed for mention today before the Sessions Court, to allow the prosecution team led by Datuk Mohd Dusuki Mokhtar to update the Sessions Court regarding the High Court's decision.
However, lawyer Datuk Akberdin Abdul Kader, who acted for Rosmah, informed the Sessions Court that the defence team has filed a notice of appeal against the High Court's decision on March 18, and they will file a proper stay application today.
The Sessions Court Judge Datuk Azman Abdullah then transferred the case to the High Court.
The case will be mentioned again on March 20 before High Court Judge Mohamed Zaini Mazlan.
Najib accompanied his wife when the couple arrived late to court, at about 10am, even though the case was scheduled to start at 9am.
On Nov 15 last year, Rosmah pleaded not guilty in the Sessions Court here to two counts of receiving bribes, totalling RM1.5 million, in the implementation of the project to supply and install solar energy at 369 rural schools in Sarawak two years ago.
She was charged under Section 16(a)(A) of the Malaysian Anti-Corruption Commission Act, and can face imprisonment of up to 20 years and fine of not less than five times the amount of the gratification of RM10,000, whichever is higher, upon conviction.
The prosecution made the application to transfer this case to the High Court on the grounds that the application is expedient for the ends of justice of all parties as Rosmah's 17 charges under the Anti-Money Laundering, Anti-Terrorism Financing and Proceeds of Unlawful Activities Act 2001 had been transferred to the High Court on the same basis.
Besides Rosmah, her former aide Datuk Rizal Mansor, who is charged with similar offences over the same project, had applied to transfer his case to the High Court. The prosecution thinks it is necessary to transfer Rosmah's case to the High Court for the prosecution to make an application.
The prosecution team is also of the view that there cannot be a multilevel trial where Rosmah who is the main accused in this case is tried before a lower court (Sessions Court) while the co-accused Rizal's case is tried before the High Court.