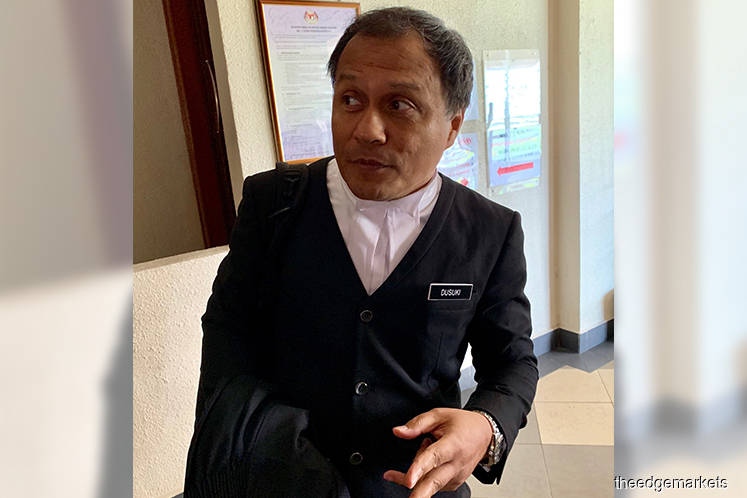 Deputy public prosecutor Datuk Dusuki Mokhtar. Photo by Paw Ai Chin
KUALA LUMPUR (April 5): Datin Seri Rosmah Mansor, who is facing two counts of receiving bribes in connection with implementation of the solar hybrid system project for rural schools in Sarawak, is unfit to attend court proceedings, the High Court was told today.
Rosmah is the wife of former prime minister Datuk Seri Najib Razak.
The case was initially fixed for mention today, but Rosmah's counsel Datuk Akberdin Abdul Kader submitted a Certificate of Unfitness to Attend Court to the High Court and applied for a postponement.
Under the new regulation 24A of the Medical (Amendment) Regulations 1977, Rosmah needs to submit a medical certificate along with the Certificate of Unfitness to Attend Court.
The proceedings adjourned for more than three hours in order for her lawyers to obtain the medical certificate.
Earlier, deputy public prosecutor Datuk Dusuki Mokhtar made an oral application to move the case to another High Court.
Dusuki said he was instructed to make an oral application to move or transfer the case to High Court Judge Mohamed Zaini Mazlan.
Rosmah's former aide Datuk Rizal Mansor's charges for similar offences over the same project and Rosmah's 17 AMLA charges will be heard before Zaini, and the prosecution wants all three cases to be tried together, he explained.
However, one of Rosmah's lawyers, Datuk Jagjit Singh, objected to the oral application and insisted the prosecution should make a proper written application.
High Court Judge Collin Lawrence Sequerah then fixed the case for further mention on April 23.
On Nov 15 last year, Rosmah pleaded not guilty in the Sessions Court here to two counts of receiving bribes, totalling RM1.5 million, in the implementation of the project to supply and install solar energy at 369 rural schools in Sarawak two years ago.
She was charged under Section 16(a)(A) of the Malaysian Anti-Corruption Commission Act, and faced imprisonment for up to 20 years and fine of not less than five times the amount of the gratification of RM10,000, whichever is higher, upon conviction.