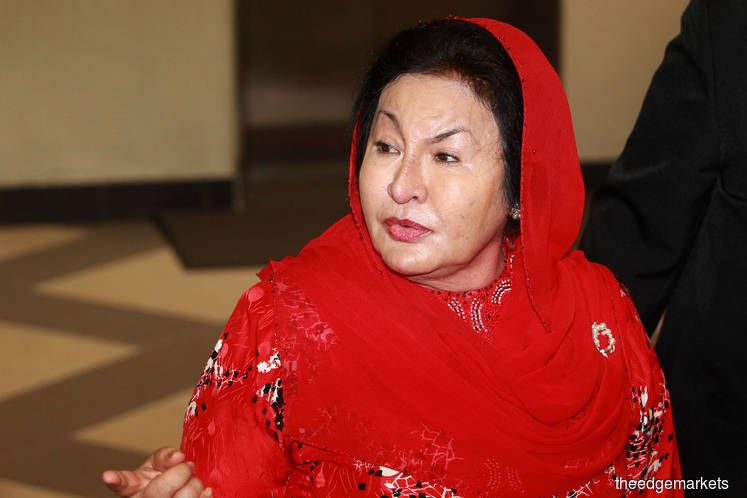 KUALA LUMPUR (June 18): Datuk Seri Najib Razak's wife Datin Seri Rosmah Mansor came to the High Court here today to observe her husband's SRC International Sdn Bhd proceedings but was asked by the prosecution to leave the court room as she could be called in as a witness. 
Wearing a red baju kurung and matching red selendang, she first arrived at the massive court complex here with Najib, but they went their separate ways to different courts.
Rosmah was here in court to attend her case mention for a money laundering charge at another High Court before Justice Mohamed Zaini Mazlan.
When her matter concluded, she entered Justice Mohd Nazlan Mohd Ghazali's court at about 9:23am, while her husband's proceeding was taking place.
As former SRC chairman Tan Sri Ismee Ismail was busy being cross-examined by Najib's lead counsel Tan Sri Muhammad Shafee Abdullah, appointed lead prosecutor Datuk V Sithambaram rose to inform the court and Justice Nazlan of Rosmah's presence.
"I don't intend to disrupt the proceedings but I would like to inform the court that Datin Seri Rosmah is in court. She is a potential witness in the trial and her statement had been taken by the authorities over this.
"As a result, we want the court to make an order....," he said.
Before Sithambaram could finish, Shafee said he was not aware Najib's wife was present in court and agreed that a potential witness whose statement had been taken should not be in court.
Rosmah's lawyer Datuk K Kumaraendran, who has been given watching brief status in this proceeding, told the court and judge that her client was in this court prior to this, and there was no objection by the prosecution.
The former premier's wife, who was seated in the public gallery, was seen gesturing as if to indicate "never mind" with her hand and left the court room at about 9:40am with one of her lawyers.
Rosmah is seldom seen in Najib's proceedings but the former premier is always seen accompanying her in her proceedings.