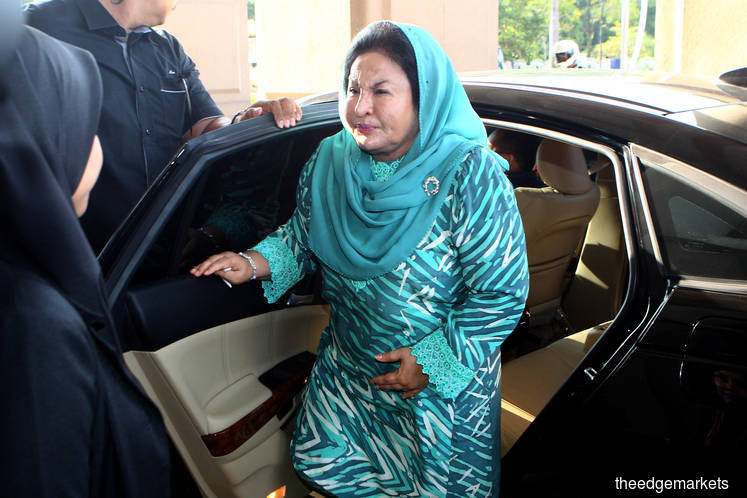 KUALA LUMPUR (May 2): Datin Seri Rosmah Mansor, wife of former prime minister Datuk Seri Najib Razak, today failed in her bid to stay the High Court's decision, which allowed the prosecution to transfer her RM1.5 million solar corruption case from the Sessions Court to the High Court.
After hearing both parties, Justice Collin Lawrence Sequerah ruled that any issue related to any alleged impropriety of the transfer can be raised at any time.
"There is an alternative remedy, which on order principles would preclude this court from exercising its inherent jurisdiction. Public interest element dictates this case should proceed without delay," he said when dismissing Rosmah's stay application.
Meanwhile, Justice Sequerah also allowed the prosecution's application to transfer this case to another High Court, which is presided by judge Mohamed Zaini Mazlan, where Rosmah's 17 charges under the Anti-Money Laundering, Anti-Terrorism Financing Act (AMLA) 2001 and her former aide Datuk Rizal Mansor's solar project graft case, which is linked to Rosmah, are being heard.
Justice Sequerah agreed with the prosecution that the application to transfer this case to another High Court does not violate Section 417 of the Criminal Procedure Code.
On Nov 15 last year, Rosmah pleaded not guilty in the Sessions Court here to two counts of receiving bribes, totalling RM1.5 million, in the implementation of the project to supply and install solar energy at 369 rural schools in Sarawak two years ago.
She was charged under Section 16(a)(A) of the Malaysian Anti-Corruption Commission Act, and faced imprisonment for up to 20 years and fine of not less than five times the amount of the gratification of RM10,000, whichever is higher, upon conviction.
On March 15, the High Court allowed prosecution's application to transfer her case from Sessions Court to High Court.
Later today, Counsel Datuk Akberdin Abdul Kader, who acted for Rosmah, told reporters that the defence team will seek instruction from Rosmah on whether they will appeal against the High Court's decision.
The prosecution team was led by former Federal Court judge Datuk Seri Gopal Sri Ram.