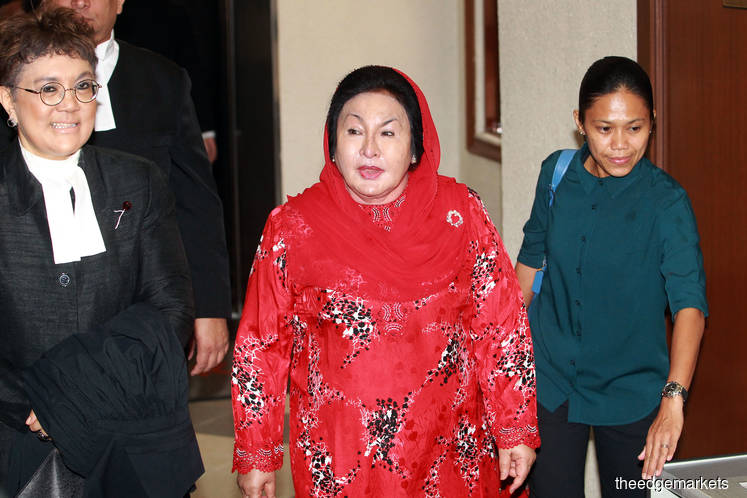 KUALA LUMPUR (June 18): Datin Seri Rosmah Mansor, who is currently charged for 17 counts of money laundering, is determined to make sure she is absolved from declaring her assets to the courts prior to the trial of the case.
At the Kuala Lumpur Court Complex today, Rosmah's lawyer Datuk Geethan Ram Vincent requested High Court judge Mohamed Zaini Mazlan for a stay compliance to reply to the asset declaration notice pending his client's appeal.
Justice Zaini then fixed July 26 for the hearing of the stay application, for which he granted Rosmah's non-attendance when Geethan requested the High Court's permission.
In her stay application, Rosmah said her appeal would be academic if compliance with the notice was not halted.
On May 24, Justice Zaini had dismissed Rosmah's application to exempt her from having to declare her assets. The next day, Rosmah's lawyers filed the appeal to the Court of Appeal to strike out the asset declaration notice.
When dismissing Rosmah's application to strike out the asset declaration notice, Justice Zaini said Rosmah should not be afraid that her defence will be affected or that the information she gives in the asset declaration notice would be used against her in respect of these charges.
The law was formulated to address the blight of money laundering, said Justice Zaini.
The prosecution had last November filed a notice of motion under Sections 49(1)(a) and 49(3) of the Anti-Money Laundering, Anti-Terrorism Financing and Proceeds of Unlawful Activities Act 2001, which compels Rosmah to reveal her movable and immovable assets before the trial commences.
Failure to comply with the notice is an offence punishable by a maximum of RM3 million fine, up to five years' jail or both upon conviction.
Rosmah, the wife of former premier Datuk Seri Najib Razak, filed the application on Feb 24 to strike out the notice.
On Oct 4 last year, she claimed trial to the 17 counts of money laundering and for failing to declare her income, involving more than RM7 million, to the Inland Revenue Board.
The trial is scheduled to begin on May 11 next year.
The deputy public prosecutors in attendance today are Mohd Farizul Hassan Bakri and Poh Yih Tinn.