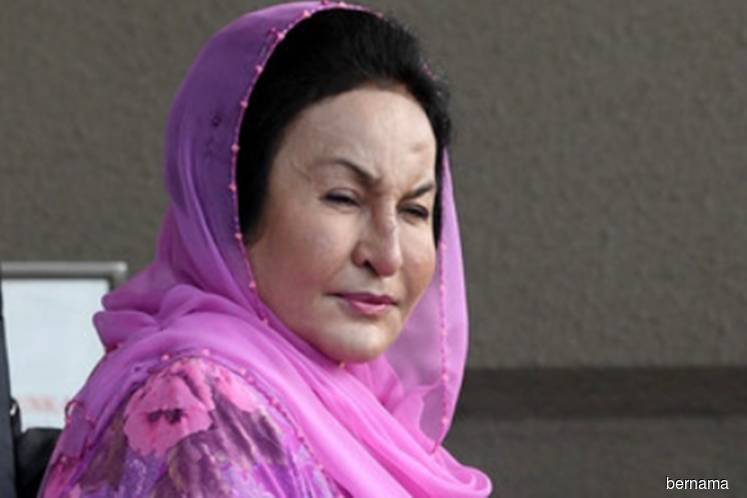 KUALA LUMPUR (March 8): Datin Seri Rosmah Mansor, the wife of ex-prime minister Datuk Seri Najib Abdul Razak, has been asked by the police and authorities to declare her assets before her 17 counts of money laundering trial begins.
She was served with a notice under the Section 49 of the Anti-Money Laundering, Anti-Terrorism Financing and Proceeds from Unlawful Activities 2001 late last year, where she is required to reply or declare her assets within 30 days.
The former PM's wife was also given a 30-day extension.
However, her lawyers, led by Datuk K Kumaraendran and Datuk Geethan Ram Vincent, had filed an application dated Feb 25 to the High Court here to strike out the notice on the grounds it infringes her right to remain silent and amounts to a fishing expedition by the prosecution of her defence before the trial starts.
Failure by Rosmah to respond to the notice within the stipulated period may result in her facing a charge in not complying with the notice where she could face a fine of up to RM1 million or maximum jail sentence of up to a year or both if convicted.
Today the matter was called up before High Court judge Mohamed Zaini Mazlan, where Kumaraendran told the court that they just received the prosecution's affidavit in reply to oppose Rosmah's application.
"Hence, we need some time to reply and asked today's hearing date be vacated," the lawyer said.
Deputy public prosecutor Datuk Mohd Dusuki Mokhtar and Poh Yih Tinn, who appeared for the prosecution, had no objection to the postponement.
The judge wanted to fix the hearing of the application early next month or later this month but was told by the lawyers that they are only free on April 25 as they have other cases to attend to.
"This is your application and the matter should be heard early," Zaini added.
After not agreeing suitable dates, Zaini fixed April 25 to hear the application and directed both the prosecution and defence to file their written submissions by April 12.
Rosmah claimed trial to 17 counts of money laundering and failing to declare her income, involving more than RM7 million, to the Inland Revenue Board (IRB).
She also claimed trial to two counts of receiving bribes totalling RM1.5 million in the implementation of a project to supply and install solar energy at 369 rural schools in Sarawak two years ago.
Also present were Najib and the couple's son Mohd Ashman.