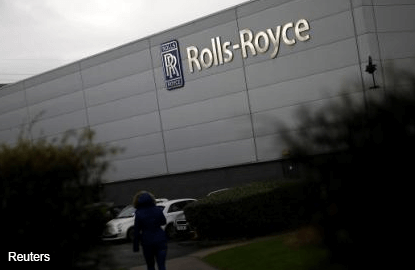 LONDON (Jan 17): Shares in Rolls-Royce leapt on Tuesday after the British maker of engines for planes and ships finalised a 671 million-pound (US$831 million) deal to settle a lengthy bribery investigation and said 2016 profits beat previous expectations.
The agreement draws a line under investigations by British, U.S. and Brazilian authorities into alleged criminal conduct spanning three decades, at least seven jurisdictions and three of the company's business sectors.
Coupled with an upbeat profit forecast, it removes a cloud over the business and comes as a boost to CEO Warren East who, since joining in mid-2015, has led a drive to slash costs and restructure the group following a series of profit warnings.
Rolls-Royce said it "apologises unreservedly for the conduct that has been uncovered".
"We now conduct ourselves in a fundamentally different way. We have zero tolerance of business misconduct of any sort," East said in a statement.
The U.S. Department of Justice said on Tuesday Rolls-Royce Plc had agreed to pay the United States a US$170 million criminal penalty, as part of the global settlement.
News of the bigger-than-expected total settlement was "negative but benign", as Rolls could spread payments out over five years, said Jefferies analyst Sandy Morris.
"This is by no means a great moment in Rolls-Royce's history, but in terms of a healing process, getting the SFO (Britain's Serious Fraud Office) settled and having trading, particularly on cash flow improving, well maybe, just maybe, Rolls is on the mend," Morris said.
An English court on Tuesday approved the country's third Deferred Prosecution Agreement (DPA) between the SFO and Rolls, first outlined late on Monday. Rolls said it would pay 497 million pounds to the SFO plus interest and a payment in respect of costs.
The court heard that the case against Rolls-Royce involved bribery of senior foreign officials and senior staff in countries such as Indonesia, Thailand, India, Russia, Nigeria, China and Malaysia from 1989-2013, with over 100 key employees and 33 million documents examined.
The SFO said it was the biggest investigation in its history.
The conduct, lawyers said, was carefully planned and led to large contracts earning as much as 250 million pounds.
In his ruling, the judge said the chunky penalty, the highest ever enforcement action against a company in Britain for criminal conduct, reflected the gravity of the company's misconduct alongside its corporate reform and cooperation with authorities.
Systems, culture, training, governance and ethics strategies had all been overhauled, said Rolls, adding that it had also cut dramatically the number of intermediaries it uses.
Shares climb
Shares in Rolls closed 4.4% higher at 695 pence on Tuesday, having earlier surged seven percent to hit their highest level for two months.
Rolls said on Monday it had finished the year strongly, with profit and cash flow ahead of expectations.
The company is due to report 2016 results on Feb. 14 with the consensus forecast for annual pretax profit predicted to halve from the year before, to 686 million pounds.
East has targeted savings of up to 200 million pounds a year from this year — by cutting managerial jobs — while a positive market backdrop for aircraft engines and a helpful post-Brexit slump in the pound could all have boosted profits.
"I think East's doing a really good job. He's doing all the right things," said Agency Partners analyst Nick Cunningham.
East himself, however, acknowledges that the company still faces a huge challenge, as it tries to execute its restructuring at the same time as it almost doubles output of wide-body plane engines by 2019 to meet orders, while avoiding cost overruns and technical problems.
Over the last 12 months, shares in Rolls have outperformed Britain's blue-chip index, rising 33%, but have declined 8% since November, when it set out what new accounting procedures would mean for its profits.
Victory for SFO
Rolls, which also makes engines for military jets, ships and nuclear-powered submarines, said the settlements agreed with the three authorities would involve the group paying about 293 million pounds in the first year.
The SFO's deferred prosecution agreement (DPA) with Rolls is a notable victory for the agency, representing the largest penalty it has issued. Set up to deal with the most serious and complex fraud cases, the SFO has had a chequered record in securing convictions over its 28-year history.
"In scale, it (the DPA) rivals the sort of penalty we are used to seeing extracted by the U.S. authorities, so will be viewed as a success for the SFO in establishing itself as a global anti-corruption agency to be feared," Neil Swift, partner at law firm Peters and Peters, said.
The DPA covers the company but means individuals involved can still be prosecuted by the authorities. Hinting that such cases could follow, the SFO said that the terms of the settlement involved Rolls agreeing to cooperate with future prosecutions of individuals.
(US$1 = 0.8078 pounds)