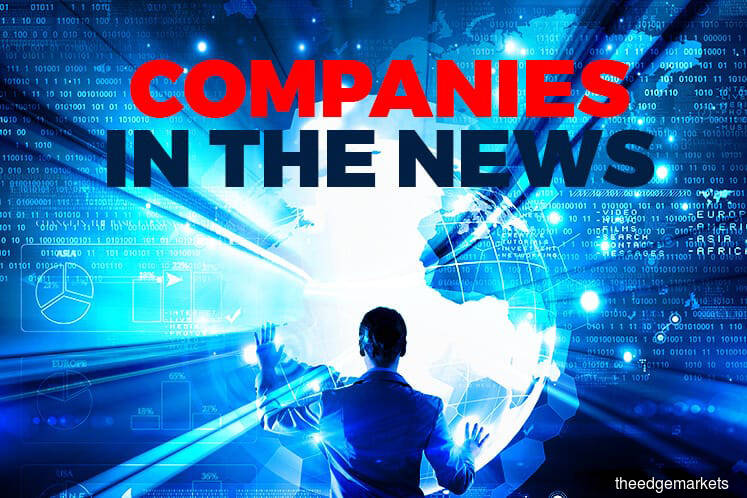 KUALA LUMPUR (Jan 14): Based on corporate announcements and news flow today, stocks in focus tomorrow (Wednesday, Jan 15) may include: Rohas Tecnic Bhd, London Biscuits Bhd, Minda Global Bhd, TMC Life Sciences Bhd, Wegmans Holdings Bhd, Sime Darby Bhd and TH Heavy Engineering Bhd.   
Rohas Tecnic Bhd has appointed George Sia Bun Chun as its chairman effective Jan 13, following the retirement of Tan Sri Wan Azmi Wan Hamzah on Jan 1.
Rohas Tecnic said Wan Azmi had retired to pursue his personal interests, and the appointment of Sia was part of the succession plan.
Meanwhile, Wan Afzal Aris Wan Azmi was also concurrently appointed as non-independent non-executive director of Rohas Tecnic, maintaining Wan Azmi's family representation on the board. 
Trading of London Biscuits Bhd shares will be suspended from Jan 21, until further notice.
London Biscuits is currently facing a winding-up petition, and has pledged cooperation in the interim liquidation process. Lim San Peen of PricewaterhouseCoopers Advisory Services Sdn Bhd has been appointed as the interim liquidator. 
Naresh Alagan has resigned as chief executive officer of Minda Global Bhd effective today, after less than one year on the job.
The private education group said the 45-year-old Australian has resigned, due to family reasons. No successor was named yet.
Naresh was appointed to the CEO role on Jan 23, 2019, replacing Tan Sri Dr Palaniappan Ramanathan Chettiar, who was redesignated as group managing director. 
TMC Life Sciences Bhd has secured a non-revolving credit facility of up to RM90 million, with a corporate guarantee from the healthcare group.
The facility is provided by OCBC Bank (Malaysia) Bhd to TMC's wholly-owned subsidiary Thomson Hospitals Sdn Bhd, to hire equipment/goods.
When fully drawn, the facility is expected to increase the group's gearing to 0.12 times from 0.002 times, based on its audited consolidated financial statements for the financial year ended Aug 31, 2019 (FY19). 
A fire broke out at one of three premises belonging to Wegmans Furniture Industries Sdn Bhd, a wholly-owned subsidiary of Wegmans Holdings Bhd, in Muar at 8.30pm yesterday (Jan 13).
Wegmans said the fire was put out in less than half an hour's time. The affected premise housed in three blocks of single-storey furniture factory building, together with a three-storey office block situated at Kawasan Perindustrian Bakri in Muar," it added.
Deeming it as minor, Wegmans said the fire affected one of the spraying lines and inventory work-in-progress.
Sime Darby Bhd said its 36.6%-owned joint venture company Weifang Port Services Co Ltd (WPS) has accrued in its accounts, a 711 million yuan (RM427 million) outstanding sum due to Chinese contractor CCCC Tianjin Dredging Co Ltd.
Meanwhile, the late payment interest to Tianjin Dredging is being accrued progressively. The 711 million yuan and late payment interest form the total outstanding sum that WPS was ordered by China's Maritime Court at Qingdao, Shandong Province in July 2019, to pay to Tianjin Dredging.
Tianjin Dredging was engaged to construct a 35,000 deadweight tonne (DWT) main channel in Weifang, Shandong Province. 
TH Heavy Engineering Bhd (THHE) has received the green light from Petroliam Nasional Bhd (Petronas) to supply certain products and services to oil and gas companies in Malaysia, after a multi-year suspension due to non-performance in 2016.
THHE said its wholly-owned unit THHE Fabricators Sdn Bhd has been awarded the Petronas license for three categories: Topside piping and structural, offshore facilities — major fabrication, and tank farms.
However, the approved licence categories did not reinstate THHE as a main contractor of Petronas. The duration of the licence is for a three-year period ending Dec 23, 2022.