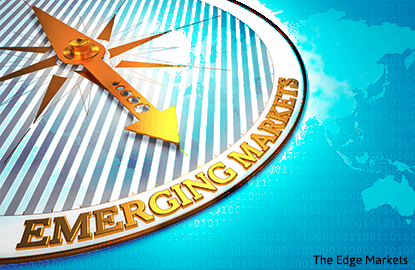 LONDON (Feb 1): Indian stocks leapt almost 2% on Wednesday, cheering extra spending unveiled in the 2017 budget and outperforming broader emerging equities, which rose after data showed a factory activity uptick across the developing world.
MSCI's benchmark emerging equity index rose 0.5%, snapping a three-day losing streak after China's manufacturing sector grew more than expected in January, growth in its services sector accelerated and South Korean exports rose at the fastest pace in nearly five years.
In Europe too, Russian factory activity grew at the fastest rate in almost six years while Poland and Czech activity expanded at the fastest pace in 22 months and nearly one year respectively.
While many Asian markets, including mainland China, remain shut, the won powered to a 2½-month high against the US dollar and Asia-Pacific shares excluding Japan added 0.5%.
"This underscores the synchronised global recovery that we have been seeing for the past few months," said Jakob Christensen, head of emerging markets research at Danske Bank. "The recovery across the euro zone, United States and even Japan is spilling over into emerging markets."
The surge was led by a 1.8% gain in India to over three-month highs after the annual budget offered a raft of incentives for companies, infrastructure and rural areas.
The bullish mood was cemented by Indian factory activity which returned to growth in January, bouncing back from December's contraction which was triggered by the government's scrapping of high-value bank notes.
The Indian rupee firmed 0.4% to touch its highest against the US dollar since mid-December
Economists were mixed however on the slightly wider budget deficit target of 3.2%. Ten-year bond yields rose as much as 5 bps at one point amid confusion about gross borrowing numbers, but later pared losses.
Average yield spreads of Indian sub-sovereign bonds over Treasuries widened to 148 bps, a near one-month high, underperforming Asian peers.
"The budget deficit target is a compromise between keeping rating agencies and the population happier, with a GDP growth forecast at 6.5% versus original plans of 7.1%. Markets are likely to take this well," Simon Quijano-Evans, an emerging markets strategist at Legal & General Investment Management, told clients.
However, a stronger US dollar held back many emerging currencies.
The rouble and lira slipped around 0.2%, with Turkish manufacturing activity contracting at a slower pace in January after sinking to a four-month low in the previous month.
"Until they really tighten monetary policy significantly, the lira will be trading weak," said Christensen. "Investors don't see any comforting news — the economy is weakening, the central bank is seen as subject to political pressures and the external environment is difficult for Turkey."
Markets will looking for fresh guidance from the US Federal Reserve at its meeting later on Wednesday. The Fed is expected to keep rates unchanged as it awaits further clarity on US President Donald Trump's proposed fiscal stimulus.