This article first appeared in The Edge Malaysia Weekly, on January 14, 2019 - January 20, 2019.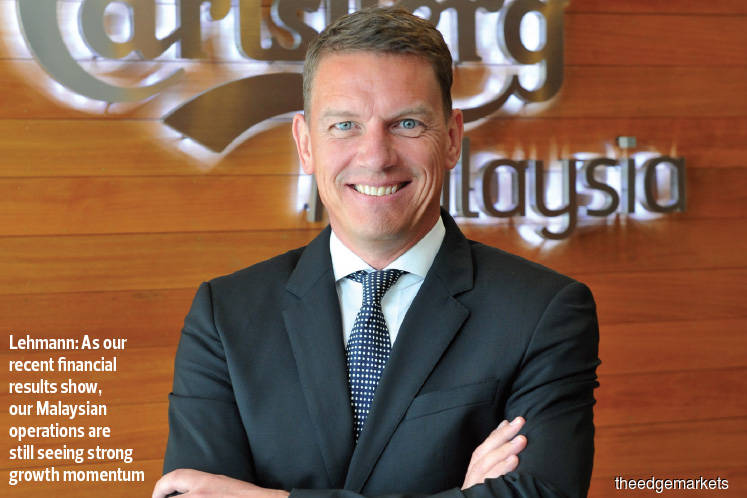 ROBUST beer sales up to the third quarter ended last September, which continued even after the introduction of the Sales and Services Tax (SST), have given Carlsberg Brewery Malaysia Bhd reason to be optimistic that the trend will be maintained into Chinese New Year next month.
"We expect the momentum to continue well into the Chinese New Year season," says group managing director Lars Lehmann.
His confidence does not appear to be misplaced. Beer consumption rose year on year even after the introduction of SST in September, he says, attributing it to more effective innovation and promotion of Carlsberg's core and premium brands. Even the weaker ringgit and a 5.5% hike in beer prices post SST did not dent demand.
"We have not seen reduced domestic demand for our brands in Malaysia, which, in fact, have recorded double-digit growth as at the end of the third quarter [of last year] (3QFY2018). Group revenue has been further diversified through our Singapore operations and export sales," Lehmann says in an email exchange with The Edge.
In 3QFY2018, Carlsberg's net profit jumped 52% to RM64.98 million y-o-y owing to higher sales in Malaysia and a better performance at its Singapore operations. Revenue rose 16% to RM492.77 million.
For the cumulative nine months, net profit spiked 23% y-o-y to RM209.7 million on the back of a 9% increase in revenue of RM1.46 billion.
Carlsberg's share price gain of more than 30% y-o-y reflects its strong fiscal performance with the counter ending last Thursday at RM19.76.
"As our recent financial results show, our Malaysian operations are still seeing strong growth momentum ... [and] our Singapore operation is trending well. Nonetheless, we are committed to our strong growth trend by staying focused on the execution of our SAIL'22 strategy," Lehmann says of the brewer's outlook for 2019.
Rolled out across Malaysia and Singapore in 2016, SAIL'22 aims to strengthen the group's core business, take advantage of growth opportunities and deliver enhanced shareholder value.
Barring any legislative or regulatory changes, Lehmann believes Carlsberg will continue to see growth in its volume and earnings in FY2019 because of the brewer's product innovations, strengthened customer relationships, consumer promotions and reinvigorated brand experiences.
Notwithstanding the absence of the Fifa World Cup this year, its calendar is full, with Chinese New Year — traditionally a peak season — kicking off the year.
But in spite of Carlsberg's confident outlook, analysts have a more sober view. Out of 10 analysts covering the brewer, six have a "hold" call, two advocate a "buy" and two a "sell." Their average target price of RM19.58 is slightly lower than last Thursday's closing price.
One reason could be the company's valuation, which at a trailing price-earnings ratio of 23.1 times, is higher than its five-year average PER of 20.2 times. The dividend yield at current levels is about 3.3%.
Halt to excise duty hikes right step to curb contraband
Touching on excise duties, Lehmann is pleased the sector was spared in Budget 2019.
"Malaysia and Singapore already have the highest excise duties on beer in the world apart from Norway. High excise duties are a significant factor in the proliferation of contraband beer in the Malaysian market due to the large difference in price. The elimination of the contraband market can translate into increased duty collection from legitimate sales and we hope that it will be a persuasive reason to waive any proposal to increase the tax on beer."
CIMB Equity Research analyst Walter Aw says, "In our view, an increase would be detrimental to sales volume as Carlsberg had raised its selling prices by an average of 5.5% post SST implementation on Sept 1. Another hike in alcohol tax would drive consumers to ... illicit beer products, which are estimated to form about 25% of the total beer market."
In the fight against contraband alcohol, Carlsberg supports moves to increase enforcement efforts and penalties, Lehmann says, and urges a greater focus on Sabah and Sarawak as four out of five beers sold there are contraband.
"The spate of alcohol poisoning deaths from illegal alcoholic beverages is still fresh in our memory and is a tragedy that should never happen again. Initiatives should be focused on Sabah and Sarawak, where contraband beer makes up more than 80% of the market."
On another note, Lehmann stresses that Carlsberg will continue to respect the challenges of operating in a sensitive and highly regulated market and to strictly adhere to local laws.
He was alluding to a video that went viral in November last year, where a Carlsberg promoter was harassed and bullied by an aggressive man at a supermarket. At the time, Lehmann had said that the group was upset at the harassment of the promoter when she was only doing her job in line with the rules and regulations.
"As a global brewer, we are the strongest advocates of responsible drinking. In fact, this is one cornerstone of our global efforts embodied in our sustainability ambition of Together Towards ZERO."
Save by subscribing to us for your print and/or digital copy.
P/S: The Edge is also available on Apple's AppStore and Androids' Google Play.