This article first appeared in City & Country, The Edge Malaysia Weekly, on May 20, 2019 - May 26, 2019.
-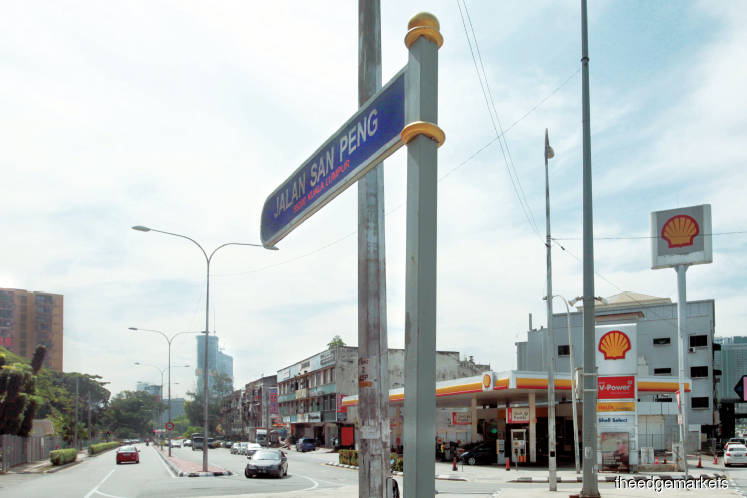 Jalan San Peng has been upgraded and the area has since changed pictures by Patrick Goh/The Edge
Jalan San Peng is not a street that has garnered much positive attention, despite being located just off the main thoroughfare of Jalan Loke Yew in the old city area. While Jalan San Peng is known for some good makan places, such as San Peng Prawn Mee, Tiger Jit Singh Chapati and Nasi Lemak San Peng, it is also often associated with crime and drug-related activities.
In the 1990s, many Kuala Lumpur folks liked to rhyme the name "San Peng" with samseng (meaning gangster).
However, Jalan San Peng is now a shadow of its past. Metro Homes Sdn Bhd director See Kok Loong says the area has since changed, with fewer squatter homes and the road has been upgraded. Many would agree that they feel much safer than before in venturing into that area.
"Currently, the residents there are mostly the older generation who have lived there for decades or foreign workers who need cheaper accommodation," he adds. "However, there are still some wooden houses in that area."
The name "San Peng" is believed to refer to a man called San Ah Peng, who was one of the leading contractors in Kuala Lumpur in the late 1800s. He received contracts for many government buildings, including the then new jail in Pudu to replace the one in Bukit Aman.
The construction of Pudu Jail was completed in 1895, which was in use for 101 years before it shut down in 1996. It will be developed into a mixed-use development called Bukit Bintang City Centre.
Jalan San Peng is also home to SMK Jalan San Peng (now known as SMK Dato' Onn) and SJK (Tamil) Jalan San Peng. There is also Flat Sri Selangor, the second local council flats in Kuala Lumpur, after the Pekeliling flats. Flat Sri Selangor was built in the early 1970s, and it has facilities of bigger sizes than the newer PPR flats.
Other buildings there include the headquarters for Kuala Lumpur City Hall's enforcement department, a Telekom Malaysia building, shophouses, a Shell petrol station and an office building. The Pudu LRT station is also within walking distance.
A recent property listing on EdgeProp.my shows that a freehold 9,354 sq ft parcel in Jalan Gelang, off Jalan San Peng is up for sale. A five-minute walk from Pudu LRT station, the land is priced at RM5.14 million or RM550 psf.
According to the Valuation and Property Services Department, there has been no land sales in that area for years. In fact, there were limited transactions on Jalan San Peng.
Metro Homes' See notes that a sale in December 2017 shows a flat (built-up: 775 sq ft) in Jalan San Peng that was sold at RM160,000, or RM206.45 psf. In June last year, a ground-floor shop (built-up: 1,130.21 sq ft) in Jalan Gandek was transacted for RM680,000 or RM601.66 psf.
"If the land size is more than 20,000 sq ft, then it is possible for high-rise developments there to cost about RM500 to RM1,000 psf, depending on the plot ratio. However, as Jalan San Peng lacks new developments, its future prospect are limited too," he says.