This article first appeared in The Edge Financial Daily, on September 12, 2018.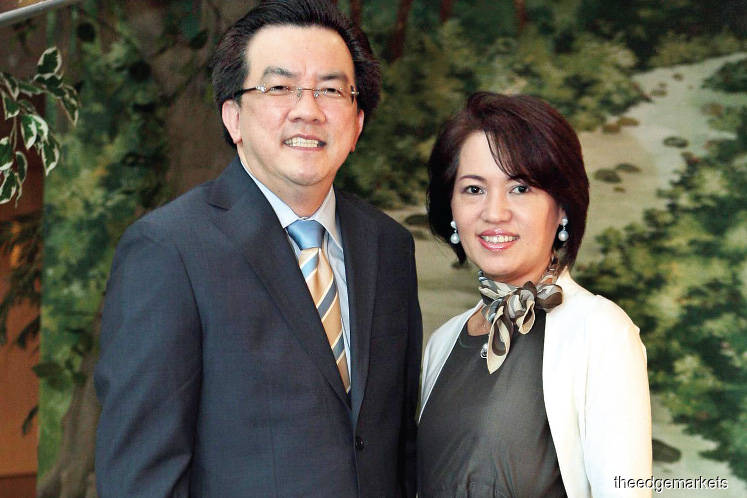 KUALA LUMPUR: A month ago, another unfavourable court decision involving a top gun in Supermax Corp Bhd prompted the company to issue a statement that a "succession plan is in place".
The glove maker simultaneously announced that Datin Seri Cheryl Tan had vacated her position as the group's executive director. Her husband and Supermax founder, Datuk Seri Stanley Thai, similarly vacated his managing director post late last year.
The two have been convicted of separate charges of insider trading, and both are appealing the decisions.
At the International Rubber Glove Conference and Exhibition here last week, Thai was candid as he spoke to The Edge Financial Daily about his vision for his brainchild.
"We have been building the business where none of us is indispensable. With or without me, if the plane goes down, business runs as usual," he said.
"[For example,] our stock management team has been with us since 1991 — the last batch we recruited was in 2006. This means [the team members] have at least 12 years of experience," he added.
However, Thai also confirmed that the family will continue to play a substantial role in the company. "I built this business for my next generation," he said.
"We have Datin Seri's nephew who has been with us for the last 17, 18 years. My children are taking over slowly, especially the contact lens business," he added.
He was referring to Tan Chee Keong and Cecile Jacklyn Thai, who were appointed executive directors on Jan 2. Another daughter is also on board, Thai said, adding that more details will be announced in time.
Contact lens business awaits next growth phase
Supermax's contact lens business is only complementing its larger glove-making business currently, and is still only "cash flow positive" after four years of operations.
But Thai was enthusiastic when speaking about the segment, which he ventured into partly due to hiccups in the expansion of its rubber glove business in 2013.
"It was exactly the same as when I first started the glove business," he said. "The Big Four [in the contact lens industry] were multinationals. That sounded familiar. [It reminded me] that we can take it on … which turned out to be very positive," he said.
Supermax's contact lenses are now available in 60 countries, with eight distribution centres for its own Aveo Vision brand across four continents.
A recent breakthrough was the licence to export Malaysian-made lenses to Japan, which Supermax obtained in June. It also has plans to drill down on the Malaysian market.
But the next phase of growth is dependent on the "nearly impossible" feat of obtaining the licence to export to the Chinese market, Thai said.
"We filed our licence application for China three years ago … Up until now it has still not been obtained. We had FDA (US Food and Drug Administration) approval within a year. We got Japan's licence approval within two years!"
Supermax has done business in China. But contact lens is about marketing, explained Thai. The company is currently spending over RM15 million a year on advertising and promotion — and the licence will allow it to control its distributors as well as its strategies on sales and marketing, he added.
"There is no large contact lens manufacturer in China. It is a huge, huge market for us, which, once I get the licence, I should be able to spend more time and more focus on," he said.
FY19 to ride on glove manufacturing expansion
Despite missing consensus estimates by around 16%, Supermax's net profit for the year ended June 30, 2018 (FY18) was 59.25% higher at RM107.02 million, from RM67.2 million in FY17. Revenue rose 15.76% to RM1.3 billion from RM1.13 billion.
The performance was achieved amid issues like higher-than-expected cost incurred in the fourth quarter — due to provision of higher deferred tax as well as provision of unrealised foreign exchange (forex) loss on short-term US dollar financing — and the forex losses for the whole of FY18 from gains the year before.
Additionally, Thai said if the ringgit continues its downtrend against the US dollar, Supermax will be financing its working capital and several long-term capital expenditure loans in other currencies — ringgit included.
It could also temporarily help ease the downward pressure on the average selling price of rubber gloves, which analysts are looking at closely.
At the moment, Supermax can concentrate on the progress of increasing its glove-making capacity, which started in 2017 and is scheduled for completion in the second half of 2019.
This includes its plant at Block G, Kamunting which, upon full commissioning this month, will have a capacity of 1.35 billion pieces per annum from 1.02 billion previously.
"We spent about RM75 million [there]," he said. "We are also spending RM196 million on capital expenditure now to build plant 12 [in Klang]. That will allow us to produce another 4.4 billion pieces annually.
"By the July-September quarter in 2019, the first phase of production will be running," he said, expressing confidence that the plant will be commissioned on time.
Like its counterparts, a large portion of Supermax products is exported. All four of the company's manufacturing units received sales and services tax (SST) exemption certificate to acquire machinery on Sept 1.
"This means that the equipment that we import, or when we build our machines, our equipment suppliers don't charge us SST. There is no impact," he said.
Including the plan to double capacity in Sungai Buloh and convert another unused warehouse in Kamunting, Supermax will be able to produce up to 27.9 billion pieces per annum by end-2019.
The expansion is also timely — the whole industry is gearing up capacity ahead of the expected 15% rise in global demand annually, currently at 268 billion pieces.
There is expectation of sustained demand growth in Asia, particularly China and India (12 pieces per capita combined against 144 pieces in the US).
Analysts are also pondering over whether the China-US trade war will actually add more sales of Malaysian-made gloves in the mature US market as well.
Thai sits with the camp which expects American customers to switch from Chinese vinyl gloves — one of its products in US' tariff hike list — to Malaysian latex or nitril gloves.
"If the import duty increases by even 5%, most of the businesses will move to Malaysia and switch from vinyl to latex," he opined. "We are still very bullish."
Supermax's share price closed at RM3.27 last week, with a market capitalisation of RM2.14 billion.