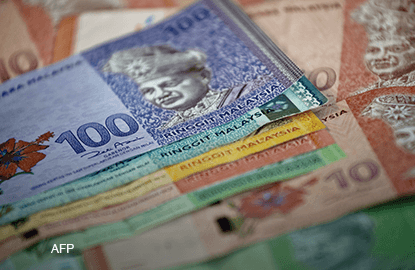 KUALA LUMPUR (Sept 9): Some RM60 billion Malaysian ringgit-denominated bonds may be sold within the next one year, a move which will further weaken the currency, according to MIDF Amanah Investment Bank Bhd.
In a note today, MIDF said it anticipates pressure on the ringgit to continue, as foreign ownership in the Malaysian debt market was about RM68.8 billion higher, as compared to the January 2011 level.
MIDF said "the significant depreciation of ringgit was due to the selling of MGS (Malaysian Government Securities). Data from central bank showed that foreign holdings of MGS were reduced by RM8.0 billion in August, the highest in 25 months. On the other hand, total foreign bond and sukuk holdings were down by RM8.9 billion, highest value year-to-date."
"We expect there will be at least RM60 billion worth of debt securities still waiting to be sold in the market, which we would expect to be done in 6-12 months period, depending on the factors affecting the pace mentioned above. As long as foreign investors are not done with their asset selling, it would be difficult for ringgit to recover to its previous level," MIDF said.
Yesterday (Sept 8), the ringgit depreciated to a fresh level against the US dollar at 4.3713. Today, the exchange rate was 4.3062 at about 10:30am.
The current rate compares with 3.1845 a year earlier. Today, MIDF said the ringgit's strength would take the cue from global and domestic factors, which include higher US interest rates.
"The gradual selling of debt securities in Malaysia is expected to continue, as the United States will definitely increase their interest rate moderately. The main concern for Malaysia (and other emerging markets) is more on the pace of the selling.
"Downward pressure on oil price, domestic political instability, dampening economic data and faster-than-expected increment in the Fed interest rate, all of these will lead to a faster pace of asset selling in Malaysia and eventually put a stress on the ringgit," MIDF said.