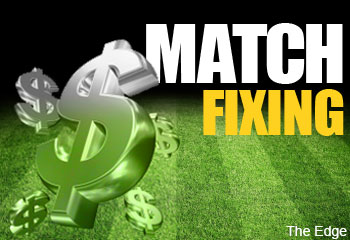 Screen capture of video showing how Sportsradar operates with at least four experts monitoring a game.
PETALING JAYA: The FA of Malaysia (FAM) has begun talks with Swiss fraud detection specialist Sportsradar to ink a deal to curb match fixing in the M-League.
The company has been providing the unique Fraud Detection System (FDS) to detect betting-related manipulation since 2004. The only other organisation with match-detecting specialisation is FIFA with its Early Warning System.
Sportsradar is currently working with all members of the Union of European Football Associations, the Confederation of North, Central American and Caribbean Association Football and the FAs of Australia, Indonesia, Singapore and Hong Kong.
"FAM has always had the idea of having a monitoring system for our matches as it would make it easier to keep an eye on match manipulation.
"There were a couple of meetings held last year after Sportsradar signed a two-year agreement with the Asian Football Confederation (AFC).
"Our neighbouring countries are using the system so it is a matter of time for us to have it too," an FAM official told The Edge Financial Daily.
He said FAM's Integrity Committee has been working hard to curbing match-fixing and bribery but it needs professional help.
"It is not only the Super League, we also need to monitor the Premier League, FA Cup, Malaysia Cup and the FAM League," the official said.
Sportradar charges €150 (RM621.57) for each match, which is considered costly by some officials.
Meanwhile, Sportsradar Security Services Asia director Joe Patit Suphaphongs said a proposal will be sent to FAM.
"We are also in talks with the [FAs] of the Phillippines, Myanmar and Vietnam to monitor their matches," he said when contacted in Bangkok last week.
Suphaphongs said since 2004, Sportsradar has been working with Asian and European bookmakers, betting exchanges and state lotteries, to monitor the global betting market.
"Our strength is that we get our betting information from nearly 500 to 600 bookmakers around the world and when we see something wrong with the betting pattern, that is when we do further investigations to confirm if there is match manipulation," he explained.
Suphaphongs said currently, the FDS team comprises 30 highly-qualified trading analysts who operate from three offices. They are supported by over 2,000 scouts and 150 freelance correspondents across the world and oversee more than 60,000 matches each year.
"Using their vast experience and expertise they investigate suspicious betting patterns round-the-clock. By tracking odds changes and liquidity (transactions) across a wide range of markets, the FDS is in an unrivalled position to detect irregular betting patterns in real-time, both pre-match and live. With the team's thorough specialist knowledge of both the betting markets and the sport (team news, local rumours, match action), the FDS is quickly able to reach a conclusion regarding the integrity of any match," he added.
He said where fraudulent activity is suspected, a comprehensive report is compiled within 72 hours. This provides the basis for potential criminal investigations.
"That is when the police, Interpol and the anti-corruption unit will be notified," said Suphaphongs.
One of Sportsradar's success stories is assisting Australia's Victoria Football Federation in exposing Malaysian Segaran 'Gerry' Subramaniam for his involvement in match-fixing with A-League second division team, Southern Stars.
Gerry was sentenced to a year's jail while the club was hit with a raft of penalties. Other prominent cases for Sportsradar's FDS are the Latvian and Italian football scandals.
In the 2011 Italian football scandal, FDS submitted detailed reports which highlighted certain areas of match-fixing concern.
In 2009, the FDS supported the Latvian Football Federation with significant information pertaining to Dinaburg FC's potential match-fixing behaviour — the club was later expelled from the league
Suphaphongs said Sportsradar is well aware of the situation in the M-League and is looking forward to working with the national body to curb match-fixing and bribery syndicates.
In 1994, more than 100 players and officials were suspended or banned from football after police cracked down on match-fixing. It reared its ugly head again in 2012, when former Negeri Sembilan President's Cup coach Yusarman Yusof was banned for life, while 11 members of the Negeri President's Cup Under-20 team were suspended for between one and five years for fixing the outcome of the match against Penang SDM Navy during the 2011 season.
Last year, the Disciplinary Committee imposed a life ban on five players and three team officials from the Kuala Lumpur football squad for match fixing.
AFC International Relations and Integrity in Sport director Sanjeevan Balasinggam said it is not compulsory for national bodies to sign up with Sportsradar but it is advisable to have a monitoring system.
This article first appeared in The Edge Financial Daily, on September 15, 2014.