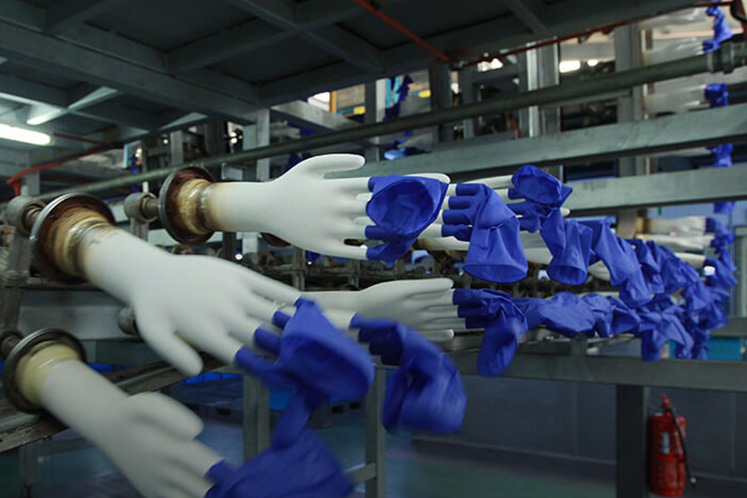 KUALA LUMPUR (July 7): Investors have shoved a total of RM57.66 billion into seven glove counters listed on Bursa Malaysia since March 1 when the pandemic theme started in the local market.
The grand total is the aggregate of the daily turnover of each glove counter based on Bloomberg data.
Yesterday the turnover of the seven glove stocks alone accounted for 43%, or RM5.07 billion, of total turnover of local bourse — an evident of the craze for glove counters.
The seven glove manufacturers are Hartalega Holdings Bhd, Top Glove Corp Bhd, Kossan Rubber Industries Bhd, Supermax Corp Bhd, Careplus Group Bhd, Rubberex Corp (M) Bhd and Comfort Gloves Bhd.
From March 1 to July 6, the turnover of RM57.66 billion among the seven stocks represents some 19.04% of the RM300.4 billion turnover on Bursa.
In the period, the combined market capitalisation (cap) of the seven companies has more than tripled from RM44.43 billion on Feb 28 to RM140.22 billion — an addition of RM95.79 billion in a short span of slightly more than three months.
Both Hartalega and Top Glove have overtaken IHH Healthcare Bhd in terms of market cap. Hartalega is currently the fourth largest stock on Bursa with a market cap of RM55.9 billion. Top Glove's market cap is at RM53.77 billion, making it the sixth after Petronas Chemicals Group Bhd.
The glove mania gathers steam as investment analysts continue to raise target prices despite concerns that the valuations of these companies are not justifiable.
The combined turnover of the seven stocks has amounted to RM6 billion so far this month, which is equivalent to 36% of the total turnover of RM16.51 billion for the same period.
In fact, just the top four glove makers — Top Glove, Hartalega, Kossan Rubber and Supermax — saw a transaction value of around RM40.8 billion in the period, or 13.5% of all transactions across the local bourse.
Monthly turnover value for the seven glove counters jumped from 8% of the entire Bursa Malaysia in March to 23% in May, when the smaller players — Careplus, Rubberex and Comfort — started to play catch-up.
Based on yesterday's closing, the glove stocks were trading at trailing 12-month price-earnings ratio (PER) of between 51 times and over 100 times, the highest being Hartalega and Supermax at 128 times and 100 times respectively.
Nonetheless, investment analysts are of the view that historical valuation should be thrown out of the window as the world is in a new normal and rubber gloves will continue to be widely used even when the pandemic eases.
No 'sell' calls although target prices exceeded
Of the big four glove makers covered by analysts, none have any "sell" calls currently, although share prices have exceeded some of their target prices.
"We believe there are still legs to rally and it is only in midst of a rerating," said HLIB Research in its report dated July 6, anticipating the glove sector to deliver stronger results in the second half of the year.
"In the past, we saw formation of a new PER average whenever there is a pent-up demand cycle. Also, the sector has not seen peak quarterly earnings yet, which suggests there is still room for upside as per our study during the H1N1 episode(back then it took roughly five quarters to hit peak profit and there was strong correlation to share price performance).
"Besides, it is one of the rare sectors presently that have strong visible earnings growth, further justifying the premium. Moreover, there is potential of a Covid-19 second wave," the research house added.
UOB Kay Hian Research, which has maintained a "buy" call on Top Glove with a target price of RM21.90, described the company as providing "scarcity safe-haven earnings growth that is unrivalled across the other sectors".
The research house pointed to opportune capacity expansion for the company to capture additional windfall profits during this pandemic period.