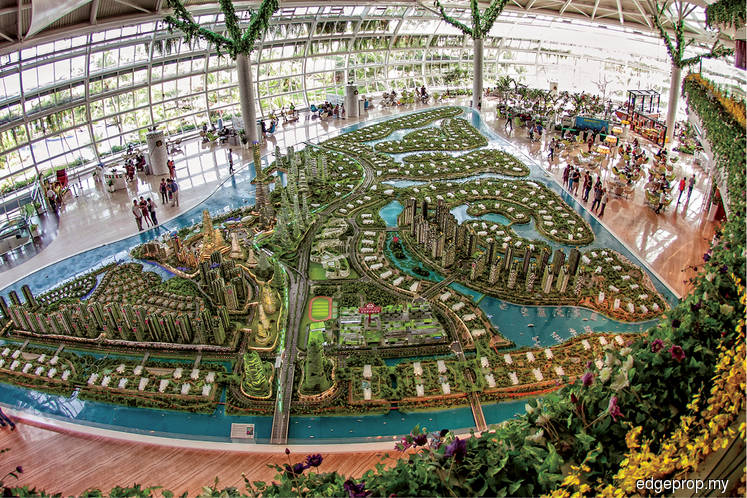 PETALING JAYA (Oct 7): The RM2 billion that has been deposited by buyers of condominiums in Forest City into its Housing Development Account (HDA) proves that the units were transacted in Malaysia, said its developer Country Garden Pacificview Sdn Bhd (CGPV).
In a report by The Malaysian Insight, the developer's director of strategy Ng Zhu Hann said the sum in the account – which will be used by the government to take over the project should it run into problems – can only be obtained by purchasers of the project.
"… it [the money in the HDA] is not something that we can put into there," he said.
There was speculation that the Forest City condominiums were sold to buyers from China on a buy-one-free-one basis.
Ng said CGPV has explained the transactions to the Housing and Local Government (KPKT) which has in turn verified the information.
He added that the alleged buy-one-get-one-free deals for the condominiums in the development could not have taken place without auditors sounding the alarm.
This was due to the separate accounts and accounting standards for CGPV and its parent company Country Garden Holdings, which is listed in Hong Kong.
"… They are actually two separate entities. There is no way we can, say, buy a product in China and you get one free."
He added that CGPV is a different business entity from Country Garden, and the Johor state government – via Esplanade Danga 88 Sdn Bhd – also has a stake in the former.
"So, there's no such thing as a 'related-party' transaction. There might be transfer-pricing issues, which auditors would have flagged years ago. So, [the allegations] do not have any truth to them."
Addressing concerns over the majority of the project's buyers being China nationals, Ng said this was natural as Country Garden would market the project first in its country of origin.
Currently, 70% of the buyers are from China, Hong Kong, Taiwan and Macau, while 30% are from Malaysia and Singapore; the remaining buyers hail from 22 other countries.
However, he said the proportion of buyers by nationality will likely change as development progresses at Forest City, which was launched just over three years ago.
A report by the Malay Mail said the Johor state government has proposed a quota for Malaysian property ownership in the project of 30%, subject to fine-tuning pending further findings.
In a bid to diversify its target markets for the development, CGPV has set up sales galleries in nine countries, with 13 alone in Malaysia.
"There is no way Forest City can rely solely on a country from a single demographic. (If that were the case,) then you are not a global metropolis, you are not an international market. You are just a market for a particular country or nation. That was never our plan. We never planned to build a Chinese enclave here," he said.
Meanwhile, in an interview with the Malay Mail, Ng said CGPV was ready to work with the federal and Johor governments to build affordable housing for Malaysians using its Industrial Building System (IBS) facility.
This will be an early initiative under its industry integration blueprint 2020, which will see high-tech manufacturing plants set up in the 417-acre Forest City Industrial Hub next to the IBS facility.
"We will employ our own IBS facility to supply building materials and also use the company's construction team to build affordable houses at cost price for the government," he said.
He noted that both governments were receptive to the proposal.
Ng added that CGPV aims to transfer knowledge of its development technology as part of its long-term investment plans in Malaysia, and intends to increase its investment over time, as it believes that the country will be the gateway to Southeast Asia.
The developer had also hired 1,200 locals here, of which 40% of the workforce are at the middle and senior management level. In total, its workforce numbers 1,500.
The US$100 billion freehold development in Gelang Patah will measure 20 sq km across four manmade islands.