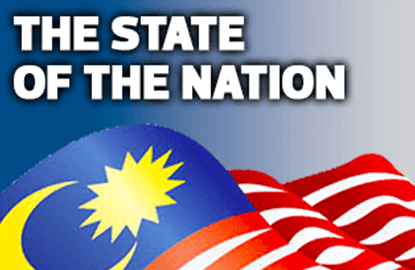 This article first appeared in digitaledge Weekly, on September 21 - 25, 2015.
THE list of measures to protect the real economy and keep Malaysia's economic growth momentum going for the short and medium terms, announced last Monday, may create an immediate feel-good factor but ignores problems in the real economy, economists say. 
Central to the measures recommended by the newly formed Special Economic Committee (SEC) and announced by Prime Minister Datuk Seri Najib Razak, is a RM20 billion injection into the stock market through government-linked fund manager ValueCAP Sdn Bhd. However, some quarters take the view that using the capital markets to artificially create a positive effect fails to address fundamental and structural weaknesses in the economy. 
While it is a gauge of wealth creation, boosting the stock market has very little to do with Najib's twin objectives of protecting the real economy and maintaining growth momentum.
Yeah Kim Leng, dean at Malaysia University of Science and Technology's School of Business, says Malaysia is still facing pressing fundamental issues, such as a high household debt-to-gross domestic product (GDP) ratio and a weak fiscal deficit position, which limit policy options to stimulate economic growth — issues that a rising stock market cannot address.
M&A Securities head of research Rosnani Rasul says, "The real economy is about producing goods and services, not the capital markets. In my view, pumping money into the stock market is not a stimulus per se. It helps to boost investor confidence in the local market, although I must say that there is nothing wrong with the stock market.
"Like other emerging markets, we have been weighed down by many external factors, like low commodity prices and the announcement of the US Federal Reserve's interest rate policy." 
Last Thursday, the Fed announced that it was leaving interest rates unchanged.
Erik Norland, CME Group's senior economist, takes the view that using funds from the sovereign wealth fund to buy equities will probably have little impact  on the real economy. Increasing investments in infrastructure, otherwise boosting state spending or lowering taxes would produce more of a short-term economic boost, he argues.
ValueCAP is an equity fund, that is jointly owned by Khazanah Nasional Bhd, Kumpulan Wang Persaraan (Diperbadankan) and Permodalan Nasional Bhd and established in the aftermath of the 1997/98 Asian financial crisis. Modelled after Hong Kong's Tracker Fund, ValueCAP is designed to support undervalued stocks in a market downturn. ValueCAP's three shareholders will fund the RM20 billion injection into the stock market this time around. 
Yet, even before pertinent questions on when ValueCAP's buying spree will start and which stocks would benefit from the investment were asked or answered, the FBM KLCI rose 2.25% to close at 1,639.63 points last Monday. The gains were the biggest Bursa Malaysia had seen in months. 
Market observers say it is this type of stock market optimism that a confidence-deficient Malaysia needs to rescue fading investor confidence. Rising confidence in the stock market may stem foreign capital from gushing out of the Malaysian economy.   
Lim Kim Hwa, an economist with the Penang Institute, says, "The special economic measures are used to restore the confidence of the general public, business communities and foreign investors. While Malaysia is not unique in being caught in the emerging markets selldown, it is unique in that the country's leadership lacks public confidence.
"I believe the timing of Najib's announcement of SEC measures was to prevent a second wave of capital outflow from the country." 
Some of the SEC's other measures, such as the call to government-linked companies and government-linked investment companies to repatriate investment profits, as well as Najib's public pledge to ensure that scandal-ridden 1Malaysia Development Bhd will conduct business in a "market friendly" manner suggest that regaining investor confidence is a priority of the committee.
But allowing ValueCAP to influence investor sentiment also undermines the difficulties the government faces in fighting market forces that prevent it from finding its deserved value and the potential of further downside in equities.
China is an example of that. Even with the depth of Beijing's financial capital, strength of its political mileage and diversity of state intervention measures (easing borrowing to encourage investors to buy stocks, suspension of stock trading, cutting interest rates, bans on selling shares and allowing pension funds to invest up to 30% of their assets in stocks), there has been limited success to putting an end to a stock market slide.
IHS chief economist Rajiv Biswas says, "Despite the Malaysian government's measures to support the stock market, there are still considerable downside risks to the Malaysian stock market due to global investors reducing their exposure to many emerging markets worldwide. Therefore the Malaysian government's measures may help to mitigate the capital outflows, but it will not necessarily create a positive stock market environment at a time when emerging markets are facing a China economic slowdown, and global investor reduction of asset allocation to emerging markets."
Apart from the RM20 billion fund injection, the special economic measures include facilitating tourist arrivals with an RM80 million investment in promotional activities to India, China and Asean members, an exemption on import duties for manufacturers as well as an additional RM2 billion working capital guarantee scheme to small and medium enterprises (SMEs). However, some of these measures are also being viewed with suspicion. 
Khazanah has also stepped up to support state efforts by investing RM6.77 billion domestically. The development of Desaru Coast Destination Resort will take RM4.5 billion, a sum that is close to the cost of constructing klia2, while RM1.1 billion will go to rejuvenating the National Museum, Tugu Negara and the development of Tugu Park. Yet, the tourism industry is one of the smaller contributors, at 5.6% in 2014, to GDP.
M&A Securities'  Rosnani agrees that measures which facilitate tourist arrivals through promotions, supporting SMEs and helping manage import costs for manufacturers would have a positive spillover effect on employment and production but it could be too late in the year to implement them to achieve short-term targets.
As large sums of money get poured into the economy, Yeah says it is no longer enough for Najib and the SEC to show that they can respond to gathering headwinds. They must also demonstrate the ability to spend prudently and within the country's own fiscal means. Malaysia has a target to reduce its fiscal deficit to 3.2% of GDP in 2015. This target was lowered from 3% in January when Najib was forced to tweak Budget 2015 in the light of the global oil price crash and the deteriorating ringgit.
"If we do not meet our fiscal deficit target this year, we can expect a serious blow to investor confidence, our credit rating and economic outlook," Yeah warns.
If that happens, the SEC will be hard-pressed to address more than just a lack of investor confidence.