This article first appeared in The Edge Financial Daily, on October 26, 2018.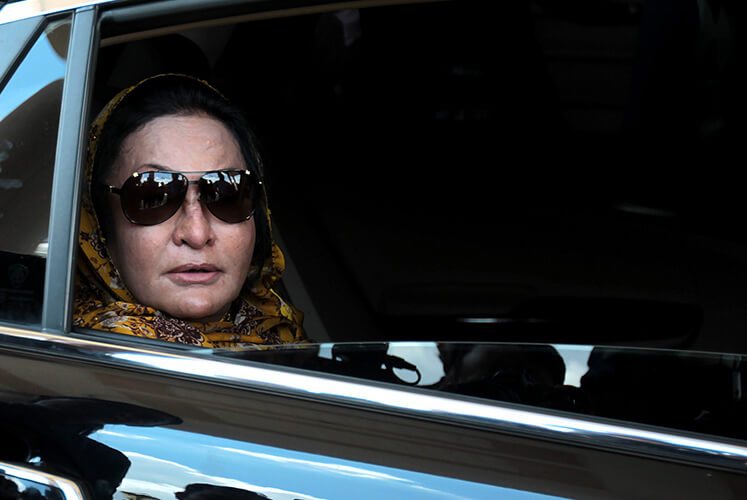 Rosmah peering out at onlookers as she leaves the Kuala Lumpur Court Complex yesterday. Photo by Suhaimi Yusuf
KUALA LUMPUR: Some RM1.3 billion in the Federal Consolidated Fund which was to be used as "subsidy and cash assistance" for Malaysians was among the government funds that former prime minister Datuk Seri Najib Razak and ex-Treasury secretary-general Tan Sri Mohd Irwan Serigar Abdullah were accused in court yesterday of redirecting to an Abu Dhabi wealth fund.
While not mentioned in the charge sheet, the cash assistance is said to include funds for some three million poor Malaysians registered under the 1Malaysia People's Aid (BR1M) programme. This was confirmed by Malaysian Anti-Corruption Agency (MACC) deputy director Datuk Seri Azam Baki when explaining the charges to the media.
In total, Najib and Mohd Irwan are accused of diverting RM6.636 billion worth of government funds from their original purposes, in order to pay the debts of 1Malaysia Development Bhd (1MDB) as well as obligations in relation to rail and pipeline megaprojects that were awarded to Chinese contractors.
This comprises the currently-suspended East Coast Rail Link, which started work in 2017, two terminated pipeline projects in the west coast of Peninsular Malaysia and Sabah awarded in 2016, as well as debts paid by 1MDB to Abu Dhabi's International Petroleum Investment Co (IPIC) in 2017.
Najib, 65, and Mohd Irwan 61, were jointly charged at the Sessions Court with six counts of criminal breach of trust (CBT) involving RM6.636 billion in their capacity as public servants — in Najib's case, as the finance minister.
Najib's lead lawyer Tan Sri Muhammad Shafee Abdullah defended his client's action on grounds that it was done in prioritising the need to "save the country" from a "national default" over the original purposes of the funds, such as the cash assistance.
Najib and Mohd Irwan allegedly misappropriated the monies at the ministry of finance (MoF) in just over one year between Dec 21, 2016 and Dec 18, 2017.
Part of the monies have already been assigned for certain purposes, the charges show. This includes the RM1.3 billion subsidy and cash assistance, and the RM220 million in the Federal Consolidated Fund that was meant for the Kuala Lumpur International Airport Bhd's operational expenditure, reportedly under the Budget 2017 allocations.
Mohd Irwan, sporting a black suit and tie, arrived at 8.13am at the Kuala Lumpur Court Complex in a black MPV, amid heavy police escort. Najib arrived shortly after at 8.23am.
Also present were Najib's wife Datin Seri Rosmah Mansor as well as certain leaders of the previous Barisan Nasional (BN) administration including Umno president and former deputy prime minister Datuk Seri Ahmad Zahid Hamidi.
The prosecution is led by senior deputy public prosecutor (DPP) Datuk Seri Gopal Sri Ram, a retired Federal Court justice who was appointed in September by the attorney-general to handle 1MDB-related cases.
Najib's defence is led by Muhammad Shafee, who has also served as his lead attorney for his other cases involving 32 graft-related charges since July. Others in the defence team are Harvinderjit Singh, Farhan Read, Wan Aizuddin Wan Mohammed, Rahmat Hazlan, Muhammad Farhan Muhammad Shafee and Syahirah Hanapiah.
Meanwhile, Mohd Irwan is represented by lead counsel Datuk K Kumaraendran as well as Dev Kumaraendran, Lavinia Kumaraendran, Geethan Ram Vincent and Revin Kumar.
Meanwhile, Sri Ram is assisted by DPPs Kamal Bahrin Omar and Ahmad Sazilee Abdul Khairi.
Both Najib and Mohd Irwan appeared calm when brought to court and were seen to chat with each other briefly.
They pleaded not guilty when the six charges were read out by the court interpreter in front of Judge Azman Ahmad.
The prosecution requested bail to be set at RM3 million each for Najib and Mohd Irwan, whom Sri Ram described as the "trustees of the highest order" for the misappropriated funds.
Sri Ram added that the duo had indeed benefited by receiving emoluments when retaining their respective positions in the government as they sought to resolve the 1MDB issues.
Both the lead defence counsel argued that the bail amount quantum should not be a gauge of the seriousness of the cases involved, and that bail is only meant to ensure the accused attend court — whereas their clients pose no flight risk.
In Najib's defence, Muhammad Shafee also told the court that his client's decision was to prevent a trigger of default under the megaprojects that could hurt the Malaysian economy, and "in the face of urgency" to settle 1MDB's debt to IPIC.
Muhammad Shafee asked Azman to allow the RM4.5 million bail posted by Najib for his other 32 charges earlier to also be applicable for this case.
"This is one of the cases where a person is facing charges in various courts and bail has been set in various courts," said counsel. "My client also has no plans to leave the country because he wants to clear his name and his family's name.
"My client is also involved in politics and was a former Pahang menteri besar, deputy prime minister, prime minister and currently, the Pekan member of parliament," he added.
K Kumaraendran, meanwhile, requested for the bail amount to be lowered to RM500,000.
"The purpose of bail is not to punish the accused, but only to secure the appearance of the accused. My client also had given cooperation to the MACC during the investigation," he said adding that Mohd Irwan had held various positions in the government and had earned various awards including the Anugerah Perkhidmatan Cemerlang.
Sri Ram, however, said Mohd Irwan had benefited from his tenure and emolument.
"He has received millions from his directorships. So, he's not a good Samaritan. This is not a tale of a good Samaritan. He was paid handsomely or shall I say excessively?"
Azman fixed the bail at RM1 million each for the two accused persons — half was paid yesterday while the balance is due by Oct 26.
"The two accused are to surrender their internal and diplomatic passports, if they have them," he said. The duo was also instructed not to communicate with any potential witnesses in the case.
The case was fixed for mention again on Nov 29. The court has not decided whether or not to transfer the case to the High Court, Muhammad Shafee told reporters later, although Sri Ram and K Kumaraendran are agreeable to the transfer. Muhammad Shafee, meanwhile, said: "We are still thinking about it."