This article first appeared in The Edge Malaysia Weekly, on March 18, 2019 - March 24, 2019.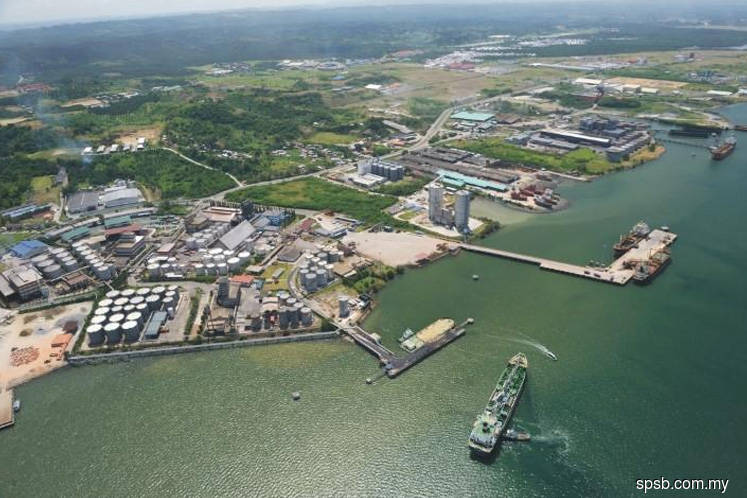 Lahad Datu port... Lahad Datu is out of the way of the major east-west trade route, which traverses the South China Sea and the Strait of Malacca
A RM13 billion investment by Burel Industries Sdn Bhd to build a petrochemical plant — together with a state-owned entity — in Lahad Datu, Sabah, has raised several questions, mainly due to its location.
Lahad Datu, which is located in southeast Sabah, is out of the way of the major east-west trade route, which traverses the South China Sea and the Strait of Malacca. Many petrochemical plants and refineries have been built close to these major waterways due to their strategic location.
Investors in petrochemical plants must factor in logistics costs, especially if the raw material is sourced far away from the plant, says a shipping official.
"The location does not make sense to me. Lahad Datu is not an ideal location for a petrochemical plant. The logistics cost would be a fundamental equation in making that decision," says the shipping official, who declined to be named.
"If they are producing polymers, the largest markets are the big developing markets such as China, India, Latin America and the Middle East. Therefore, the plant should be built [close to] the major trading route between east and west."
To recap, on March 7, POIC Sabah Sdn Bhd, the owner and operator of the Palm Oil Industrial Cluster in Lahad Datu, signed a term sheet agreement with Burel Industries Sdn Bhd for the development of a petrochemical plant in POIC Lahad Datu.
The investment, if it materialises, will be the single largest investment in Sabah to date. It is envisaged that the plant will produce about two million tonnes of petrochemical products a year, according to media reports on the signing ceremony.
Burel Industries was represented by chairman Per Brandtzag while POIC Sabah was represented by CEO Datuk Dr Pang Teck Wai. Also present was  Sabah Chief Minister Datuk Seri Shafie Apdal.
Prior to the project being announced, the single largest investment in Sabah was the RM4.5 billion Sabah Ammonia and Urea (Samur) plant by Petroliam Nasional Bhd in Sipitang Oil and Gas Industrial Park. Samur produces 1.2 million tonnes per year of granulated urea and 740,000 tonnes of liquid ammonia per year, according to Petronas.
The Sipitang Oil and Gas Industrial Park is located on the west coast of Sabah, near Labuan and Brunei.
According to Guna Mahalingam, a director of Burel Industries, Lahad Datu was selected because of the natural deep draft of its port, which has a depth of 20m to 23m. The port is also off the two seas that connect Australia and New Zealand with the rest of Asia.
"The incentives provided by the state government and the terms of lease are also very attractive, making the location the best among those that we have considered," says Guna. He says Burel Industries looked at Lumut in Perak, Gebeng in Pahang and Johor Baru as possible locations.
Lahad Datu is closer to the Celebes and Sulu seas than the South China Sea, through which about 30% of global maritime crude oil trade passes.
The Lahad Datu port is about 730km from Sapangar Bay oil and container terminal in Kota Kinabalu, slightly more than a 1½-day journey. Bintulu Port, the busiest port for oil and gas in Malaysia, is about 1,300km away. The Port of Singapore, which is the hub for petrochemicals and oil trading in Asia, is about 2,500km away, or a six-day journey, without factoring in waiting times and heavy traffic in the Singapore Strait.
Questions sent to POIC Sabah and the Malaysian Investment Development Authority were not answered.
Representatives of both parties advised The Edge that it would be best to talk to Burel Industries about the project.
According to media reports, Burel Industries has secured raw material for the petrochemical plant from Saudi Arabia. It is not known who the Saudi Arabian supplier is nor the transport arrangements for the raw material.
Petrochemical plants are usually built close to major trade routes or a trading hub. For example, Petronas' Refinery and Petrochemical Integrated Development was built in Pengerang due to its strategic location along the east-west trade route and proximity to Singapore. The national oil company's older refineries and petrochemical plants in Kerteh and Bintulu were built there due to their proximity to the raw material source, being the oil and gas produced in the offshore fields of Terengganu and Sarawak respectively.
Lahad Datu is neither close to the major east-west trade route along the Strait of Malacca and the South China Sea, nor to an oil trading hub such as Singapore. Furthermore, the raw material will not be sourced from Sabah's offshore fields.
Who is behind Burel?
According to the Companies Commission of Malaysia, Burel is owned by a Singaporean company named Ingrit Holdings Pte Ltd.
However, according to Guna, a Saudi Arabian company called Rawda Group has signed a shareholder agreement to undertake a 30% interest in the petrochemical project.
Meanwhile, a Switzerland-based financial advisory and consultancy firm, Strategic Swiss Partners (SSP), is acting as the exclusive financial adviser for the project, says Guna, who is the CEO and founder of SSP.
According to SSP's website, the company has several prominent Malaysians on its list of advisers. Among them are former law minister Datuk Zaid Ibrahim, founder of the Asian Strategy and Leadership Institute Tan Sri Michael Yeoh and Tan Sri Ahmad Fuzi Abdul Razak, group chairman of ACE Investment Banking Group.
According to its website, SSP has provided services for projects in various industries, including energy, banking and finance, Islamic banking and finance, real estate, infrastructure, hospitality, healthcare and artificial intelligence and robotics.
Apart from Rawda Group, Guna says  China National Machinery Import and Export Corporation, or CMC, has also taken a stake in the project, and will be the engineering, procurement, construction and commissioning partner.
The Rawda Group is not unknown in Malaysia. In September 2017, Tabung Haji extended the lease for two hotels owned by Al-Rawda Investment for Real Estate Development and Project Management Ltd in Makkah and Madinah for the use of Malaysian pilgrims for another 20 years. However, it is not clear whether the Rawda Group mentioned by Guna is the same Al-Rawda that leased the two hotels in Saudi Arabia to Tabung Haji.
Save by subscribing to us for your print and/or digital copy.
P/S: The Edge is also available on Apple's AppStore and Androids' Google Play.