This article first appeared in The Edge Financial Daily, on March 16, 2018.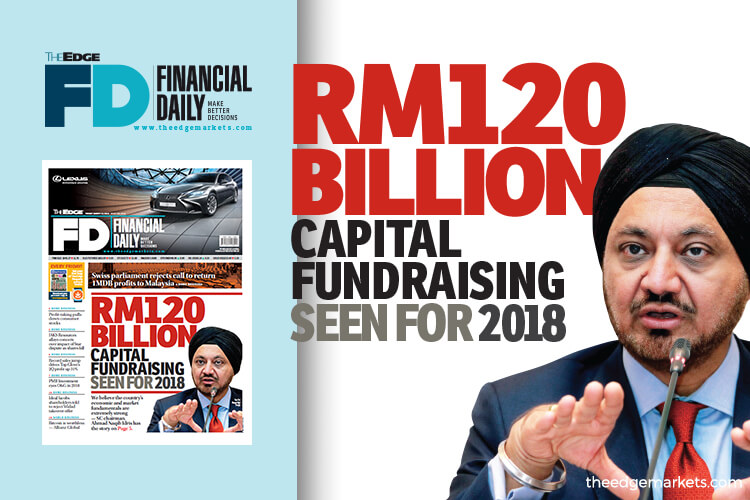 KUALA LUMPUR: The Securities Commission Malaysia (SC) expects domestic capital fundraising to remain strong at around RM120 billion, exceeding the five-year average of RM114 billion.
The forecast figure is, however, lower than the RM146.6 billion raised in 2017, which SC chairman Tan Sri Ranjit Ajit Singh described as an exceptional year.
"The 2017 number was an exceptionally strong outlier and there were a multitude of factors at play. It was not the ordinary growth. People were anticipating rate hikes and so they positioned themselves differently. Companies that had deferred capital raising in 2015 and 2016 had done so in 2017," he told the press conference in conjunction with the release of the SC annual report yesterday.
He said the amount of capital being raised in Malaysia has been resilient year-after-year, consistently around the RM114 billion level and noted that based on projections for 2018, the figure will be above-average.
Ranjit said growth in the capital market will continue to have a favourable outlook, driven by both the equity market and bonds and sukuk markets.
"We believe the economic and market fundamentals of Malaysia are extremely strong, and given the improvement in corporate earnings, we think the positive sentiment overall will continue.
"We think 2018 will be a very good year," he said.
He added that Malaysia is fortunate in that it has a financial system with a strong banking sector and capital market, which is not present in many markets, including the developed markets.
He said the capital market currently accounts for 56% of the overall financial system, while the banking system makes up the remaining 44%.
"The domestic capital market will continue to play a major role in supporting economic growth through financing of business expansion and infrastructure development.
"Domestic fundraising is expected to be mainly driven by capital raising in the corporate bonds and sukuk market for infrastructure financing as well as refinancing of bonds and sukuk," said the SC in its 2017 annual report.
It said the impending 14th general election will be driving investor sentiment in early 2018, but said the spotlight will return to fundamentals of the capital market post-election.
The strong fundamentals of the market are expected to continue improving in 2018, with the regulator expecting corporate earnings to continue on their recovery path driven by improving trade and exports, pickup in commodity prices, stable domestic household expenditure and possible higher interest rates.
On the ringgit, the SC said the local currency will strengthen further in 2018 amid improving macro fundamentals and fiscal position, adding that the perceived undervaluation of the ringgit provides buying opportunity in the Malaysian capital market.
"Given improving macro fundamentals as well as investor-friendly economic and social policies, investor sentiment towards Malaysia is expected to be favourable. Coupled with strong domestic regulatory framework, indicators point to positive developments for the Malaysian capital market in the year 2018," it said.