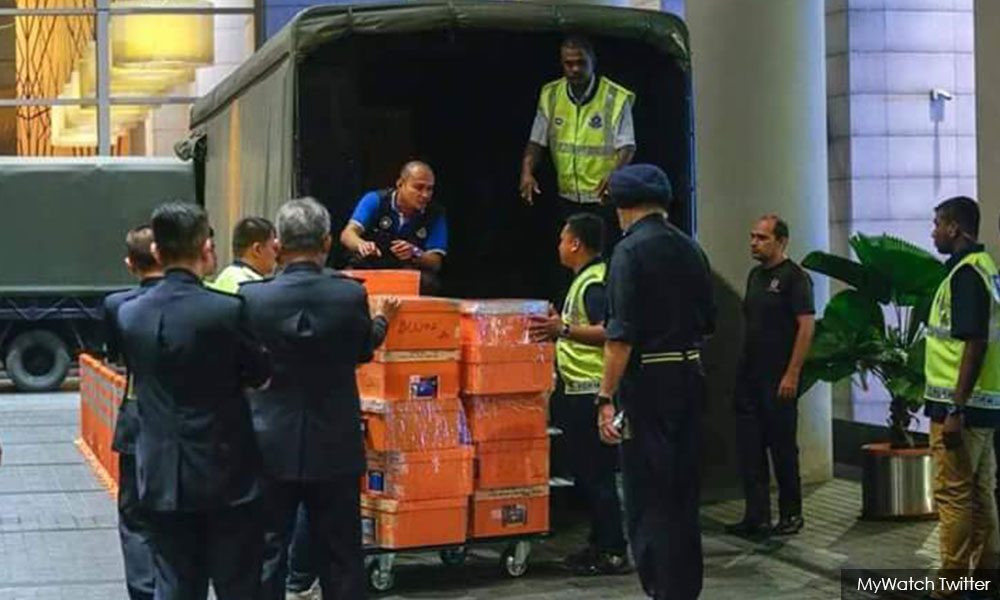 KUALA LUMPUR (May 23): Finally, the counting is over and the total is about RM120 million. That's the amount of cash seized from posh condos linked to former Prime Minister Najib Razak at Pavilion Residences at Bukit Bintang here last Friday (May18).
The Star Online reported that officers from the Bukit Aman Commercial Crime Investigation Department (CCID) completed the counting at its headquarters at Menara 238 on Jalan Tun Razak today.
The wads of cash were in various currencies.
"The process of counting the cash started on Monday as investigators pulled long hours just to ensure the process was done thoroughly.
"Some 30 bags of cash were counted by police personnel with the assistance of Bank Negara officers. The total amounted to around RM120 million," a source told The Star Online.
Last Friday, police searched three condos at Pavilion Residences and seized 72 bags of cash and jewellery and 284 boxes of designer bags, including many from the Hermes Birkin range, in their investigations into the 1MDB scandal.
On the same night, police also conducted searches at five other properties, including Najib's residence at Taman Duta here, the official Prime Minister's residence in Putrajaya and the Prime Minister's office.
Later, Najib lodged a police report and claimed that the cash seized from the Pavilion Residences were donations from his friends, which were meant for Barisan Nasional's election campaign in the recent 14th general election.