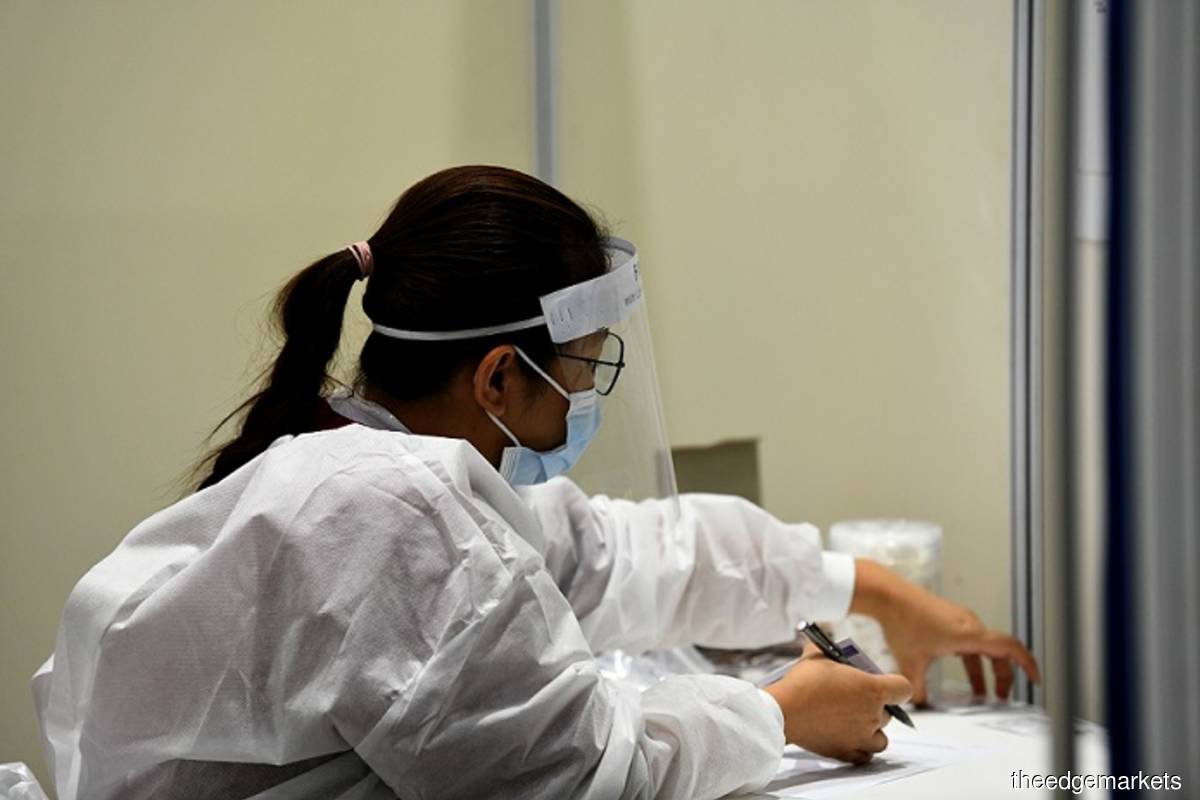 KUALA LUMPUR (July 12): Prime Minister Tan Sri Muhyiddin Yassin has approved an allocation of RM100 million for the outsourcing of health services in the Klang Valley, said Health Minister Datuk Seri Dr Adham Baba.
Speaking in a media conference today, Dr Adham also said that the Ministry of Health (MOH) has added 1,190 health officers in Selangor, Kuala Lumpur and Negeri Sembilan, which are badly hit by the Covid-19 outbreak. 
 "MOH has also mobilized a total of 417 health workers from other states to Selangor, Kuala Lumpur and Negeri Sembilan. 
"The ministry will also add about 5,000 staff/volunteers to support health services in Klang Valley and Negeri Sembilan," he said.  
In addition, the ministry will increase bed capacity for Covid-19 patients in public hospitals in the Klang Valley (from 795 to 1,129) and Selangor (from 3,412 to 3,777).  
The ministry  is also working with three hospital universities – Universiti Malaya Medical Centre,  UKM Specialist Hospital and UPM Teaching
Hospital – to optimise the use of beds in these hospitals, said Dr Adham.  
"We also will increase the intensive care unit (ICU) capacity from 280 to 349 beds in Selangor, and from 90 to 117 beds in Kuala Lumpur and Putrajaya," he said.  
Dr Adham said Selangor has used 53% (3,413) of its oxygen tank supply for Covid-19 patients, and another 1,000 tanks will be sent to the low-risk treatment and quarantine centre in MAEPS, Serdang.
Meanwhile, following the prime minister's visit to Hospital Tuanku Ampuan Rahimah (HTAR) in Klang today, Muhyiddin has directed an
additional 151 beds and 15 ventilators be provided to the hospital.  
Dr Adham also shared that the Covid-19 special task force has asked for another RM1.2 billion from the Ministry of Finance to fight the pandemic.
Assessment centres to operate on daily basis 
The health minister also said that the Covid-19 assessment centres (CACs)
will operate on a daily basis, and will be equipped with oxygen requirements for Covid-19 patients, while awaiting their referrals to quarantine centres or hospitals.  
At the CACs, Covid-19 patients would undergo an assessment to determine the severity of their infection. The assessment would
then determine whether they should be sent to hospitals, Covid-19 quarantine and treatment centres, or ordered to undergo quarantine at home. 
The ministry will also facilitate the vaccination programme by increasing coverage, especially to the Enhanced Movement Control Order areas. 
"The vaccination programme for industries will also be given priority. We will be discussing with MOSTI, MITI and state governments on this," he said. 
RM700 mil spent for Covid-19 management nationwide 
Dr Adham said MOH has spent RM700 million for Covid-19 management to date.  
The government has also agreed to add allocations for Covid-19 management in the Klang Valley, which includes mental health management worth RM20 million and additional space for all hospitals in Selangor, with a total budget of RM5 million.  
"We will also give a Covid-19 allowance to staff in ICUs, worth RM1,000 per month.  
"The government will also provide nurseries to house hospital staff's children, with an allocation of RM1.5 million. Meanwhile, RM2 million will be earmarked for a special quarantine centre," Dr Adham said.    
The minister also hopes that divisional heads in hospitals would consider approving unrecorded leave applied by officers, to ensure their welfare is taken care of.