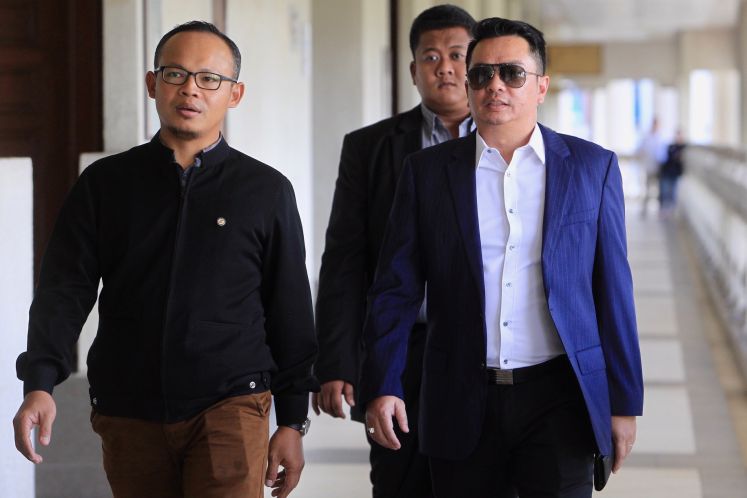 KUALA LUMPUR (Sept 17): Datuk Rizal Mansor testified that his former employer Datin Seri Rosmah Mansor would ask him to call senior Government officers in front of her to discuss Jepak Holdings Sdn Bhd, so that she could stay updated on the progress of the RM1.25 billion solar hybrid project for schools in rural Sarawak.
Rizal, 45, who was re-examined by senior deputy public prosecutor Datuk Seri Gopal Sri Ram, agreed that he had made calls to former Education Ministry Secretary-General Tan Sri Madinah Mohamad and the Finance Ministry's Deputy Secretary-General (Management) Datuk Othman Semail in a bid to get the Jepak project to proceed.
The witness — who had earlier denied suggestions from Rosmah's counsel that he made the calls because he was given an RM5 million bribe by Jepak — said the calls were made on behalf of his ex-boss.
"She would ask me to call them, and I would put it on speaker phone for her to hear their response to the project. This is so that she can find out about the development of the project," Rizal said in the re-examination.
Datuk Akberdin Abdul Kadir, who is representing Rosmah, had suggested that Rizal was lying when said he dropped an assistant superintendent with the Special Action Unit (UTK) codenamed "Evo" at the Prime Minister's Department, and did not bring him to the premier's official residence Seri Perdana in an MPV carrying the two bags filled with RM5 million cash.
"I did this to protect my employer [to keep others from knowing]. At that time, there was a traffic police escort accompanying us from Pavilion mall to Putrajaya," he said, adding that trip in December 2016 took 40 minutes.
Rizal, 45, who is the star witness, reiterated during re-examination that the RM6.5 million paid by Jepak was not for him, but for Rosmah, who was his employer for nine years.
"I was specifically hired to be her media officer. Ninety percent of my job scope when I was employed by her from 2009 to 2018 [involved] her while 10% of it is for her husband [Datuk Seri Najib Razak]," he said, adding that prior to his appointment with Rosmah, there was no First Lady Office of Malaysia (FLOM), a unit under the Prime Minister's Department.
Rizal added that he did not know if the money was used as a political donation for Umno or Barisan Nasional.
"As far as I know there is no receipt issued by Umno or BN. There is also no thank you letter issued to Jepak for the money," he added.
Rizal explains luxury residence, cars
Rizal, who was attacked by the defence for owning several luxury vehicles and a RM3.5 million bungalow, told Sri Ram that he was in fact renting the house for RM6,000 a month.
"My wife is a successful businesswoman and she drives the Audi. My daughter is a successful media personality and she drives a Mercedes while I myself drive a Honda Odyssey.
He added that his expensive bicycles were not worth as much as ₤8,000, as claimed by the defence. The bikes were cheaper as they had different specifications from the higher-end models, he said.
Sri Ram also initially asked Rizal to explain his lifestyle, but withdrew the question after a short exchange with Rosmah's other counsel Datuk Jagjit Singh, who raised an objection.
Meanwhile, the witness said Rosmah had ordered the delivery of the money to Seri Perdana, after businessman Lawrence Tee declined to accept the money on her behalf.
Rizal said he went to the official residence with "Evo" and businessman Datuk Ahmed Farriq Zainul Abidin.
He also denied having private living quarters at Seri Perdana.
"I agree that Rosmah seldom goes to Seri Perdana but that day when I called her, she asked me to bring the two bags (of cash) there as she was there. She would be there maybe five out of 30 days in the month," the witness added.
Rizal concurred with Sri Ram that he had solicited and received the bribe on behalf of Rosmah, and got RM500,000 out of the deal.
He then concluded giving his evidence in the trial. Proceedings will resume on Oct 5 with two other witnesses testifying before Justice Mohamed Zaini Mazlan.
Rosmah is facing three counts of graft namely soliciting RM187.5 million from Jepak and obtaining the RM6.5 million cash from Jepak's former MD Saidi Abang Samsudin.