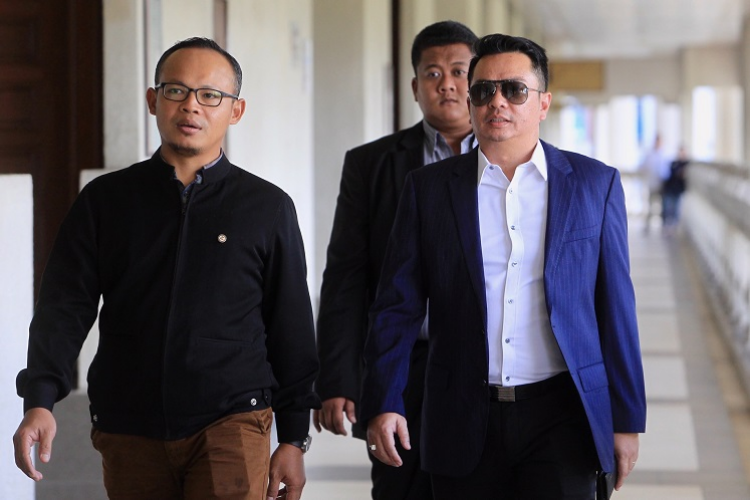 (The prosecution in Datin Seri Rosmah Mansor's graft trial has clarified that it was Datuk Ahmed Farriq Zainul Abidin who was paid RM30,000, and not Datuk Seri Ahmad Farid Ridzuan as reported earlier.)
KUALA LUMPUR (Sept 14): Former aide to Datin Seri Rosmah Mansor, Datuk Rizal Mansor, today admitted in High Court that he personally received close to RM1 million from Jepak Holdings Sdn Bhd former managing director Saidi Abang Samsudin and his business partner Rayyan Radzwill Abdullah. The duo also sponsored an umrah pilgrimage for Rizal and his family in 2016.
Rizal admitted that he did not tell the Malaysian Anti-Corruption Commission (MACC) about the money and sponsorship when the MACC recorded his statement.
The 21st defence witness made the admission after he earlier indicated to Rosmah's lawyer Datuk Jagjit Singh that he (Rizal) did not receive more than RM500,000 from Saidi and Rayyan, who was Jepak Holdings' consultant.
Rizal, who was a special officer to Rosmah, admitted that he received close to RM1 million from them and that he (Rizal) flew first class with his family to perform the umrah in 2016.
"It was a chartered flight and first class," he admitted.
The witness also admitted that he had tried to solicit RM100,000 from Saidi for Datuk Ahmed Farriq Zainul Abidin, the ninth prosecution witness in Rosmah's graft trial, who accompanied Rizal to deliver bags of cash to the prime minister's official residence Seri Perdana in Putrajaya. Saidi and Rayyan subsequently agreed to pay Ahmed Farriq RM30,000.
Earlier today, Rizal testified that he had worked for TV3, which is part of Media Prima Bhd, and was asked by then Media Prima chief executive officer Datuk Seri Ahmad Farid Ridzuan to meet with Datuk Seri Siti Azizah Sheikh Abod from the Prime Minister's Office regarding a position as Rosmah's media officer.
"Following [an] interview, I was placed under contract since 2009 as special officer to the PM (prime minister) and this position changed several times but my actual task remained the same, that [was] as a special officer to the PM's wife (Rosmah) until 2018," he said.
Rizal was testifying at Rosmah's corruption trial today.
It was reported that Rosmah, who is former prime minister Datuk Seri Najib Razak's wife, is being accused of soliciting RM187.5 million from Jepak to help the firm secure a RM1.25 billion project to supply solar hybrid power to 369 schools in Sarawak.
It was reported that Rosmah is also being accused of receiving RM5 million and another RM1.5 million in 2016 and 2017 respectively to make sure Jepak secured the contract.
Jagjit: Do you agree that the close to RM1 million that you received is not in your witness statement nor [did you tell] the MACC?
Rizal: Yes.
Jagjit: Are you not ashamed that you went to the Holy Land to pray using corrupt money which was partly sponsored?
Rizal: No, I am not ashamed as the money [was] partly from Saidi and Rayyan.
Jagjit: So, you are not ashamed?
Rizal: It [was] part of the political donation, not corruption.
Jagjit: So, you are saying that the umrah trip you [took] with your family, which [was] partly sponsored by Saidi and Rayyan, [was a] political donation?
Rizal: Yes, political donation.
RM7,000 monthly salary but owning luxury vehicles
Jagjit also raised the issue of Rizal's ownership of luxury vehicles like a Toyota Alphard, an Audi A5 and a Mercedes Benz, besides two expensive bicycles and a RM3.5 million house with a monthly salary of RM7,000.
Jagjit asked what his monthly salary was while working for the government and Rizal replied it was RM7,000.
"Yet, with that salary you can own those expensive vehicles, a RM3.5 million house, bicycles... and this shows that you are corrupted," Jagjit claimed.
Rizal, however, disagreed with such a notion and maintained that it was a political contribution.
Rizal said he was once an Umno Youth leader with the Seputeh Umno division.
When asked by Jagjit today whether the money that Rizal claimed was political donation was meant for Yayasan Perdana Ummah, of which Rizal is chairman, in a bid to launder money or "to obtain clean money", Rizal disagreed.
"It [was] a political donation for me," Rizal said.
Read also:
Rosmah's ex-aide denies cutting a deal with prosecution to testify against her
Lam Jian Wyn & Chong Jin Hun