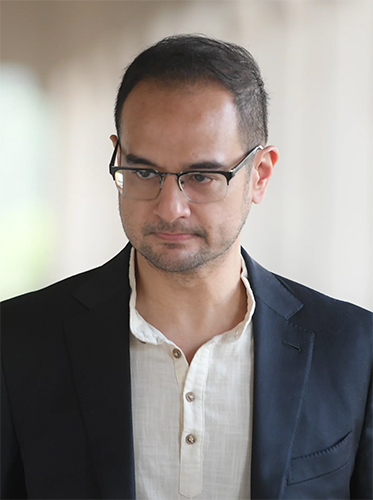 Riza Shahriz Abdul Aziz at the Kuala Lumpur Sessions Court this morning. (Photographer: Mohd Izwan Mohd Nazam/The Edge)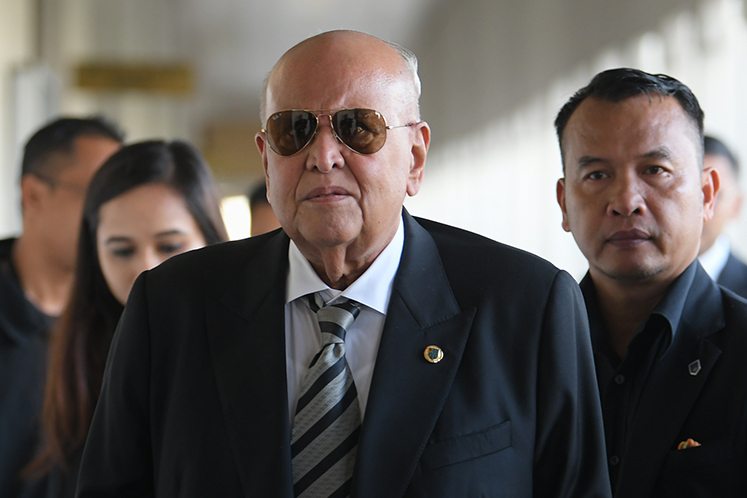 Senior deputy public prosecutor Datuk Seri Gopal Sri Ram. (Photographer: Mohd Izwan Mohd Nazam/The Edge)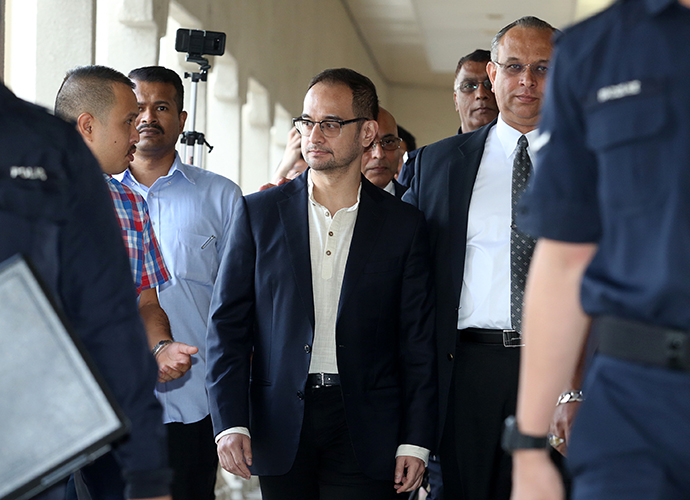 Najib's stepson Riza Shahriz Abdul Aziz arrives at the Kuala Lumpur Sessions Court this morning. (Photographer: Sam Fong/The Edge)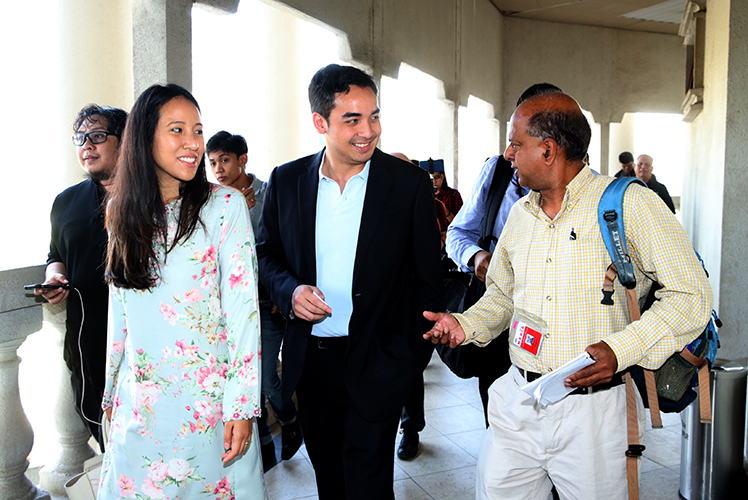 Najib's daughter Nooryana Najawa Najib (left) and Najib's son Norashman Najib (middle), being interviewed by a journalist at the Kuala Lumpur Sessions Court this morning. (Photographer: Sam Fong/The Edge)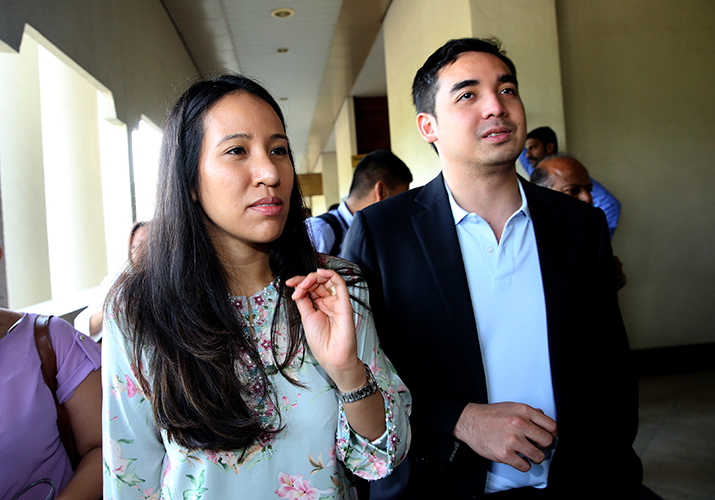 Najib's daughter Nooryana Najawa Najib (left) and Najib's son Norashman Najib arrive at the Kuala Lumpur Sessions Court this morning. (Photographer: Sam Fong/The Edge)
KUALA LUMPUR (July 5): Riza Aziz, stepson of Datuk Seri Najib Razak, pleaded not guilty to all five charges of money laundering amounting to US$248.17 million (RM1.18 billion) belonging to 1Malaysia Development Bhd (1MDB) between April 12, 2011 and Nov 14, 2012.
He is the third in the family after Najib and his mother Datin Seri Rosmah Mansor to be charged in court, amid allegations of money laundering, after the former premier fell out of power in May last year. 
Riza, whose full name is Riza Shahriz Abdul Aziz, was calm as the charges were read in front of Sessions Court judge Rozina Ayob here today.
He was accused to have received the 1MDB-linked funds through bank accounts of Hollywood production house Red Granite Productions Inc, which he co-founded and was itself charged in the US for misappropriating monies from the investment fund.
The funds were transferred from the Swiss accounts of Good Star Ltd — linked to fugitive businessman Jho Low — and Aabar Investment PJS Ltd to the accounts of Red Granite in the US and Singapore, which Riza co-founded.
Each charge, filed under Section 4(1)(a) of the Anti Money-Laundering and Anti Terrorism Financing Act 2001, carries a punishment of maximum five years jail and/or maximum RM5 million fine.
Leading the prosecution on behalf of the Malaysian government was senior deputy public prosecutor Datuk Seri Gopal Sri Ram, who was roped in by the Attorney-General to lead prosecutions on the 1MDB-linked cases, alongside DPP Ahmad Akram Gharib. 
Riza was represented by Datuk Hariharan Tara Singh, Datuk K Kumaraendran — who is also the attorney for his mother Datin Seri Rosmah Mansor in her own money laundering trial, Datuk Geethan Ram Vincent, Mohd Shukri Ahmad Mansor, Azrul Zulkifli Stork, Syazwani Zawawi and Mardhiyah Siraj.
Sri Ram called for bail of RM1 million with two sureties, to which the defence agreed.
Kumaraendran however requested for half to be paid today and rest on Monday, with the excuse of needing time to prepare the money — much to the disagreement of the judge.
"Why? It is difficult for us as well, you know. Anyway, I believe it is early, bank is open until 4.30pm. I have your request recorded," she said.
When judge Rozina called for the surety to have his or her IC inspected, Riza's step siblings Nooryana Najwa and Norashman Najib shook their heads.
The defence mentioned a person named Azizan Othman. "No family member? A friend is more suitable?" asked judge Rozina, to which the defence justified that Azizan is 'a close friend' of Riza.
Azizan was however out of the court room, and when called in, failed to do so.
"He went to the bank," Kumaraendran said.
Rozina, seemingly annoyed, said this was the reason she had to check the IC as to who the bailer was to avoid any hiccups 'from the beginning'.
This, she said, was to ensure the person will be able to attend to matters related to the hearing, if required.
The judge, who was also the initial judge for a separate hearing of 1MDB-related offences, was feisty from early on, having given a strict reminder to everyone not to make any recording of the session.
This was after she noticed Nooryana and several reporters holding their mobile phones up to report the highly-observed hearing.
Rozina set the next date for case management on Aug 9, to give a month for all parties to ready all necessary documents. Riza's passports are to be confiscated, she added.
Later, a slight commotion occurred after Riza was almost blocked by the media from leaving the court room to post his bail. He was escorted by the media to the entrance of the court office, and declined to comment throughout the process.
Riza was arrested by MACC at noon on Thursday (July 4). He had been questioned by the anti-graft agency for a total of 22 hours across several days in 2018, amid the probe on 1MDB.
Najib is currently undergoing trial in relation to the misappropriation of funds in SRC International Sdn Bhd, which was formerly a subsidiary of 1MDB. That included, he faces 42 criminal charges in relation to laundering over RM1 billion, corruption, and abuse of power arising from his involvement with the troubled state investment fund during his tenure as prime minister and finance minister.
Malaysian and US investigators believe about US$4.5 billion (RM18.6 billion) was misappropriated from 1Malaysia Development Bhd (1MDB) by high-level officials of the fund and associates between 2009 and 2014.
Rosmah, meanwhile, faces 19 criminal charges for allegedly asking for bribes in relation to a RM1.25 billion solar power system in East Malaysia, and for money laundering.
The charges
The first charge relates to the transfer of US$1.17 million from Good Star's account 11116073 in RBS Coutts to Red Granite's bank account 123284291 in US City National Bank between April 12, 2011 and May 12, 2011.
The second charge relates to the transfer of US$9 million from Good Star to Red Granite between Sept 10, 2012 2011 and Oct 10, 2012.
The third charge relates to the transfer of US$133 million from Aabar Investment's account 81134378 in BSI SA to Red Granite Capital Ltd's BSI Bank account 6C02250A in Singapore on June 18, 2012.
The fourth charge relates to the transfer of US$60 million from Aabar Investment to Red Granite on Oct 23, 2012.
The fifth charge relates to the transfer of US$45 million from Aabar Investment to Red Granite on Nov 14, 2012.
Res Granite is one four companies which produced the 2013 blockbuster film The Wolf of Wall Street.
According to the US Department of Justice (DoJ), as much as US$4.5 billion has been siphoned off from 1MDB, when it initiated civil forfeiture suits in 2016 — including against Red Granite, which allegedly used 1MDB's siphoned money to produce the Oscar-nominated film, The Wolf of Wall Street — to recover assets allegedly bought with part of the stolen funds.
In March last year, the DoJ reached a settlement with Red Granite, which agreed to cough out US$60 million to the US government to resolve allegations that it profited from funds embezzled from 1MDB. Under the deal, Red Granite did not admit to any wrongdoing. The sum was paid off in September.
Read also: Hollywood producer Riza Aziz faces five counts of laundering US$248.17m