This article first appeared in City & Country, The Edge Malaysia Weekly, on October 28, 2019 - November 03, 2019.
From left: Rivertree Signatures (Bukit Raja) director Soon Kian Cheong, Ng and Leong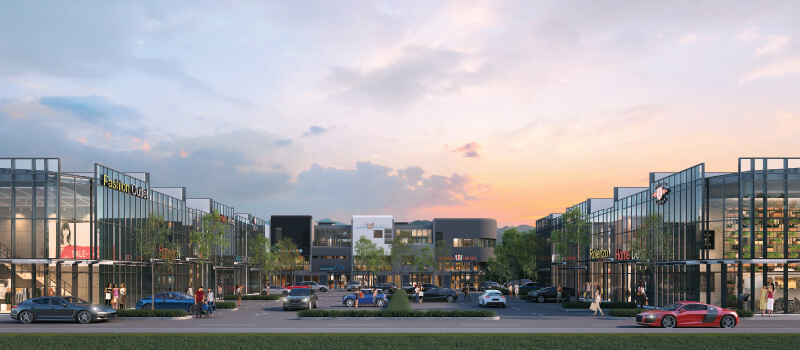 UNO will comprise 31 units of 1- and 2-storey shops with mezzanine floors
Contractor-turned-property developer Rivertree Group is introducing a new retail concept in Bukit Raja, Klang. UNO, the second phase of freehold commercial development Rivertree Signatures @ Bukit Raja, comprises 24 1-storey shops with mezzanine floors and seven 2-storey, dual-frontage shops with mezzanine floors and has a gross development value (GDV) of RM79.17 million. The developer will launch the 4.3-acre UNO and the country's first retro-inspired KFC drive-through at Rivertree Signatures next month.
The first phase of Rivertree Signatures, the 2.38-acre DUO, which opened for sale in May last year, comprises 28 units of 2-storey shops, all of which are fully sold and come complete with certificates of practical completion. It has a GDV of RM52.55 million.
The units, which range from 22ft 69ft to 40ft 69ft, are priced from RM1.6 million to RM3.3 million. Buyers are expected to receive vacant possession early next year.
The parcels for UNO and DUO were acquired in April 2016 from Sime DarProperty Bhd. "The technical name attached to the land was Commercial Lot 2, or CL2, for DUO and CL1 for UNO, hence their names," explains Rivertree group managing director Datuk Simon David Leong in an exclusive interview with City & Country.
DUO offers a more conventional design to cater for the local Klang market whereas UNO will offer a modern retail concept. "For example, the glass façade for [UNO's 1-storey shops] will probably be a first for individual-titled shops in Malaysia. The façade consultants, who usually does skyscrapers, were surprised when we engaged them for UNO. This design is not cheap to do.
"The shops are 25ft tall but the façade is 30ft. The feel will be very different when you stand in front of the building. We learnt this from our 20 Rivertree @Serdang development, where we have 3-storey shops with a 4-storey feel at 55ft high," Leong explains. The 2-storey units in both phases boast a 20ft height for the ground floor, he adds.
UNO is targeted at high-end retailers. "We are looking at branded showrooms, lifestyle businesses, car showrooms and branded food and beverage (F&B) outlets. The market is very soft and buyers are very discerning these days. We want to create something unique and Klang lacks an F&B haven," says Leong.
The 1- and 2-storey shops at UNO come with a mezzanine and are 22 ft 77 ft and 37 ft 83 ft respectively. Prices start at RM1.71 million for intermediate 1-storey units to RM3.68 million for the 2-storey corner unit. At the time of writing, all seven of the 2-storey units had been sold while only three of the 1-storey units were still available.
"The great thing is that we have supporters from Phase 1 (DUO), who have seen our workmanship. We have not even advertised," says Rivertree Signatures (Bukit Raja) Sdn Bhd sales director Nancy CP Ng.
"As this is a high-end product, we are not generous in giving rebates. We only gave a token of appreciation of RM50,000 to customers who booked before we had even printed our brochures or prepared scale models," says Ng.
"Our scale model was up two months ago but we were already about 70% sold," says Leong. "There are those who bought DUO and recommended UNO to their friends.
I think construction speed matters a lot too. We have been in the construction industry for over 20 years and our contractor has been with us for about 16 years now."
Leong expects UNO to be completed end-2021.
To date, UNO has several booked tenants, including Tealive, Sensus Pharmacy and Eagle Locksmith. "Not all the units were bought for investment … around 20% of our buyers bought the units for their own use," notes Leong.
Contemporary, retro-inspired KFC drive-through Rivertree Signatures will also be home to a retro-inspired KFC drive-through reminiscent of the 1930s, complete with rounded building edges and large windows.
The 4,002 sq ft standalone drive-through will sit on 0.5 acres and the fast-food chain's ubiquitous bucket will sit on the roof, but it will be lit up, says Leong.
"The building design was inspired the old KFC piggy bank and we want to bring it back in the form of the building's architecture. Due to the building's unique and unconventional design, we couldn't just get the design approved locally or even the regional office of the franchisor based in Singapore. We had to get the approval all the way from Dallas, the US, and after many rounds of meetings.
"We explained to them that we wanted to create something unique to attract every one of our 33 million population to take an Instagrammable photo of the place at least once," Leong explains.
The KFC drive-through is a partnership with QSR Brands (M) Holdings Bhd. "After meeting with several high-end drive-through retailers, we felt that KFC was the most aggressive due to its new management," Leong says.
"We are doing this on a profit-sharing basis and we are getting a fixed rental for 30 years for designing and building the place," he adds.
The outlet is scheduled to open in December next year.
"Getting this design through was actually a miracle. We hope this project will be a beacon not just for this development but also for the area," Leong remarks.
Tenacity to succeed
It is quite common for new non-strata commercial type developments to take a while to be tenanted. The same cannot be said for Rivertree Signatures' first phase, DUO.
Completed at the end of September, the project is almost 80% tenanted. While the developer has helped buyers to lock in an international school, a mini market, dhobi, book and stationery store, daycare centre, chinese medical practice, mamak eatery and offices, it is in the midst of talks with a wet market and convenience stores.
"The advantage of purchasing from a boutique developer like us is that we can actually spend more time with our purchasers to ensure that their investment is good," Ng remarks.
"We are only giving out the keys [for DUO] in January but six months ago, we did a pre-rental marketing event. We invited many agents from Klang and outside Klang, and many of the tenants have secured their bookings with our lawyers," she adds.
The developer did not need to officially launch DUO. "We have many friends who support us. And because the site was so visible, people saw the signboard that we put up. We also have buyers from as far as Penang," says Ng.
The developer's success with DUO did not come without challenges. As a small developer and new player in this part of town, selling the units was quite a struggle initially, notes Ng. "The pressure was great. We were sandwiched between the big boys — S P Setia, Sime DarProperty and Eco World — and we were just a small developer. Eco World launched Eco Ardence two months after we opened for sale. We managed to sell about half of the units but many [people] went over to Eco Ardence, so we struggled a bit," she says.
All of this happened in May last, during the country's general election. "When there's a change in government, it'll take at least two years for things to stabilise. A lot of our buyers are quite apprehensive because of the political uncertainty. We started construction work just after the elections in July," Leong shares.
"The directors had said that whether or not there were buyers, we would complete it no matter what. God's grace, when people saw our design, their confidence returned," says Ng.
Things began to look up when construction was at about 50% to 60%, she says. "People started noticing that we were building quite fast."
"When the shops were about to be completed, people started calling us and we sold everything around April this year. Price-wise, we benchmarked DUO against Eco Ardence and we were 10% cheaper on a per sq ft basis," Ng notes.
Not having a high gearing also allowed Rivertree to remain strong. "We didn't have a bridging loan, we were financing internally and we only had a term loan for the land. This is because we had our proceeds from Sutera Pines @ Sungai Long. We even financed our Garisan @ Puchong development with cash and no borrowings," says Leong.
"Although we have already started piling work for Phase 2 (UNO) and the units are almost fully sold, we have just printed 1,000 sales brochures. These are not for buyers but for lifestyle retailers," notes Leong.
"There is no black-and-white agreement that we can secure a tenant for our buyers but we work very hard and they've got to trust us. I mean, during construction, we are not going to sit and wait, so we started talking to retailers," says Ng.
"When agents [introduce] tenants to us, we will personally brief and advise them on whether the tenants will be suitable. For example, we have to say no to many mamak eateries that want to come in because we already have one, as we also want the businesses to survive. Of course, we can still control the tenant mix before we give out the keys. After the units have been handed over, there is only so much we can do," she notes.
Joint ventures the way forward
After completing its last job as a contractor in 2011, Rivertree launched its first property development projects in 2015 — 20 Rivertree @ Serdang and Sutera Pines @ Sungai Long.
20 Rivertree, which is home to Rivertree's headquarters, was completed in March 2016 while Sutera Pines was completed in 2017 and buyers received vacant possession in January this year.
Moving forward, the company wants to collaborate in more joint ventures. "I am a contrarian. When I do things, I always want to do something unique. I always tell my staff that no matter how old or inexperienced they are, they have to try and come up with ideas no one has proposed before. I would like this culture to be inculcated within the whole organisation," says Leong.
He notes that the company has some land and is not looking to do land banking actively. "We don't like to owe the bank too much money. Like for Rivertree Signatures, we only borrowed money for the land but not for construction bridging. This means lower gearing and less interest. We also pay the interest that would have been paid to the bank to the landowner, so it is a win-win situation."
Rivertree has two upcoming developments in the Klang Valley with GDVs of RM350 million and RM800 million respectively. According to Leong, the projects will be mixed-use developments comprising small office/home offices, condominiums and retail units, which will only be launched at the end of next year.