This article first appeared in The Edge Malaysia Weekly, on December 7, 2020 - December 13, 2020.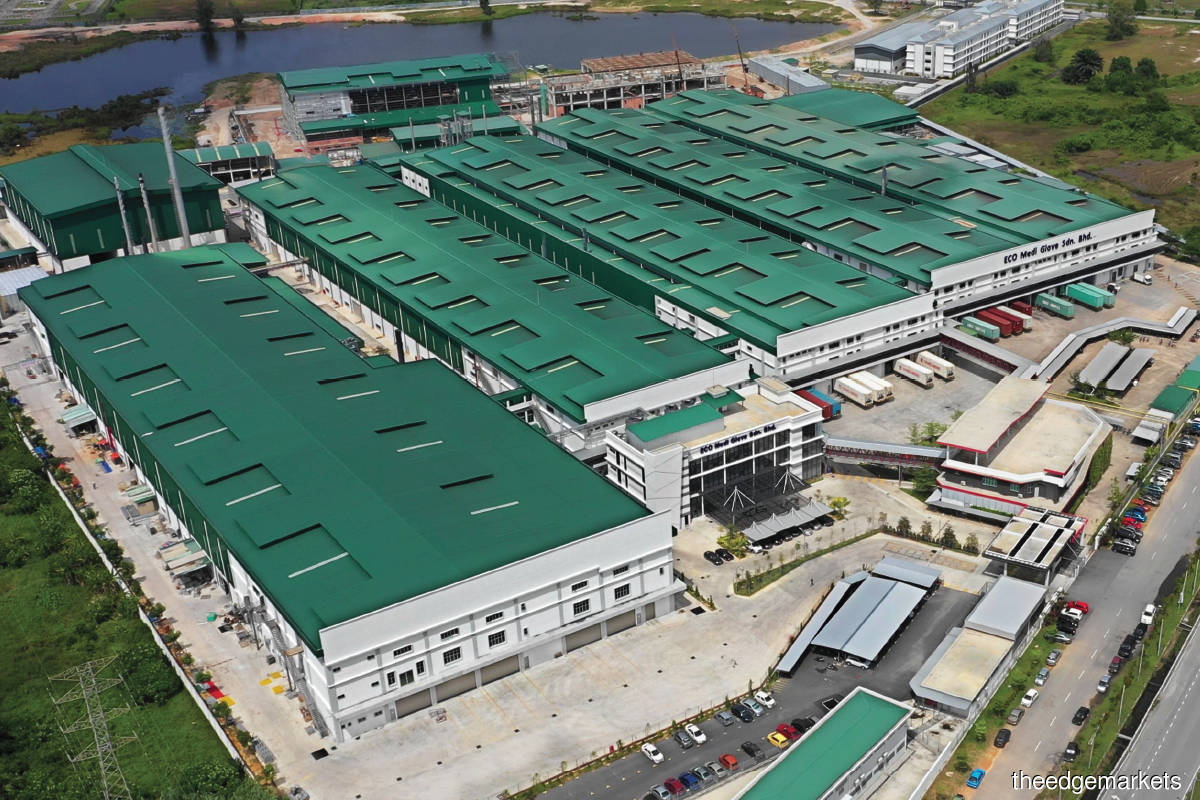 SINGAPORE-listed Riverstone Holdings Ltd may not be a popular stock among local investors here, but the Malaysia-based nitrile cleanroom glove maker is actually one of the world's largest listed glove companies in terms of revenue after the Big Four.
Headquartered in Bukit Beruntung, Selangor, Riverstone also operates manufacturing facilities in Taiping, Perak, which is its main and largest plant, as well as in Thailand and China.
At a time when most glove makers and new entrants are ramping up production capacity aggressively, Riverstone executive chairman and CEO Wong Teek Son says the group has decided to expand conservatively and responsibly.
"Today, there are so many glove manufacturers in Malaysia. Everyone has been rushing towards the healthcare glove business since the Covid-19 outbreak. But we want to differentiate ourselves by strengthening our leading position in the cleanroom glove segment," he tells The Edge in an interview.
"We need to be prepared for the post-pandemic era. Yes, we wish to reap the short-term benefits of the healthcare glove business, but we must not sacrifice the long-term growth of the cleanroom glove business."
The 58-year-old, who founded Riverstone in 1989, is ranked by Forbes magazine as Malaysia's 44th richest man, with a fortune of US$310 million (RM1.3 billion).
theedgemarkets.com reported last month that among the Malaysian glove manufacturers, it is estimated that there will be a massive additional production capacity of close to 100 billion pieces per annum by 2022. For instance, Hartalega Holdings Bhd is expected to see a new production capacity of up to 19 billion pieces of gloves while Comfort Gloves Bhd and Careplus Group Bhd will see an increased capacity of up to 5.9 billion and 4.7 billion pieces respectively by 2021, with more capacity to come on stream the following year.
By comparison, Riverstone — which has a current production capacity of 10.5 billion pieces per annum — plans to increase its output by only 1.5 billion pieces a year for the next three years. At this pace, the group should have a total production capacity of 12 billion pieces in 2021, 13.5 billion pieces in 2022 and 15 billion pieces in 2023.
According to Wong, the capacity expansion plan is mainly for Riverstone's plant in Taiping.
Overall, 15% of its production capacity is allocated to cleanroom gloves while the remaining 85% is for healthcare gloves. It is learnt that these production lines are interchangeable, so it gives the group flexibility to produce both types of gloves using the same line.
"We need to invest RM85 million to RM90 million for that additional capacity of 1.5 billion pieces every year. So, that is about RM270 million for 4.5 billion pieces," says Wong.
As at Sept 30, Riverstone's cash and cash equivalents stood at RM427 million.
"That's more than enough to fund our ongoing and future expansion plans. Bear in mind that our existing production lines will continue to generate profits and cash," he says.
Prioritising cleanroom gloves
Although healthcare gloves take up 85% of the group's production capacity, Wong says Riverstone will always prioritise its nitrile cleanroom glove business, which has been its core expertise and forte over the past three decades.
"The cleanroom glove business allows us higher selling prices and more attractive profit margins. We understand our clients' requirements. We develop products together with them. We manufacture and distribute our cleanroom gloves using our own brand names and sell them directly to the end-customers. That's our advantage," he explains.
In FY2018 and FY2019 ended Dec 31, the cleanroom glove segment contributed 15% to Riverstone's sales volume, whereas the healthcare glove segment made up the remaining 85%. Despite its low sales contribution, the cleanroom glove segment contributed 35% to the group's revenue and 50% to the group's gross profit.
Wong recalls that Riverstone had focused mainly on nitrile cleanroom gloves from 1995 to 2008, before diversifying into the healthcare glove business following a sharp drop in demand for cleanroom gloves during the 2008 global financial crisis.
"But today, our nitrile cleanroom glove business is still very much insulated from competition, whereas our nitrile healthcare glove business is competing with all the other nitrile glove makers. So, we are a very clear leader worldwide in the nitrile cleanroom glove segment," he says.
"Of course, we do have competitors. But compared with the healthcare glove business, the competition in the cleanroom glove market is less intense."
Nevertheless, Wong acknowledges that 2020 has been an abnormal year because of the pandemic. Hence, it is difficult for investors to see the advantage of producing cleanroom gloves.
"In 2020, the selling prices of healthcare gloves have been increasing significantly almost every month. In the nine months ended September (9MFY2020), both the cleanroom and healthcare glove segments contributed equally to our group's profitability. But going forward, we foresee that the gross profit contribution of the healthcare glove segment will overtake that of the cleanroom glove business," he says.
Riverstone generated a profit of RM316.2 million on revenue of RM1.109 billion in 9MFY2020, exceeding the group's full-year revenue of RM988.96 million and profit of RM130.41 million in FY2019. Commenting on the results, Wong says he is quite confident that Riverstone's financial performance will continue to improve quarter on quarter, at least until end-2021.
"Today, everyone is wearing gloves — the receptionist, policemen, people in the food industry — not just healthcare workers," he points out.
As for cleanroom gloves, Wong says Riverstone serves the electrical and electronics (E&E), semiconductor and pharmaceutical sectors. "With or without the pandemic, this segment will continue to grow because these companies need to operate in a controlled environment. They need our cleanroom gloves to protect their products from contamination. They can't use their bare hands or a dirty pair of gloves to work."
Since the outbreak of Covid-19, some of Riverstone's competitors have diverted their capacity to healthcare gloves, but the group has decided to continue doing what it does best, he says. "Healthcare gloves are a more straightforward business. But cleanroom gloves are highly customised, which is why many glove companies do not want to go through the hassle of producing them.
"In our view, the E&E industry is booming now. So, there is currently a huge demand for cleanroom gloves."
Riverstone enjoyed a fairly attractive pre-tax profit margin in the range of 15.9% and 18.1% between FY2017 and FY2019. In comparison, Top Glove Corp Bhd's pre-tax profit margin was between 8.8% and 29.9% in its past three financial years, Hartalega between 18.9% and 21.8%, Kossan Rubber Industries Bhd between 11.6% and 12.4%, and Supermax Corp Bhd between 11.2% and 31.9%.
Riverstone saw its share price quadruple from 93.5 Singapore cents on Jan 2 to S$3.70 on Nov 6, before a one-for-one bonus issue adjusted the share price by about 50%. At last Thursday's closing price of S$1.24 per share, the company was valued at S$1.84 billion.