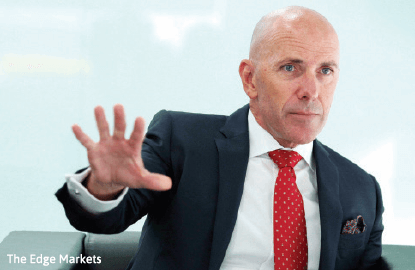 This article first appeared in Unlisted & Unlimited, The Edge Malaysia Weekly, on January 11 - 17, 2016.
WHILE small and medium enterprises (SMEs) contribute more than 30% of the country's gross domestic product (GDP) and provide more than 60% of the job opportunities, the sector is still a very under insured, says ACE Jerneh Insurance Bhd country president and executive director Steve Crouch.
Crouch, who has had a career spanning more than 25 years in a variety of management positions at leading brokerage and insurance firms, says the awareness of risk management is very low among Malaysian SMEs even though it is the sector that needs it the most.
SMEs tend to be more vulnerable than larger companies because they do not have massive amounts of financial reserves, he points out. They are also not aware of how to protect themselves from any eventualities that arise from this.
"A few months ago, we spoke to a lot of SMEs at an event. They talked about their entrepreneurship, business plans, next market and next product, but very few talked about having a risk management plan," says Crouch.
That is why ACE Jerneh, which operates in 54 countries, has stepped up its education process among Malaysian SMEs. The company started to focus on this sector a few years ago and its efforts have paid off somewhat. In 2012, it only provided coverage for 4,000 SMEs, but this number has increased to 27,000 today.
Considering that there are more than 600,000 SMEs in the country, there is a lot of room for growth. Also, the majority of them either have insufficient coverage or none at all, says Crouch. 
He adds that some SMEs would have taken up risk management plans if only they had known what was available for them. "Unfortunately, people think of insurance as a necessary evil. They tend to take only the cheapest, most minimal coverage. 
"We try to raise awareness of other types of protection. For example, a fire policy. Only 5% of those who buy fire policies take our business interruption cover. This is the cover you require to go back to operating at the same level before your loss occurred. So many people are not even aware that it is available."
Finding the right cover
Before choosing an insurance partner, SMEs should first understand the types of risk that are peculiar to their business and how vulnerable they are to them, says Crouch. "The risks depend on occupation, geography, and size. So, it is important that SMEs try to find an insurance partner that can help meet their needs."
SMEs need to exercise the same rigour when selecting an insurance partner as when they are choosing a vendor. And they need to ensure that the insurance provider has the financial capacity to meet their future needs should a claim arise.
"Insurance is an intangible product. You are buying something that you need only when you have a claim. Therefore, it is important that they make the assessment that the provider they choose not only offers the cheapest product at the start, but is there to service them if a claim arises. It is important to look at the company's financial strength, especially for the types of covers where claims don't come until four or five years down the road," says Crouch. 
It is also important to see what value-adds the insurance company can provide, such as risk management advice and risk engineering services. "What we are seeing more of now is that many Malaysian companies are starting to do business outside of the country. So, it is important that they choose a provider that can look after them in the different markets as well," he says. 
Companies are subject to different risks, requirements and regulations in each market they operate in. "They really need a provider that can look at them in a holistic way. And clearly that's one of the things ACE Jerneh, being a global company, is able to do very well," says Crouch. 
He thinks SMEs should pay more attention to risk management and even incorporate it as part of their annual review, when they assess things like business plans or financial targets. This is because a company's risk is always changing and it is important that it keeps abreast of what the current exposures are and what should be done to mitigate them.
To meet the needs of SMEs, ACE Jerneh has come up with the FlexiGuard Business Insurance tailored specifically for local companies. The product provides protection against the risks SMEs are commonly exposed to every day. The company has also simplified the application process considerably, says Crouch. SMEs do not have to fill in long and complicated proposal forms to get a quote or a policy issued, and they can pick and choose which elements of coverage they want, instead of buying the whole package, he adds.
Future plans
Crouch says Malaysia is a very important market for ACE Jerneh. Although last year was challenging, the insurance provider believes that the outlook for Malaysia is good and it will continue to invest in the country. 
"SMEs have been a key area of focus that we believe we can add value to. We have been here for more than 60 years and we are able to call on risk management expertise around the world to apply it at a local level for our Malaysian clients. We are growing with the sector, focused on it, and I think it will continue to be in our long-term plans," he says. 
ACE Jerneh is investing in technology as Crouch believes the insurance industry needs to be at the leading edge. "The upside of it is that it makes us more efficient in providing better service to our customers and intermediaries. It makes us more cost-efficient, so the cost of doing business is better and that gets translated out to the one buying the insurance." 
The FlexiGuard policy, for example, comes with a state-of-the-art online transactional platform. The intermediaries can get a quote, buy a cover and have a policy issued around the clock, says Crouch.
"Our intermediaries could be sitting in front of a client in their factory or retail premises and do it all online there and then, which makes the whole process a lot easier than filling out a lot of forms and waiting weeks for it to be processed," he adds.
As customers rely on agents or brokers to give them advice, Crouch says ACE Jerneh has the responsibility to make sure that its intermediaries are as professional as possible. "With the feedback that we get from our intermediaries and clients on what they are looking for, we continue to invest in internal development and the intermediaries."
Being a diverse company with multiple products tailored to fit certain sectors of the economy, ACE Jerneh plans to continue investing in innovative products and designs. "From my point of view, if we can help the sectors get the discussion going and get them thinking about the types of exposure that they face and what they can do about it, that is all we can really ask for. A lot of our focus is on trying to help people become more aware of their needs," says Crouch.