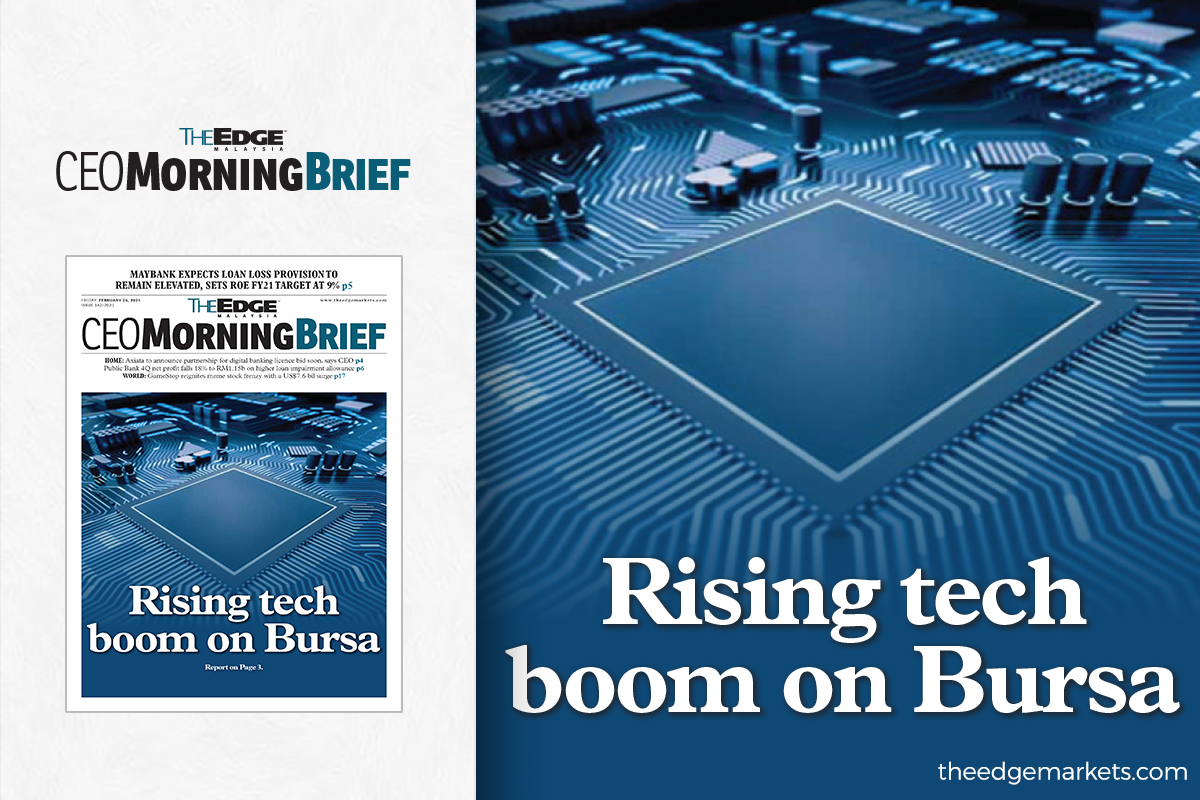 KUALA LUMPUR (Feb 26): Share prices of semiconductor-related companies on Bursa Malaysia are hitting record highs; so are their latest quarterly earnings.
The few companies that posted record high quarterly net profits are UWC Bhd, Vitrox Corp Bhd, Inari Amertron Bhd and Greatech Technology Bhd.
Fund managers and investment analysts told The Edge that the astronomical increases in earnings among semiconductor companies are expected to continue in the current year, particularly because of the chip shortage that has been accentuated by the further computerisation of consumer electronics, the implementation of 5G, and greater usage of technology in the automotive industry.
TA Investment Management Chief Information Officer Choo Swee Kee expects earnings for semiconductor companies to be strong on the recovery of consumer demand for electronic and electrical products post-pandemic worldwide.
Furthermore, he noted that the current shortage in chip supply necessitates semiconductor and related companies to ramp up production to meet the backlog. An improvement in profit margins is expected as customers are willing to pay more to get their hands on chips, said Choo.
Areca Capital Chief Executive Officer (CEO) Danny Wong concurred that earnings growth will continue into 2021.
Besides the implementation and adoption of new technologies, Wong noted that many Malaysian companies in the semiconductor space have been moving up the industry's value chain.
"Malaysian players have traditionally been at the lower end of the supply chain, but there has been a gradual movement by such companies further up the value chain. In fact, this movement is already happening," said Wong.
Meanwhile, Fortress Capital Capital Asset Management investment and director, Geoffrey Ng commented that companies whose product mixes are geared towards sectors with high growth potential stand the chance to see better earnings.
"Investors should also look at factors such as the company's product mix, lead times, sales volume and clients as well before making any decisions," Ng said.
Besides, he warned that rising metal prices could also eat into profit margins.
Ng viewed that the capacity constraints currently faced by semiconductor companies are also being faced by many electronic manufacturing services (EMS). As such, he expects supply to remain tight in 2021, and it will take time for supply to catch up with demand.
Independent research firm Trident Analytics founder and chief research officer Peter Lim Tze Cheng commented that the shortage has raised chip prices. However, given these chips are important components in electronics, many electronics manufacturers have delayed or halted production on account of the shortage, as the current supply is not enough to meet demand.
Manufacturers worldwide, be it car makers or electronic appliances manufacturers would consume less volume of chips when they have to halt production.
In short, the chip shortage is likely to form a vicious cycle.  
Lim noted that the current shortage is premised in foundry capacity and that no one expected economic activities in the sector to rebound amid a pandemic in the way it has. Over the course of this year, a gradual recovery in supply could happen given that many chip manufacturers are moving to increase capacity, viewed Lim.
Downside risk present amid lofty valuations
Technology stocks have the darlings of many investors especially after the sentiment on the rubber glove counters has turned cautious.
Currently, many of the technology stocks are trading at record high levels, with lofty valuations. Trident's Lim said the valuations are currently a bit steep for his liking.
Both Lim and Ng agree that the downside risk is heightening as share prices rise. They view that if the future earnings delivered do not pass muster with investors, share prices would be under downward pressure.
For TA Investment's Choo, share prices among semiconductor companies have run significantly and many are already trading a premium valuation compared to historical trends.  
While in the short term, such valuations may be justified due to the expectation of a rosy outlook and a low-interest-rate environment that resulted in ample liquidity seeking investment alternatives. However, he noted that lofty valuation might not be sustainable in the long term given the cyclical nature of the industry.
"We would like to highlight that the semiconductor industry is cyclical too with boom and bust," said Choo.