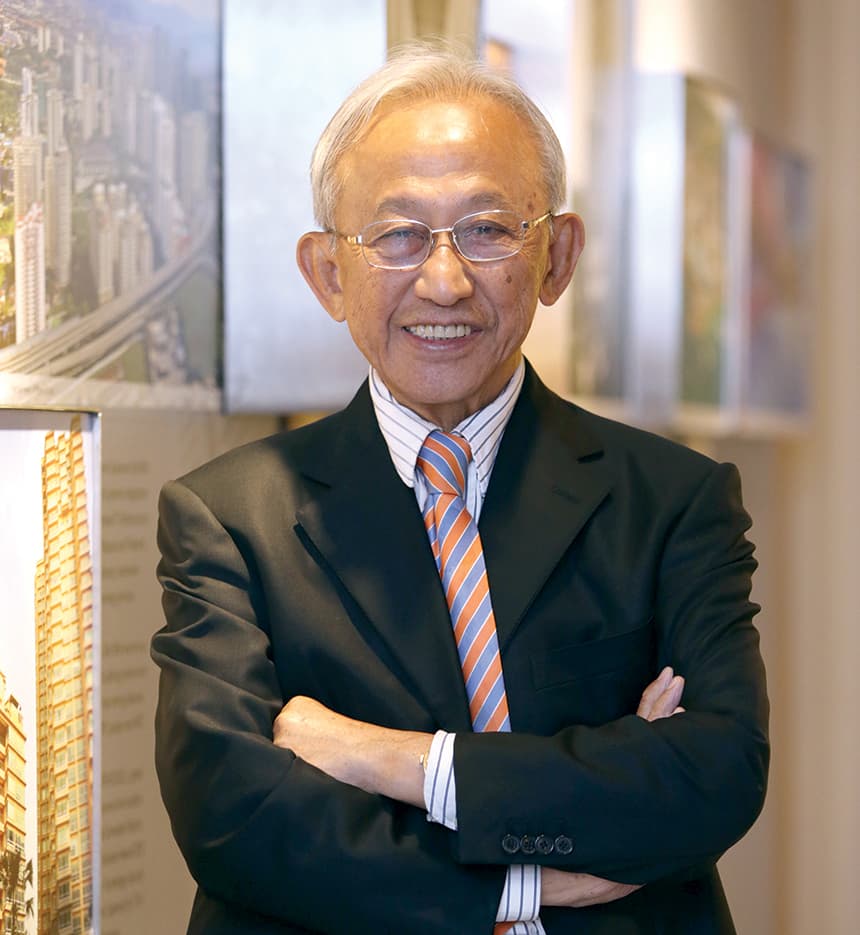 For me, success means becoming better than what I was before, and it is to create a better life for my family." — Lai Photo by Sam Fong / The Edge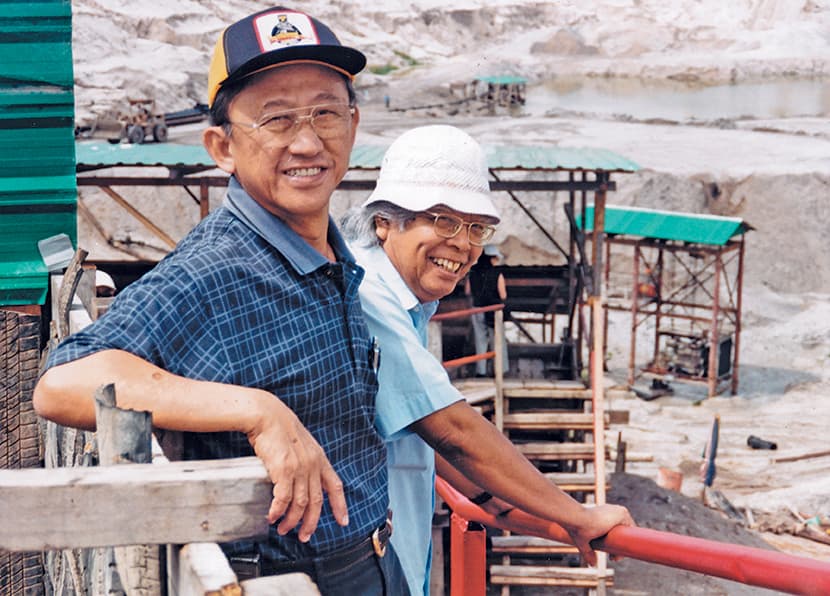 Lai with Ireka chairman Abdullah Yusof Picture by Ireka Corp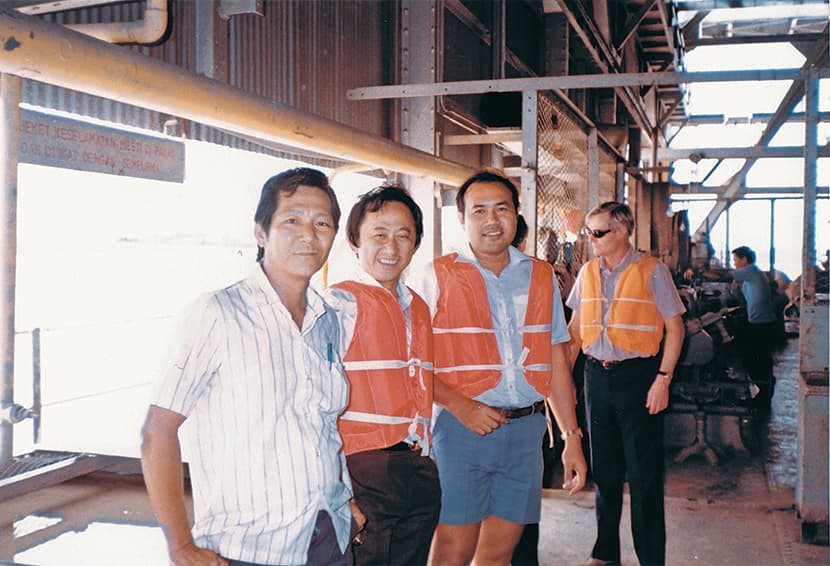 Lai and his colleagues on a site visit to a mining dredge in the early 1970s Picture by Ireka Corp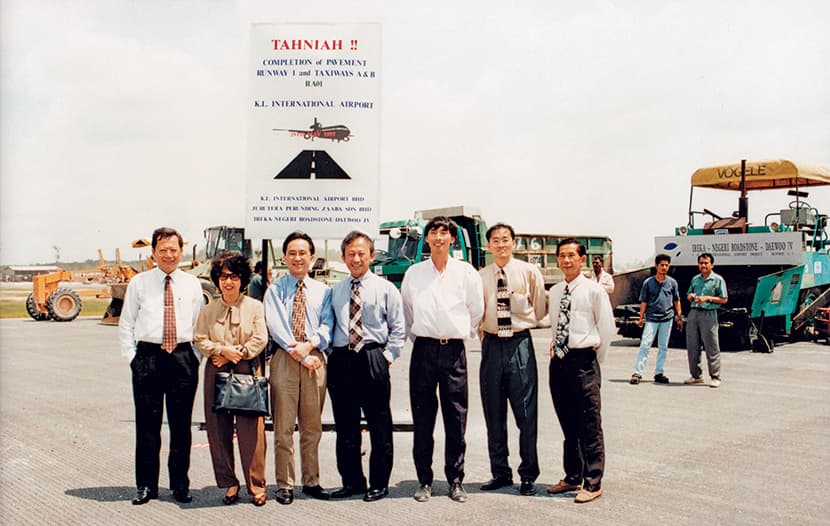 Lai and his colleagues at the opening ceremony of KLIA in 1997 Picture by Ireka Corp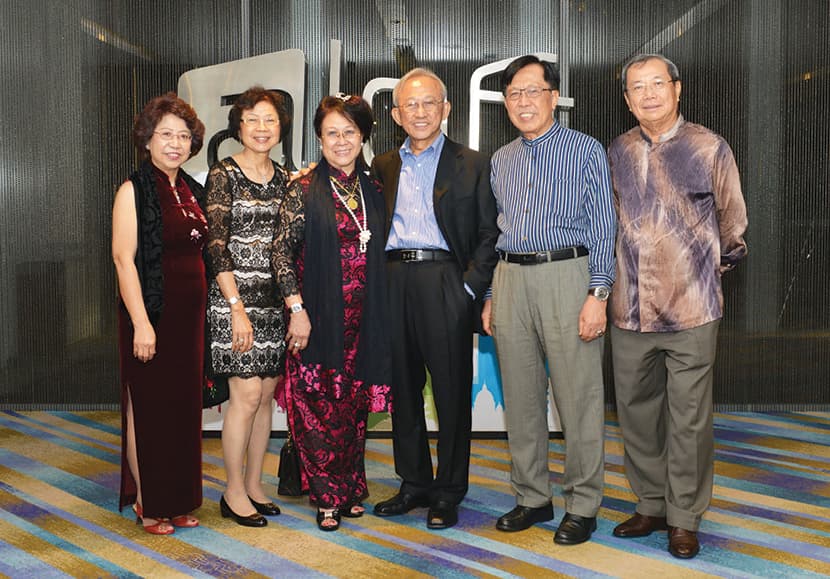 Lai with his wife (beside him) and family Picture by Ireka Corp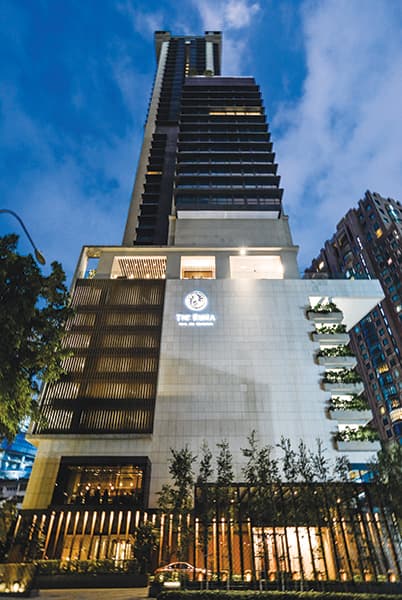 The RuMa Hotel and Residences in Jalan Kia Peng was jointly developed by Ireka and Aseana Properties Picture by Ireka Corp
Datuk Lai Siew Wah | Executive Chairman of Ireka Corp Bhd
"Behind every successful man is a woman … and friends" — this rings true for Ireka Corp Bhd executive chairman Datuk Lai Siew Wah, the recipient of The Edge Malaysia Lifetime Property Achievement Award 2019. During his interview, conducted in Mandarin, with City & Country at the company's headquarters in Wisma Mont'Kiara in Kuala Lumpur, he repeatedly emphasises his gratitude to his wife Datin Liw Yoke Yin, his family members, including Liw's siblings, his friends and employees while reminiscing about his humble beginnings.
It all started with the aim of bettering the life of his family. Lai was born in 1940 in the then Serdang New Village (now Seri Kembangan). His father was a fruit contractor while his mother was a rubber tapper. The eldest son of four children, he lost his father when he was only nine years old. He left school at the age of 13 to work as a rubber tapper at the estates near his home in Serdang New Village.
Never giving up
Lai did not give up on learning throughout his four years as a rubber tapper. At the same time, he was desperate to break free because he saw no future in the job for both him and his family. Their situation began to improve when a logging company employed him as an apprentice mechanic.
"Rubber tappers worked half days, so I studied Mandarin in the afternoon. The job did not pay well, so I began to think about how I could improve the life of my family. I knew I needed to get out from that situation," he says.
"When I first left home to work at the logging company in Ipoh Road, I was very happy because I was finally out of the small town and was working in the city. I worked hard to gain a good reputation as a mechanic and I had a great deal of respect for my boss who also had basic schooling but had made a success of his workshop business. He inspired me to improve my life."
Five years later, Lai left the logging company as he had an opportunity to travel to logging camps deep in the jungles to repair machinery and trucks. He then partnered a friend in Raub, Pahang, and opened a mechanic's workshop, repairing heavy machinery and logging tractors.
He decided to stay in Raub for business reasons as there were many logging and mining activities there. He also met his wife there and she shared the same ambition of wanting to improve the life of her family.
"She told me that I should not stay in a small town and that I should base my business in Kuala Lumpur because small towns will not have big businesses … I think my wife is cleverer than I am," quips Lai.
"A friend of mine, who is also in the same industry in KL, told me the same thing. He said, 'Although it is difficult to catch fish in the sea, the fish one catches will be big ones. When fishing in streams, one can only expect to catch small fish.' So, I sold my share to my partner and came back to KL to start a mechanic's workshop with another friend."
However, things did not go as smoothly as planned; Lai's partner died in an accident. He then decided to sell the business and buy his first tractor, a Marshall, with the proceeds. This marked his venture into the contracting business, armed with his skills as a mechanic.
Tin mining contractor
As Malaysia was then the world's premier producer of tin, Lai started his sole proprietorship — Syarikat Lai Siew Wah — in 1967 to perform general earth-moving works, undertaking large-scale contracts for tin mines and roadwork construction.
He later expanded his business by purchasing cheaper, reconditioned machines, at which time his and Liw's siblings started helping out. It was also then that he made a name for himself in the tin mining industry, earning the nickname "Earthworks King".
He modified the trucks to create dragline buckets in order to dig through 100ft of slime to get to the tin below ground, while making sure that the heavy machinery could operate on swamp land without sinking.
Lai was also the first contractor to undertake new methods such as pit material stripping as well as to import Isuzu dumper trucks directly from Japan and use Motorola car phones to ease communication on site.
At the same time, Lai's company diversified into infrastructure construction for the private and public sectors. Among its works were the Kuala Lumpur-Seremban Expressway, North-South Expressway, Port Dickson Bypass, New Klang Valley Expressway and Subang-Damansara highway.
"At the time, I worked for many big companies, supplying them with tractors and repairing their machinery. They were mostly foreign companies and that was when I learnt my broken English. I had more than 100 lorries and tractors then and our life was getting better," he says.
"Unfortunately, tin prices fell in the 1970s and many tin mining companies could no longer sustain their business due to high overheads … they stopped their operations and it affected my business. I thought about it and decided to sublease the Sungai Besi mines and a mine in Puchong. I became a miner myself and this move at least kept the company going.
"I have to keep thinking and change according to the direction of the economy because I also need to take care of my staff. We have to look for the opportunities."
Working hard and adapting
Lai's journey as an entrepreneur has never been plain sailing but he has never given up. His management philosophy is "work hard" and he is also flexible in adapting to changes. For example, as the country moved towards infrastructure developments, so did his company.
It was converted to a private limited company — Lai Siew Wah Sdn Bhd — in December 1975 and took on the name of Ireka Construction Sdn Bhd in January 1986. The name Ireka is a combination of English and Malay words — "I" and "reka", which means "I create".
Registered as a public company in June 1992, Ireka Corp Bhd was listed on the Second Board of the Kuala Lumpur Stock Exchange in July 1993. Subsequently, the company was transferred to the Main Board in June 2002.
For Lai, working hard also means that his home needs to be close to his workplace. From a flat above a tyre shop in Jalan Ipoh during the Syarikat Lai Siew Wah period, he moved the company to a larger premise in Taman Midah, Cheras — employing 25 people at its peak. As a result, the Lai family also moved from Jalan Ipoh to Taman Midah — and later to Damansara Heights when the company moved to Plaza Damansara.
For Ireka's construction business, the contracts it has won include the Tapah reservoir, the East Course at the Tropicana Golf & Country Resort and the runway at Kuala Lumpur International Airport.
In the 1990s, when Lai was relooking at the future of the company, he decided to steer it into construction and property development. At that time, the company had already completed its maiden property development project ­­— 30 houses in Taman Impian, off Jalan Ipoh — in 1985.
Ireka then completed more projects such as the Kedah State Assembly Complex, the clubhouse of Staffield Country Resort, government administrative offices in Putrajaya, four of the 13 buildings in Technology Park Malaysia and the Sandakan Harbour Square in Sabah.
At the time, it also purchased land in the area now known as Mont'Kiara.
Ireka also holds 23.07% in Aseana Properties Ltd, a property company listed on the London Stock Exchange in 2007. Its unit, Ireka Development Management Sdn Bhd, was the exclusive development manager of Aseana's development portfolio in Malaysia and Vietnam from 2007 to June this year.
Later, Ireka built The Westin hotel in Kuala Lumpur and developed various high-end properties under the i-Zen series, including i-Zen @ Kiara I, i-Zen @ Kiara II, i-Zen @ Villa Aseana Tiffani by i-Zen, Seni and One Mont'Kiara.
It also created zenZ — a sister brand of i-Zen — to venture into the mid-market property sector. Projects under the zenZ series include Kasia Greens and 10 Shopz in Nilai, Negeri Sembilan.
"We built almost 3,000 units in Mont'Kiara. We liked Mont'Kiara because it was a new area then, with mostly smaller units … so I thought there would be demand for larger units for families, which we built. Of course, the trend now has reversed to smaller units again," says Lai.
"We have been involved in construction, property development and technology. Recently, we have ventured into the business of mobility and transport, providing solutions for last-mile connectivity between properties and public transport. Besides buses, there are other systems that can complete the last mile. We are excited because it ties in with our development and construction businesses and we have been promoting the systems in different cities."
Having started his business when he was 22, he is now still actively involved in the company at the age of 79. As he puts it, "I don't have any hobby, my hobby is working."
Lai acknowledges the importance of his team, believing that it is his employees who give him the support he needs when it comes to making business decisions. The group currently has 500 staff.
"When I started my business, I did not expect the kind of success we have today … I just did not want to continue on as a rubber tapper. For me, success means becoming better than what I was before, and it is to create a better life for my family. I am grateful to my wife because she took good care of our five children so that I could focus on my work," he says.
"For me, staff members are also very important in a business. I take calculated risks in making my decisions but I am not much of a risk-taker by nature, so my team provides me with the support and reassurance I need. Many have worked for me for more than 20 years and I am grateful to them."