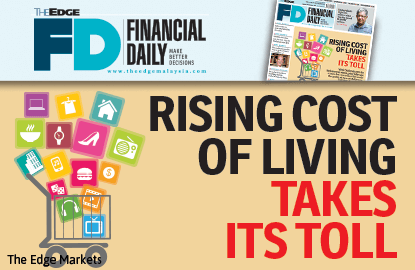 This article first appeared in The Edge Financial Daily, on November 9, 2015.
KUALA LUMPUR: As the country moves towards a high-income nation, a series of price hikes and generally a higher cost of living are causes for concern as these erode Malaysians' quality of life. This is evident from the weak consumer sentiment.
The Malaysian Institute of Economic Research's Consumer Sentiment Index (CSI) fell to a low of 70.2 in the third quarter (3Q) on the back of declining income, shopping plans being put on hold and a poor job outlook.
A recent Nielsen survey also showed the Malaysian Consumer Confidence Index dropping 11 percentage points quarter-on-quarter to a 10-year low of 78 points in the third quarter, the lowest among Southeast Asian countries. Other than job insecurity, the depreciation of ringgit is seen as one of the main root causes.
Year to date, the ringgit has weakened 23% to 4.3112 against the US dollar.
Meanwhile, the recent hikes in toll in the Klang Valley and cigarette excise duty only compounded consumers' woes.
Inter-Pacific Securities Sdn Bhd research head Pong Teng Siew described Malaysia's current economic situation as "high-income with higher cost", warning that high cost is a risk, which may lead to high household debt.
"If cost is rising faster than the income, high-income status is meaningless … it (high income) is being used as a benchmark by saying how far we have progressed, but it ignores the real standard of living," Pong said.
He also said that when consumers are squeezed, among the immediate impacts are lower savings rate and higher borrowing.
"We always try to maintain our standard of living by making adjustments to the saving rates. If cost of living is climbing faster than the income rate, we need to adjust, either save less or end up a net borrower to maintain our standard of living," he said.
Pong opined that household debt, which has climbed for years, will continue to rise as Malaysians will be tempted to borrow more to maintain their standard of living.
Malaysia's household debt to gross domestic product, which stood at 87.9% last year, was among the highest in the region.
Independent economist Lee Heng Guie said there remain challenges towards achieving high-income status amid the rising cost environment in recent years.
To meet the gross national income (GNI) per capita target of US$15,000 (RM65,377) by 2020, Lee said, the Malaysian economy needs to sustain economic growth of at least 6% per annum. However, since the 2008/2009 global financial crisis, the uneven state of global growth has constrained Malaysia's exports as a growth driver.
Concurring with Pong, Lee agreed that the GNI per capita, an economic measure of a nation's standard of living, does not give a complete picture of Malaysians' well-being.
"High GNI per capita if it is not commensurate with a strong and stable exchange rate, literally means that Malaysians' living standards are deflated by the shrinking ringgit. Malaysians need to work harder to earn more foreign exchange to buy the same quantity of goods and services," he said.
Besides, faced with rising price pressure and cost of living from the carry-through effect of the previous subsidy rationalisation and also the implementation of the goods and services tax (GST) this April, he is of the view that higher transport costs will inevitably burden the low- and middle-income households and individuals, who spend a large proportion of their income on food and transportation.
As consumers are tightening their belts, the fall in consumer spending and sentiment was unavoidable.
According to Lee, households and consumers are expected to spend less on discretionary items given the expected moderate rise in income growth and weaker economic conditions. In the meantime, private consumption growth had already slowed since 2012 from 8.3% in 2012 to 7% in 2014. Consumer spending lost momentum to 6.4% in 2Q 2015 from 8.8% in 1Q, reflecting largely the impact of GST.
Moreover, he projected private consumption rising at a more moderate pace of 5.8% in 2016 from an estimated 6.6% in 2015 due to upward inflationary pressures resulting from price rigidities from subsidy rationalisation, GST, toll hikes, the sharp decline in the ringgit, and worries about weak economic conditions and job security.
The World Bank's country economist Rafael Munoz Moreno explained that high-income developed nations all have a different structure and dynamic, including cost structures; therefore, in the case of Malaysia, it is too early to tell.
According to Morenol, evidence from throughout the world shows that costs do evolve as economies develop, but usually this is in parallel to the market forces at play within the economy, the income of a country's citizens, and the ability of people to absorb these prices as productivity in the country increases. Currently, he saw no area of concern, all things being equal.
Moreno recognised that Malaysia has had considerable achievements over the past decades, particularly in eradicating extreme poverty, and in achieving sustained inclusive growth.
"Malaysia's economic development path is driving it to achieve high-income nation status by 2020, yet the goal for Malaysia goes beyond merely reaching a per capita GNI threshold," he said, adding that achieving high-income status is a necessary but insufficient goal, which must include ensuring that future generations have access to all the resources (namely skills, productive opportunities) necessary to realise their ambitions, and to have an economy that is globally competitive and resource-sustainable.