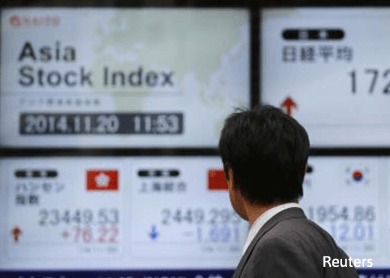 BANGKOK (Aug 28): Southeast Asian stock markets rose on Friday as upbeat U.S. economic growth data lifted sentiment in Asia, with foreign-led buying sending Malaysia's key stock index to a more than two-week closing high ahead of a three-day weekend.
The Kuala Lumpur composite index rose 0.7% to its highest closing level since Aug 13. Shares of oil and gas services firm Sapurakencana Petroleum Bhd were the biggest percentage gainers, with a 6.8% jump.
The Malaysian bourse said foreign investors turned net buyers on Friday, worth 210 million ringgit ($50.10 million), after their net selling through the week.
Malaysian markets will be closed on Monday for a public holiday.
Southeast Asian stock markets had a mixed performance on the week, with Vietnam posting a 2.6% weekly gain and Indonesia a 2.5% weekly rise, as bargain-hunting
emerged in the battered region, after global equities selloffs.
The Philippine index posted a weekly drop of 2.5%, making it the region's worst performer. The Philippine stock market will be closed on Monday for a public holiday.
 
Thai stocks ended the week little changed. Singapore was down 0.5% on the week, its sixth.
Asian markets extended a global rally into second day on Friday, as upbeat U.S. economic growth data calmed sentiment, following the hammering shares across the region took earlier in the week.
    
SOUTHEAST ASIAN STOCK MARKETS
 Change on day
| | | | |
| --- | --- | --- | --- |
|  Market | Current  | Prev Close | Pct Move |
| Singapore | 2955.94 | 2945.43  | +0.36 |
| Kuala Lumpur  | 1612.74  | 1601.70  |  +0.69 |
| Bangkok | 1365.94  | 1358.03  | +0.58 |
| Jakarta  | 4446.20 | 4430.63  | +0.35 |
| Manila  | 7098.81  | 7022.09 | +1.09 |
| Ho Chi Minh | 570.87 | 555.81 | +2.71 |
 
 Change on year
| | | | |
| --- | --- | --- | --- |
|  Market | Current  | Prev Close | Pct Move |
| Singapore | 2955.94 | 2945.43  | +0.36 |
| Kuala Lumpur  | 1612.74  | 1601.70  |  +0.69 |
| Bangkok | 1365.94  | 1358.03  | +0.58 |
| Jakarta  | 4446.20 | 4430.63  | +0.35 |
| Manila  | 7098.81  | 7022.09 | +1.09 |
| Ho Chi Minh | 570.87 | 555.81 | +2.71 |
 
($1 = 4.1920 ringgit)