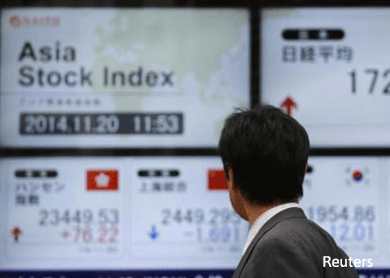 BANGKOK (Aug 27): Southeast Asian stock markets rose on Thursday as expectations of a delay in U.S. interest rate hike lifted global market sentiment, with the Indonesian benchmark logging its biggest single-day jump in almost two years on policy package hopes and foreign investment inflows.
The Jakarta composite index closed the day higher by 4.6%, its biggest single-day percentage gain since Sept 19, 2013. Foreign investors bought shares worth a net 219 billion rupiah ($15.65 million), according to Thomson Reuters data.
Indonesia will soon unveil a policy package aimed at propping up the fragile rupiah and helping an economy growing at its slowest pace in six years, senior government officials said on Thursday.
Stocks rose around the world on Thursday, following the biggest gains on Wall Street in four years, after a US Federal Reserve policymaker said the case for an interest rate increase next month "seems less compelling" than it was a few weeks ago.
Indexes in Malaysia and the Philippines both posted their third straight gain, with domestic investors net share buyers and foreign investors net sellers, stock exchange data showed.
"The second-quarter growth numbers highlight the resilience of the economy despite challenges abroad," said Philippine Stock Exchange Chairman Jose T Pardo in a statement.
Investors bought Thai consumer shares such as CP All on hopes about the government's measures expected in a month. The key SET index closed almost 3% higher.
Singapore's key index rebounded 2.5% after falling 0.5% the day before. Vietnam's index advanced 1.82%, marking its third straight gain.
SOUTHEAST ASIAN STOCK MARKETS
Change on day
Market
Current
Prev Close
Pct Move
Singapore
2945.43
2873.00
+2.52
Kuala Lumpur
1601.70
1580.37
+1.35
Bangkok
1358.03
1320.08
+2.87
Jakarta
4430.63
4237.73
+4.55
Manila
7022.09
6867.92
+2.24
Ho Chi Minh
555.81
545.89
+1.82
Change on year
Market
Current
End 2014
Pct Move
Singapore
2945.43
3365.15
-12.47
Kuala Lumpur
1601.70
1761.25
-9.06
Bangkok
1358.03
1497.67
-9.32
Jakarta
4430.63
5226.95
-15.23
Manila
7022.09
7230.57
-2.88
Ho Chi Minh
555.81
545.63
+1.87
($1 = 13,990.0000 rupiah)