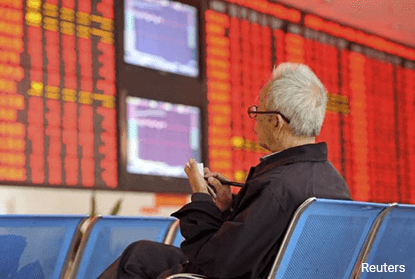 BENGALURU (March 16): Southeast Asian stocks rose on Thursday, tracking an overnight rally in global shares after Federal Reserve Chair Janet Yellen's comments suggested a more gradual pace of monetary tightening this year than many had expected.
The decision to lift the interest rate for the second time in three months marked a convincing step in the Fed's effort to return monetary policy to a more normal footing.
U.S. stocks closed sharply higher on Wednesday following the announcement, but financial stocks took a hit and ended 0.13% lower.
However, banking shares were among the top gainers in Southeast Asia.
Wider Asian markets rose as much as 1.4% to their highest level in 20 months.
"The rate hike works in two ways for the Asian markets — for one, I think the "accommodative" stance of the Fed, despite the hike, was well received by the market. Emerging market (EM) equities are likely to get a breather from the uncertainties related to the pace of rate hikes," said Taye Shim, head of research at Mirae Asset Sekuritas.
"Secondly, rate increases driven by inflation should bode well for EM equities, as companies have a good excuse to increase their selling prices," he added.
Indonesia rose as much as 1.13% to a near two-year high, led by Bank Rakyat and Bank Central Asia.
The Indonesia index of the 45 most liquid stocks rose 1.35% to its highest in four months.
Gains in Singapore were led by oil rig builder Keppel Corp, on the back of oil rallies and a weaker dollar that makes the greenback-denominated oil less expensive for holders of other currencies.
The Straits Times Index climbed to its highest level in over one-and-a-half years, with all big three banks gaining.
Malaysia's second-largest lender by assets CIMB Group led the gains in financials, soaring to its highest in 20 months, adding 2.9 points to the index.
Gains in Thailand were led by energy and industrials, while financials were among the top gainers in Vietnam.
SOUTHEAST ASIAN STOCK MARKETS:
CHANGE AT 0415 GMT
| | | | |
| --- | --- | --- | --- |
| Market | Current | Previous Close | Pct Move |
| Singapore | 3163.19 | 3137.43 | 0.82 |
| Bangkok | 1551.62 | 1540.8 | 0.70 |
| Manila | 7281.78 | 7253.79 | 0.39 |
| Jakarta | 5488.582 | 5432.381 | 1.03 |
| Kuala Lumpur | 1732.65 | 1717.36 | 0.89 |
| Ho Chi Minh | 714.6 | 713.14 | 0.20 |
Change this year
| | | | |
| --- | --- | --- | --- |
| Market | Current | End 2016 | Pct Move |
| Singapore | 3163.19 | 2880.76 | 9.80 |
| Bangkok | 1551.62 | 1542.94 | 0.56 |
| Manila | 7281.78 | 6840.64 | 6.45 |
| Jakarta | 5488.582 | 5296.711 | 3.62 |
| Kuala Lumpur | 1732.65 | 1641.73 | 5.54 |
| Ho Chi Minh | 714.6 | 664.87 | 7.48 |