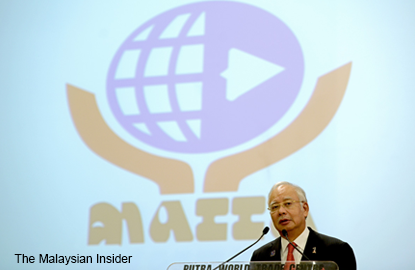 KUALA LUMPUR (Aug 27): Prime Minister Datuk Seri Najib Razak said the weaker ringgit now makes Malaysia a value-for-money tourist destination.
The premier said this is one huge selling point that needs to be emphasised to drive up tourism numbers for the country.
He also called on tour and travel agents to help correct the negative views and misconceptions that may put off foreign tourists from visiting Malaysia.
"Our renowned Malaysian hospitality and culture of service, our rich natural heritage, our cultural diversity and of course now more than ever the value for money that foreign tourists will experience in Malaysia compared to many other destinations because of the exchange rates," he said.
"All these are still huge selling points that need to be amplified and communicated across all channels to drive up tourism numbers," he added.
He was speaking at "An hour with the Prime Minister on Malaysia Inbound Tourism", a session organised by the Malaysian Association of Tour and Travel Agents (MATTA) at PWTC here, today.
Najib said MATTA and its members have a role to play to help project the truth about the country "so that misconceptions and negative views grounded in falsehood especially as spread through social media can be corrected and tourists are not put off from visiting the country".
The ringgit slid to a 17-year low against the US dollar last week and at the time of writing was trading at 4.2318 against the greenback — still firmly in the 17-year low range.
It hit an all-time high against the Singapore dollar at 3.0291 yesterday, and is now trading at 3.0213.
Shrinking international reserves, high foreign holdings of government bonds and high external debts make the ringgit one of the most vulnerable currencies in Asia (ex-Japan) to external shocks, the digitaledge Daily had reported on Monday, quoting analysts who expected the local currency to decline to as much as 4.26 against the greenback by end-September.
Meanwhile, on efforts to attract more tourists, Najib said incentives may be revised while immigration issues pertaining to visa-on-arrival and visa fees and electronic visas need to be revisited.
Airlines and airports too need to be further engaged to increase direct flights and greater connectivity, both which have shown direct correlation to increased tourist arrivals, he added.
But in the meantime, Najib call on the industry itself to believe in Malaysia's tourism fundamentals and "must in their own way market those fundamentals to help boost the industry".
Tourism is the Malaysia's 5th largest economic contributor, which brought in RM61 billion to the nation's gross national income and RM72 billion in tourist receipts last year, said Najib.
He noted that the industry has a ripple effect on almost every other industry, most notably retail, consumer services, real estate, banking and finance.
Malaysia, he added, was placed no. 12 in terms of international tourist arrivals in 2014 by UNWTO World Tourism Barometer, with approximately 27.4 million arrivals.