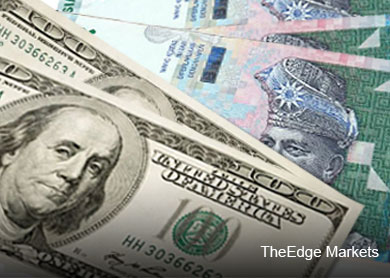 KUALA LUMPUR (Nov 4): The ringgit traded at its weakest in about eight months to the strengthening US dollar at RM3.3305 today.
This is the weakest level since March 4 this year, according to Bloomberg data.
 
The strengthening of the US dollar was in anticipation of the Federal Reserve raising US interest rates, prompting fund flows to US-based assets, and consequently demand for the US dollar.
According to a Reuters report, the ringgit's weakness against the US dollar was due to worries over lower oil prices hurting Malaysia's economic fundamentals.
The report also stated that the ringgit had recovered some of its losses, with Bank Negara Malaysia suspected of intervening to support the currency.
An economist told TheEdge Markets.com the extent of the ringgit's weakening would depend on what levels Bank Negara would allow the currency to depreciate further without intervening.
A weaker ringgit enhances export competitiveness, but at the same time import costs go up, so it would all depend on what is the (tolerance) level for Bank Negara, before it decides to undertake an intervention in the currency market, said the economist.
He foresees the ringgit continuing to weaken against the US dollar, if there is strong indication of the Federal Reserve raising US interest rates at the beginning of next year, while simultaneously there is less indication of Bank Negara raising the overnight policy rate (OPR).
Hong Leong Investment Bank Bhd wrote in a note today that the ringgit was expected to remain weak at RM3.25-RM3.35 to the US dollar.
The forecast took into account factors including the US dollar's strength, besides Malaysia's narrowing current account surplus and a pause in the country's OPR.
"We see BNM (Bank Negara) standing pat throughout 2015 given growth moderation, slower financial activities, waning enthusiasm on property speculation, and contained inflation risk," said Hong Leong.