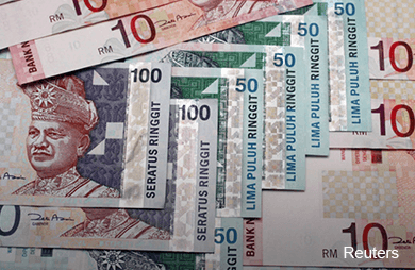 KUALA LUMPUR (Aug 7): The Malaysian ringgit extended losses against the US dollar for eight consecutive days amid of the domestic political uncertainties plus the renewed downward pressure on crude oil prices.
At the point of writing, the ringgit weakened against the greenback to trade at 3.9245. It had earlier fallen to a low of 3.9307 at 10.20am.
At the current level, the ringgit is at the brink of breaching the lowest level of 3.9340, before Bank Negara Malaysia pegged the ringgit at 3.8000 against the US dollar in September 1998.
The ringgit had fallen to a low of 4.7125 on Jan 9, 1998 against the greenback before the central bank pegged the ringgit to the US dollar at 3.8000.
A dealer said the ringgit opened lower against the US dollar as foreign banks continued to offload the currency.
In view with this, Ambank foreign exchange research said in a currency note on Friday that it expects the local currency to trade in the range of 3.8870 to 3.9320 against the greenback today.
Apart from US dollar, the ringgit also depreciated against other currencies.
At the time of writing, the Australian dollar appreciated 0.95% against the ringgit to quote at 2.8930, while the ringgit traded at 2.8282 against one Singapore dollar.
Against the euro, the ringgit was quoted at 4.2817.
However, the ringgit strengthened against pound sterling to quote at 6.0980.