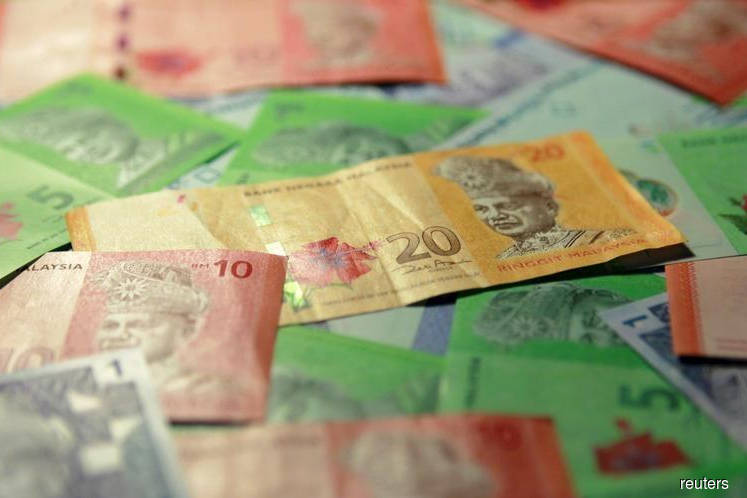 KUALA LUMPUR (July 10): RHB Research Institute Sdn Bhd anticipates the ringgit to weaken to 4.1000 against the US dollar by end-2018, due to capital outflow.
In a note today, RHB economists Peck Boon Soon and Vincent Loo Yeong Hong said RHB expects the US dollar to remain strong for the rest of the year, amid faster interest rate hike expectations in the US, and global trade uncertainties.
"Following a strong rally in 1Q18, the MYR in 2Q suffered the worst quarterly performance in almost two years. The recent weakness was mainly on the back of persistent USD strength, after the US Federal Reserve raised its dot plot interest rate guidance. 
"In addition, foreign investors were adjusting their investment portfolio, following the conclusion of Malaysia's general election," Peck and Loo said. At 11:21am today, the ringgit was traded at 4.0090 against the US dollar.
As RHB maintains its 2018 Malaysia gross domestic product (GDP) growth forecast, the research firm also foresees downside risk to its 2019 GDP growth forecast for the country. The economists said RHB is maintaining its real GDP growth forecast for Malaysia at 5.2% for 2018, albeit a slowdown from the 5.9% expansion in 2017, as a cut in public spending will likely be cushioned by higher consumer spending, due to the tax holiday.
"However, we are foreseeing a downside risk to our 2019's real GDP growth forecast of 5%. The move to cut expenditure and review government projects' spending will likely impact construction and economic growth of the country, especially in 2019. Still, we believe it is necessary for Malaysia to go through short-term pain for long-term gain, in order to improve the financial health of the public sector," they said.