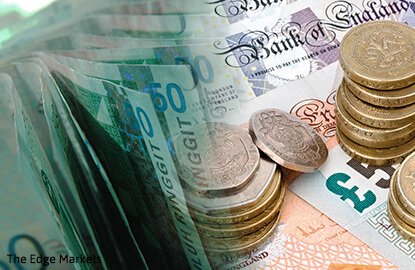 KUALA LUMPUR (Jan 16): The Malaysian ringgit is benefiting from the weakening British pound to trade 1.32% higher against the sterling, as U.K. raised possibility to exit the European Union (EU) single market.
The currency's decline followed media reports suggesting U.K. prime minister Theresa May was prepared to make a "clean and hard" Brexit from the EU, which may include quitting the EU single market and customs union, ahead of her speech on Tuesday.
Volatility towards the pound is expected to persist ahead of the speech, as traders who back the pound dread the idea, and there is a lack of confidence on whether May can deliver the necessary clarity, when she lays out her Brexit plans, analysts say.
As of 11.08 a.m., the ringgit was trading at RM5.3682 against the British pound. The ringgit traded between 5.0400 and 6.3046 against the sterling over the past one year.
The weakening pound has also tested Asian markets, as most counters traded lower on Monday morning.
In an article in the Sunday Times, Brexit minister David Davis wrote that Britain would consider ways to extend or smooth the exit process to provide certainty for businesses.
"If it proves necessary, we have said we will consider time for implementation of new arrangements," he wrote.