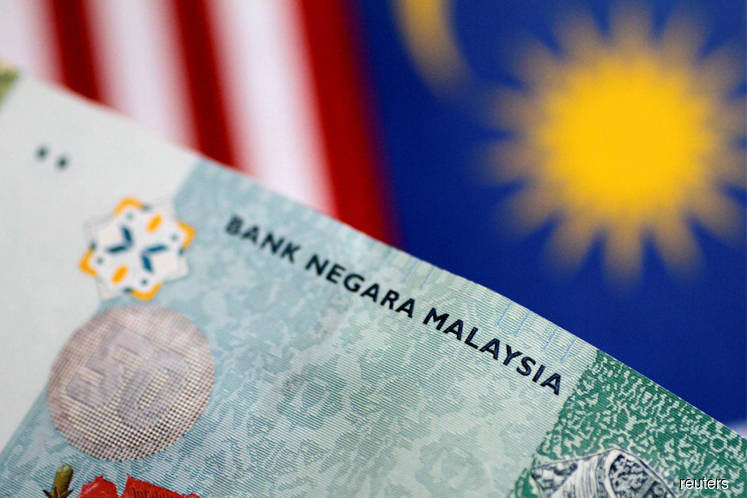 KUALA LUMPUR (April 18): RHB Banking Group said the recent ringgit selloff has been overdone after panic selling.
In its Rates & FX Market Update today, RHB Group Treasury head for Rates/FX Strategy Suresh Ramanathan and senior analyst Jia Wen Quek said two headlines, namely Norges Bank's announcement to slash emerging markets (EM) bonds in early April, and FTSE Russell's announcement that it may drop Malaysian debt from its FTSE World Government Bond Index on accessibility and liquidity concerns, disproportionally hit Malaysian assets, with USD/MYR touching an intraday high of 4.1455, short of the psychological 4.15 handle.
"We hold the view that markets panicked and overreacted to the news," they said, adding that removing Malaysia from the index will not impact the country's fundamentals and credit rating.
They said: "Furthermore, medium-term outlook of Malaysian bonds remain intact, which should eventually drive foreign inflows into the space:
Manageable and non-volatile inflation.
Bank Negara Malaysia neutral monetary policy stance, with flexibility to adjust given stable domestic prices.
Prudent fiscal trajectory.
No credible threat to Malaysia's credit rating over the next 18 to 24 months."
The analysts said they see several factors that can potentially restore confidence in the ringgit over the short term, namely:
Brent prices remain supported north of US$70/bbl.
Improvement in EM sentiment, especially in Asia, as near-term fears of a Chinese slowdown fades after a better-than-expected 1Q19 GDP print. USD/CNY trades sub-6.70 and the yuan strength has yet to spill over to the ringgit given the panic.
Running a current account surplus sets it ahead of other EM peers, especially as global liquidity remains on a tightening trend till the US Federal Reserve's unwinding ends late-2019.
Robust domestic foreign exchange (FX) markets enabled by foreign exchange administration (FEA) rules continue to offer confidence and stability to real stakeholders of the economy in ringgit trading and hedging.
Malaysian bonds to remain underpinned by factors outlined above.
They added that Malaysia's defenses against external volatility have strengthened in recent years, which should bode well for the ringgit's medium-term attractiveness, attributing to:
Improving mix of external debt.
Robust domestic FX markets for trading and hedging.
Consistent current account surplus.
Far sufficient foreign reserves than recommended by the International Monetary Fund (7.4 months of retained imports).