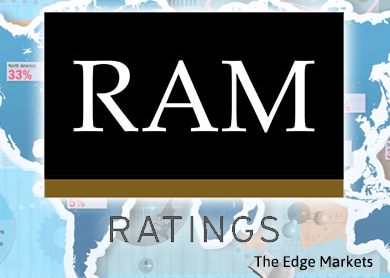 KUALA LUMPUR: RAM Rating Services Bhd (RAM Ratings) said the ringgit will be trading between 3.80 and 3.90 against the US dollar until the end of this year, based on the agency's average forecast of 3.70 to 3.80 for the year.
"Based on our average house forecast of between 3.70 and 3.80, and since the ringgit has averaged at around 3.68 year-to-date, we expect it to trade between 3.80 and 3.90 for the rest of 2015," said RAM Ratings economist and head of research Kristina Fong.
She was speaking yesterday at a briefing on the impact of the ringgit's volatility on exporters, organised by Malaysia External Trade Development Corp.
She said the local currency is currently affected by uncertainties surrounding the US Federal Reserve's (Fed) potential interest rate hike anticipated in September, the slump in oil prices and investor uncertainty on external and domestic developments.
"When the Fed actually raises rates, the interest rate differential would be less positive on Malaysia, but there will be some certainty on the actual rate. So, this volatility in the ringgit would not prolong, with there being some certainty," she said.
Asked if the ringgit should be pegged against the greenback to stem the depreciation of the currency as was done during the Asian financial crisis in 1998, Fong said this is unlikely to happen as it would send out a negative message to foreign investors.
"Capital controls would affect the proportion of international investors, as it sends out a very bad message, in terms of the liberalised state we're supposed to be in," she explained.
The weakness of the ringgit notwithstanding, Fong said Malaysia will do well this year in terms of economic growth.
"Regionally, Malaysia is going to come out as one of the stronger growing economies in Asean. Fundamentally, Malaysia is doing okay, better than what the exchange rate would reflect," she said.
Looking forward, Fong expects domestic demand to remain resilient and be the key driver of Malaysia's economic growth, forecast at 5%, with private consumption and private investment forecast to grow 5.8% and 9.6% in 2015, respectively.
RAM Ratings also expects inflation to reach 2.5% in 2015, lower than 3.2% in 2014, despite the implementation of the goods and services tax in April.
"This is something that we didn't expect initially. The floating of the fuel price mechanism with no subsidies actually put a big downward pull on inflation. Oil prices in general have gone down about 50% since the US$100 per barrel level, which has translated into lower pump prices.
"The fuel component makes up around 9% of the CPI (consumer price index) basket, so a 50% reduction in fuel prices would actually bring down the CPI by about 1%. That's where the lower inflation rate comes from," she explained.
This article first appeared in digitaledge Daily, on August 5, 2015.