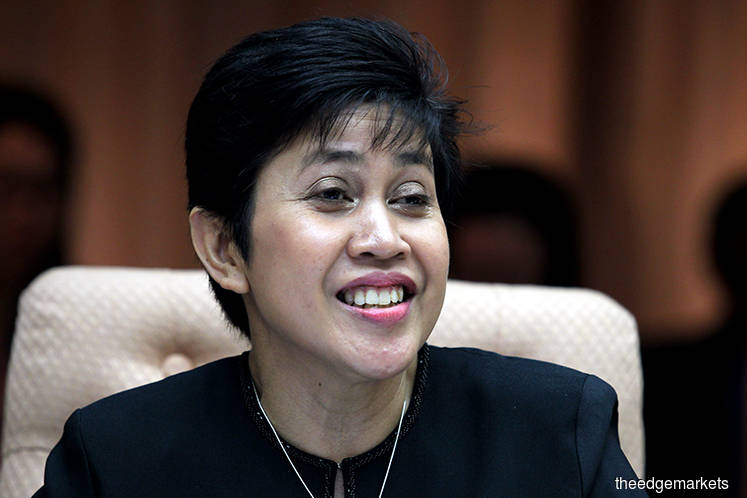 KUALA LUMPUR (Nov 16): Bank Negara Malaysia (BNM) expects the ringgit to continue to depreciate against the US dollar next year, as the greenback continues to grow stronger and also due to other external uncertainties. 
The central bank's Governor, Datuk Nor Shamsiah Mohd Yunus, said the ringgit depreciated by 2.5% against the US dollar in the third quarter of this year. Year-to-date, the local currency has fallen 3.35% to the US dollar.
"This is something that is not only unique to Malaysia, but all the other regional economies would be affected by the strong US dollar and that is where we do expect that the regional currencies, together with the ringgit, will continue to depreciate," she told a media briefing on the country's economic performance for the third quarter of 2018, today. 
"Nevertheless, because of the deep financial market that we have and the big pool of strong domestic institutional investors, that will ensure orderly adjustments in both the foreign exchange market and in our currency," Nor Shamsiah added. 
In comparison to other regional currencies, only the Thai Baht and Singapore dollar have appreciated by 0.3% and 0.1% respectively against the US dollar this year, while the Indonesian rupiah and Philippines peso depreciated by 13.1% and 7.3% respectively. 
"The strength of the US dollar was supported by positive US economic data and outlook during the quarter," she said.  
Nor Shamsiah noted that the ringgit and regional currencies were also affected by negative sentiments, due to concerns over contagion risk from vulnerable emerging market economies. 
"Emerging market risks increased following concerns on Turkey and Argentina, the escalation of the US-China trade war in September and the US Federal Reserve (Fed) rate hike expectation during the quarter, and the eventual Fed rate hike on Sept 27," she said.
At 4.52pm, the ringgit was trading at 4.191 to the US dollar.