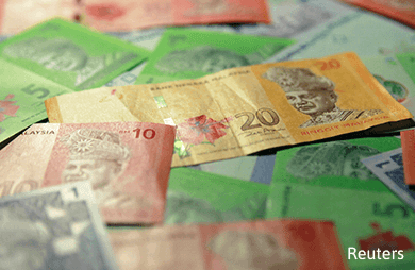 KUALA LUMPUR (Dec 30): The plan by Kumpulan Wang Persaraan (Diperbadankan) for a 270 million pound ($402 million) sale of an office building in central London is one of the indications of the market's perception that the ringgit is bottoming, according to MIDF Research.
In a note today, the research house said local funds repatriating their capitals to Malaysia is taking advantage of the ringgit's weakness to realize their currency translation gains.
MIDF Research said despite the fact that oil price continues its downtrend particularly since the OPEC meeting last November, there is little change to the ringgit.
"It seems that ringgit is no longer responding to the price of oil and commodity, as if the relationship between the two has diminished.
"Furthermore, the ringgit is even going against the capital flow where despite there is a continuous net selling by foreign investors in Malaysian equity market this month, there is almost no change in the ringgit," it said.
MIDF Research said combined with the fact that the onshore-offshore spread of the ringgit has been consistently in the negative territory since the middle of December which reflects that there exist an upward pressure for the ringgit, it believed that the ringgit downfall is bottoming and it will begin to rebound in 2016.