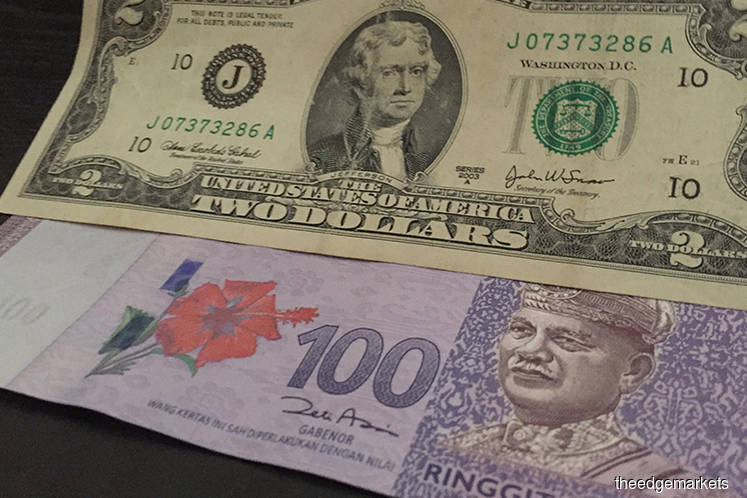 KUALA LUMPUR (Dec 12): AmBank Group Research expects the ringgit (MYR) to trade between its support level of 4.1631 and 4.1786 while the resistance is pinned at 4.1865 and 4.1903.
In his AmBankFXDaily note today, AmBank group chief economist and head of research Dr Anthony Dass said the MYR fell 0.31% to 4.185 against the stronger dollar.
Dass, who is also adjunct professor in economics at University of New England, Sydney, Australia, said the local bourse dropped 0.64% to 1,652.6.
He said that meanwhile, in the local bond market, the final auction for the year was announced with the 3y GII seeing RM3.3 bilion up for auction and another RM500 million privately placed.
"The 3-year Malaysian Government Securities yields rose 0.5 bsis points (bps) to 3.655% while the 5- and 7-year yields was flat at 3.835% and 4.000% respectively.
"Meanwhile, the 10-year yield closed 1.5bps higher to 4.100%. In the commodities space, Brent rose 0.38% higher to US$60.20/bbl while WTI closed 1.27% higher to US$51.65/bbl due to higher-than-expected drawdown from inventories.
"Besides, with Libya's largest oil field being ceased by the military, it caused production outage of 315,000 bbl/d," he said.
Dass said the ringgit lost 0.11% against SGD to 3.047; down 0.45% to 7.847 against Thai Baht and depreciated 0.30% to 12.62 against Peso. Meanwhile, the currency appreciated 0.06% against Rupiah to 3490.9.