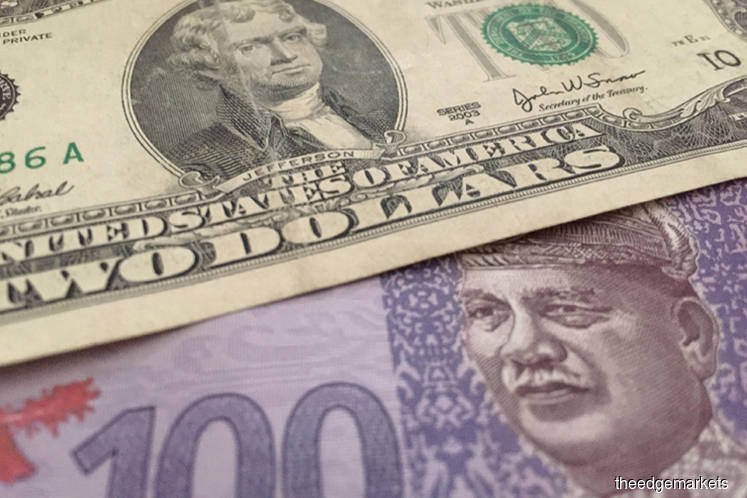 KUALA LUMPUR (Dec 14): AmBank Group Research expects the ringgit (MYR) to trade between its support level of 4.1761 and 4.1780 while the resistance is pegged at 4.1800 and 4.1815.
In his AmBankFXDaily note today, AmBank group chief economist and head of research Dr Anthony Dass said the MYR fell 0.13% to 4.179 against dollar.
Dass, who is also adjunct professor in economics at University of New England, Sydney, Australia, said the KLCI closed 0.77% higher to 1,676.0.
He said in the local bond market, the main focus was on the 3y GII reopening auction, which recorded a strong BTC of 2.43x and average yield of 3.775%.
"The 3-, 5-,7- and 10-year Malaysian Government Securities yields remained unchanged at 3.665%, 3.845%, 4.000% and 4.100%, respectively.
"For the commodity space, both Brent and WTI rallied 2.16% and 2.80% to US$61.45/bbl and US$52.58/bbl respectively on the back of supply deficit that might arrive earlier than expected, according to the latest report from International Energy Agency (IEA)," he said.
Dass said IEA expected the supply deficit will materialised in the 2Q2018, provided OPEC sticks to its supply deal.
"Meanwhile, the ringgit softened against majority of its regional peers.
"It weakened by 0.17% against Thai Baht to 7.841, edged lower 0.10% to 12.61 against the Peso and skidded 0.14% to 3.051 against SGD. Yet, it strengthens 0.57% against the Rupiah to 3,468.7," he said.