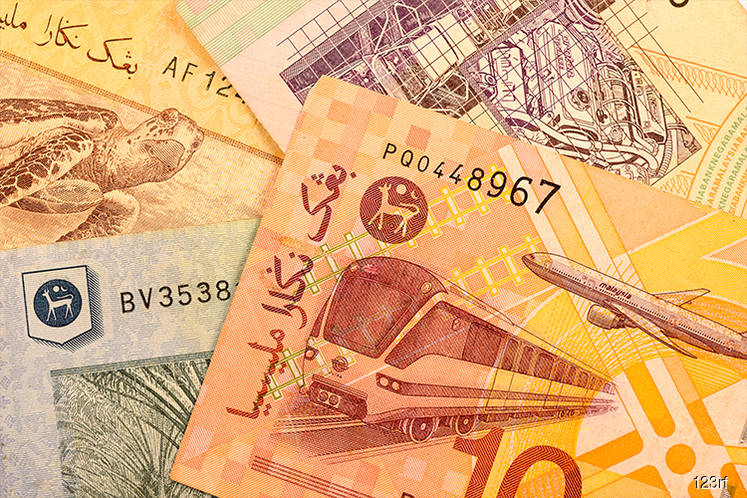 KUALA LUMPUR (May 16): AmBank Research expects the ringgit (MYR) to trade between its support level of 4.1586 and 4.1672 while the resistance is pegged at 4.1788 and 4.1869.
In his AmBankFXDaily note today, AmBank group chief economist and head of research Dr Anthony Dass said the Malaysian ringgit dropped slightly by 0.05% to 4.174 against the USD.
Dass, who is also adjunct professor in economics at University of New England, Sydney, Australia, said the KLCI closed by 0.77% higher to 1,611.4.
He said the local bond market saw the Malaysian Government Securities (MGS) 5-year yields fall 1.0 basis point to 3.605%, the MGS 3-year yields stayed flat at 3.430%, while both the MGS 7- and 10-year yields remained unchanged at 3.835%.
Dass said EIA crude oil stocks exchange announced the inventories in the week ended May 10 rose by 5.431 million barrels, slashing the market expectation of -0.8 million barrels.
"Brent edged up 0.74% to US$71.77/bbl while WTI gained 0.39% to US$62.02/bbl on Wednesday.
"The MYR rebounded 0.15% against the Indonesian rupiah at 3,465.2 but finished in red against the rest of its regional peers; fell 0.12% to 3.052 against the Singdollar; slipped 0.01% against the THB at 7.556; loss 0.11% to 12.54 against the PHP and depreciated further by 0.34% against the VND at 5,580.5," he said.