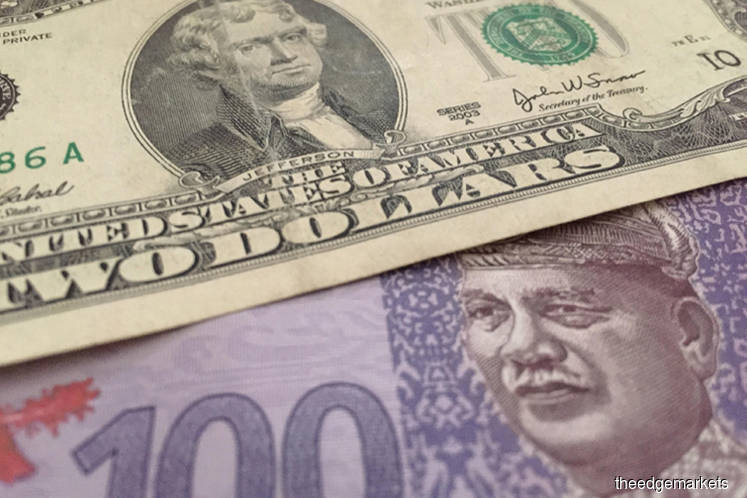 KUALA LUMPUR (April 11): AmBank Research expects the ringgit (MYR) to trade between its support level of 4.0724 and 4.0871 while the resistance pegged at 4.1171 and 4.1300.
In his AmBankFXDaily note today, AmBank group chief economist and head of research Dr Anthony Dass said the MYR slid 0.35% to 4.108 against the dollar.
Dass, who is also adjunct professor in economics at University of New England, Sydney, Australia, said in tandem with the regional market outlook that was mixed as investors are digesting the slower global outlook, the KLCI lost 0.15% to 1,639.5.
He said in the local bond market, the new 5-year GII issuance was announced with an issuance size of RM3.5 billion.
"When Issue (WI) was quoted around 3.65-60%. The Malaysian Government Securities (MGS) 3-year yield added 1.0 basis point (bps) to 3.400%; 5-year yield remained unchanged at 3.570% but 7-year yield fell 1.5bps to 3.685%.
"Meanwhile, the MGS 10-year yield was flat at 3.785%. Bullish trend carried on as both Brent and WTI saw prices gain 1.59% and 0.98% to US$71.73/bbl and US$64.61/bbl, respectively despite EIA reporting larger-than-expected buildup of 7.029mil bbl in the week ending on 5th April (cons: 2.294mil bbl).
"The ringgit weakened against all its major peers, it skid 0.21% to 3.033 against SGD; slid 0.48% against THB to 7.729; loss 0.22% to 3,445.1 against the rupiah; slumped 0.76% against the peso to 12.64 and downed by 0.40% against VND to 5,641.5," he said.