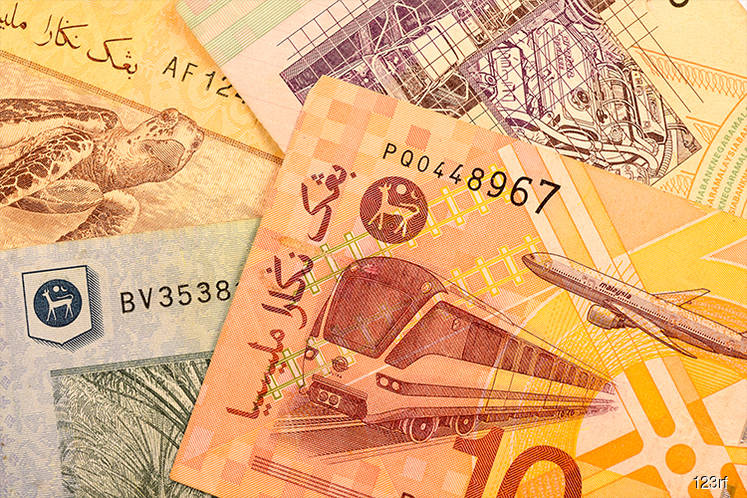 KUALA LUMPUR (July 6): AmBank Group Research expects the ringgit (MYR) trading today between its support level of 4.0377 and 4.0401 and resistance at 4.0464 and 4.0503.
In his AmBankFXDaily note today, AmBank group chief economist and head of researhc Dr Anthony Dass said the MYR rose 0.1% to 4.0430 against the dollar.
He said the KLCI gained 0.13% to 1690.65 despite reporting a net foreign outflow of RM68.3 million.
"Meanwhile, the buying momentum in the local bond space continued with the 5-,7-, and 10-year Malaysian Government Securities yields down by 1 basis points to 3.815%, 4.035% and 4.155% respectively," he said.
Dass however said the crude oil price for both the WTI and Brent fell 1.9% to US$72.77/barrels and 1.0% to US$77.47/barrel as EIA announced that US crude inventories rose by 1.25mil barrels last week due to rising imports and decline in exports.
"Furthermore, the Saudi Arabian Oil Co. lowered most of the crude grades' August pricing in Asia and Europe and reduced prices for all crude grades in US following US President Trump's call for an immediate price reduction.
"On a separate note, Iran's Revolutionary Guards threatened to block oil shipments through the Strait of Hormuz if the US went ahead with the sanction on Iran.
"MYR strengthened against regional currencies ie. rupiah by 0.3% to 3560.23, baht by 0.2% to 8.216 and peso by 0.1% to 13.2167 respectively while remained unchanged against Singapore dollar at 2.9647. The CDS rose 0.29% to 106.61," he said.