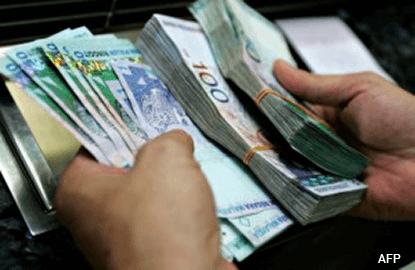 KUALA LUMPUR (July 27): The ringgit fell to a fresh 17-year low today, when it was quoted at 3.8170 per US dollar — its weakest since it was pegged at 3.80 against the greenback in September 1998.
Reuters reported the ringgit's drop to concerns over sluggish exports amid a global slump in commodity prices, while investors braced for a US Federal Reserve meeting that might take another step toward lifting interest rates.
The ringgit fell 0.45% to 3.8170 versus the greenback as of 11.43 am in Kuala Lumpur, according to data compiled by Bloomberg.
Areca Capital Sdn Bhd's chief executive officer Danny Wong said Malaysia is one of the affected countries, as it is a highly commodity-dependent economy.
"On top of the local developments (political sentiments) that has caused some concerns, the major hurdle is still its dependence on commodities," he told theedgemarkets.com today.
But Wong believes that over time, Malaysia will be able to demonstrate a country that is not relying on oil.
With the (West Texas Intermediate) crude oil crashing below the US$50 mark, he noted people must come to terms to accept this new price level.
Despite oil having hit rock bottom prices, Wong believes Malaysia will be quite resilient in the long run, looking at its current economic data and its gross domestic product strength of between 4% and 5%, which is one of the best in the region.
The ringgit pared losses again, as the central bank has been spotted intervening to keep the worst-performing Asian currency firmer than 3.8100 per US dollar, traders said. The currency was pegged at 3.80 between 1998 and 2005.
Malaysia's international reserves fell to US$100.5 billion as of July 15, from US$105.5 billion as of June 30, central bank data showed on July 23.